Looking at wedding pictures from all over the planet, it's clear that there are some super snazzy grooms out there. It seems like the general tendency has shifted from the bride as centrepoint and "queen bossy" to a more inclusive approach when it comes to the groom and what he wears. The room for bridezilla pushing her man to the background and giving him only the bare necessities has become quite small. I like that.
The man of the day is very much a central part of all the happenings at a wedding and should be dressed for the role. Whether it be a more casual, retro, alternative affair or a traditional, formal and sleek one, his attire should be carefully selected.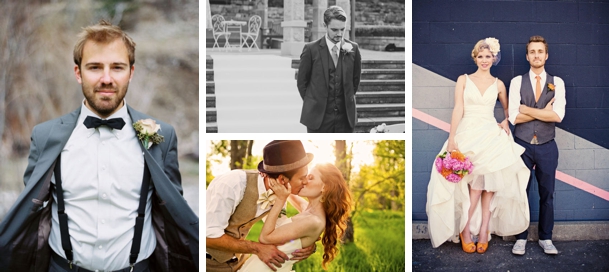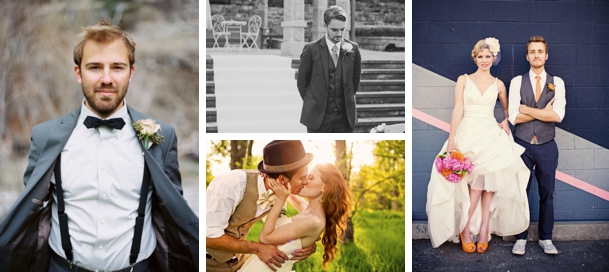 Most important is of course his ensemble – a suave, perfectly fitting suit or trousers and a shirt to fit into the general theme of the wedding. He has to look stylish and his outfit has to compliment the bride's. Also very important are the shoes. These days you see everything from sneakers, to flip flops, to Italian leathers. But a pair of shoes can make or break an outfit and shouldn't be neglected.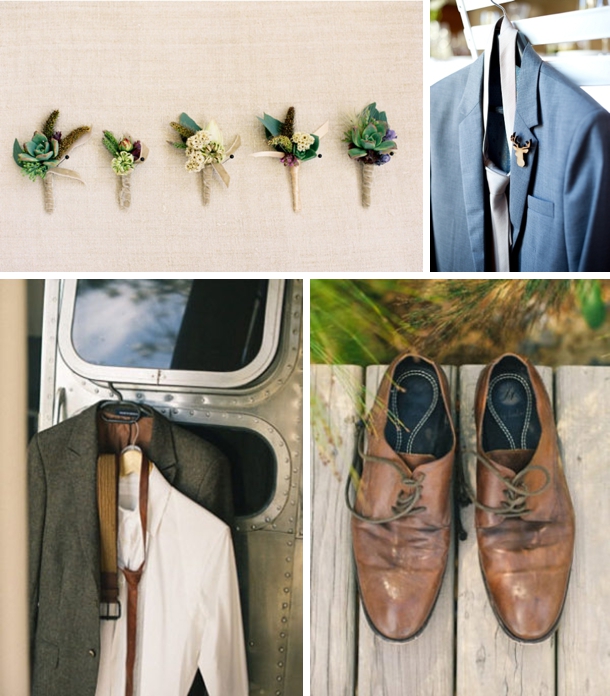 To me however, once the biggest part of the outfit is sorted, it's really the accessories that make the groom's look stand out. Since one no longer has to stick to the traditional black tie ensemble, we are spoilt for choice here. Tie vs bowtie, suspenders, beautifully hand-crafted boutonnieres, or perhaps a patterned shirt. Add to that a pair of funky socks or sunglasses and your man is ready to say those vows in style.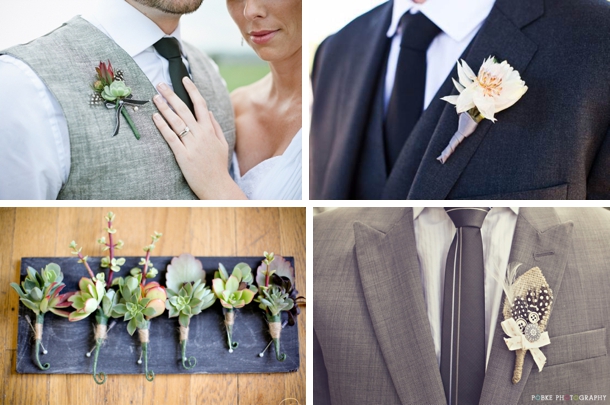 To keep the nerves under control and prevent any cold feet from creeping in, the groomsmen (or better said "wingmen") of course have to be well-dressed for their role too. I like the idea of having them wear a different coloured suit to the groom and perhaps another accessory to distinguish them. It's their job to make the build up to the ceremony fun for the groom and to make sure he's standing at the end of the aisle, ready for his lady to walk in. A little element of fun for their outfits is thus just the right thing to make them all look super cool.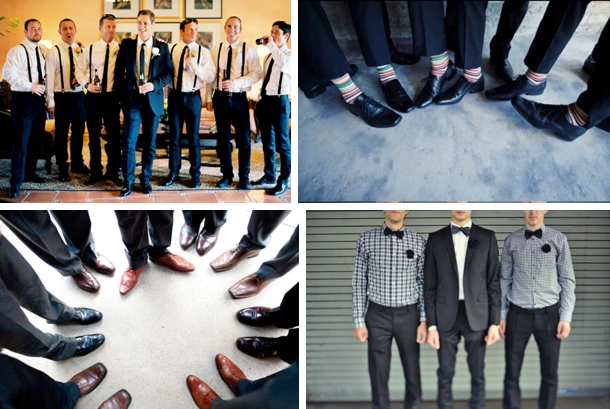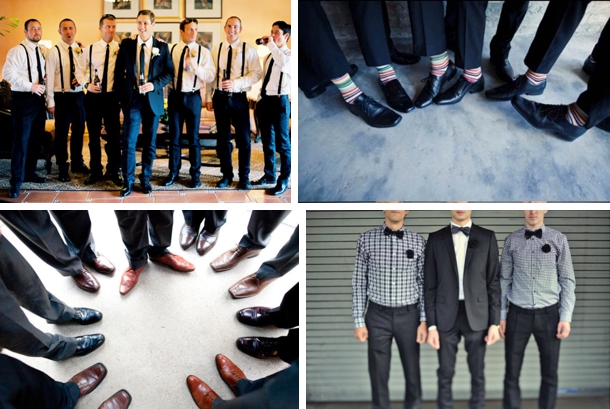 Naturally, the day wouldn't be the same without a little ring bearer. We've asked a cousin of mine to be the charming little boy who makes all the ladies ooh and aah. His outfit will be orchestrated to suit the other men of the day and his accompanying flower girl. We'll have to wait and see how the boys rock up on the big day to strut their stuff. But until then, I leave you with some pictures I quite enjoy looking at…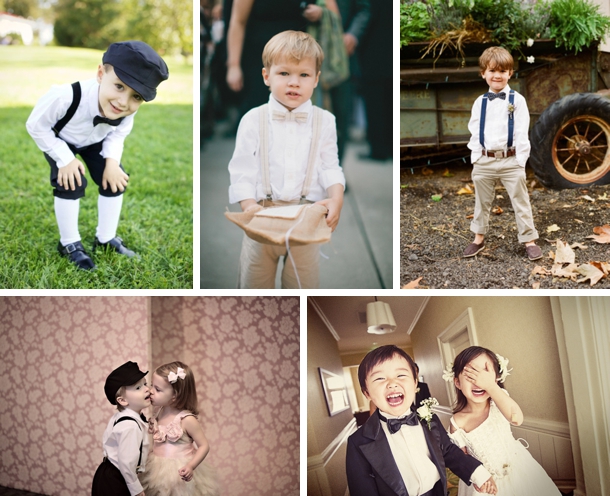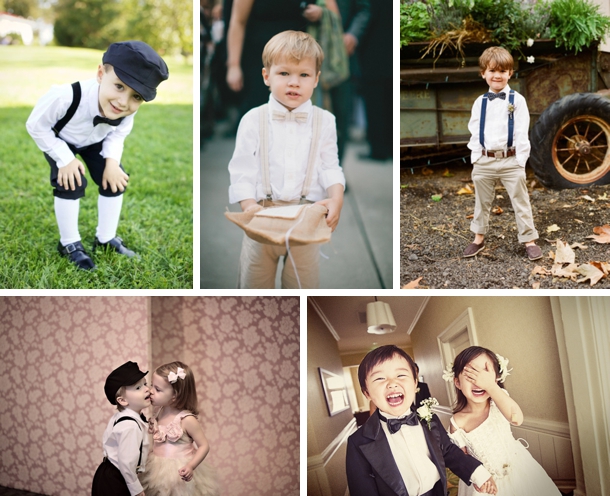 Image credits – Row 1: Smitten Photography via Style Me Pretty (left); via Polka Dot Bride (top centre); Audrey Hannah Photo partnering with Flourish Studio Photography/Table6productions.com via Wedding Chicks (bottom centre ); Mark Brooke Photographers via Green Wedding Shoes (right); Row 2: via Green Wedding Shoes (left); Lauryl Lane/Michael & Anna Costa (centre);  The Last Forty Percent Photography via Green Wedding Shoes (right); Row 3: Jose Villa via Style Unveiled (left); Christine Meintjes via The Pretty Blog (right); Row 4: welovepictures via Belle & Chic; Row 5: Bright Girl Photography via The Pretty Blog (left); Kate Webber via Style Me Pretty (right); Row 6: Jennifer Williams Photography via Love & Lavender (left); pobke photography via Green Wedding Shoes (right); Row 7: Jill Thomas via Green Wedding Shoes (left); Jules Morgan (right); Row 8: Yoonwonx Photography via Style Me Pretty (left); Yuriy Manchik via One Wed (right); Row 9: Readyluck via Style Me Pretty (left); Paula O'Hara Photography via Southern Weddings (centre); Braedon Flynn via Grey Likes Weddings (right); Row 10: Kristin Vining via Style Me Pretty (left); Frank Amodo via Bridal Banter (right)
The series so far: The Proposal | The Inspiration | The Venue | The Stationery | Flowers & Decor | The Photography | The Dress | The Bride's Accessories | The Bridesmaids