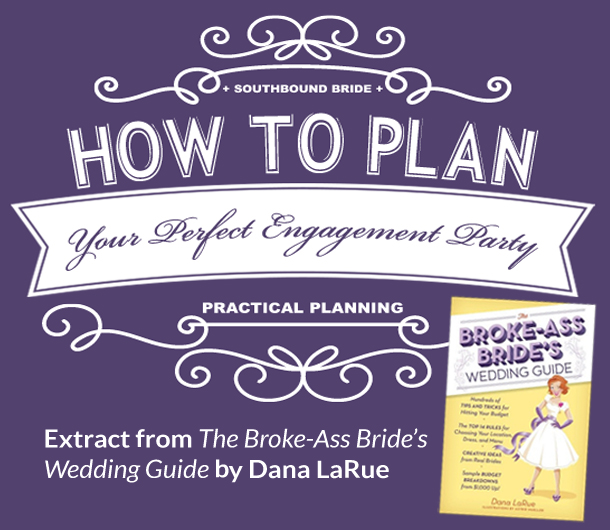 Happy Friday, friends! I have something really special for you today. Not only is it the most awesome advice for planning an engagement party (whatever your budget), but an extract from a fantastic little wedding resource that I'm so glad to introduce to you. Recently I was sent a copy of The Broke-Ass Bride's Wedding Guide by fellow wedding blogger Dana LaRue – Dana founded The Broke-Ass Bride, which is hands-down my favourite resource for budget conscious brides (which is basically everyone, right?). Her advice goes way beyond just a few heard-them-a-hundred-times tips – rather, being a Broke-Ass Bride is an attitude to planning, so I really think that this book would be appropriate and helpful for any brides, no matter where your wedding or what sort of celebration you're planning. Plus, it's a really fun book – great advice but written in a humorous way. It even has margarita recipes, which totally gets my seal of approval. Later today we'll be meeting Dana for a little Q&A, but first, I asked if I could share her excellent advice for planning an engagement party, since I know this is timely for many of you. Be sure to grab yourself a copy (details at the end of the post). Big thanks to Dana and her publisher, Penguin Random House, for sharing this! (PS All page references below are to the print book, so you'll have to get your copy to see more!)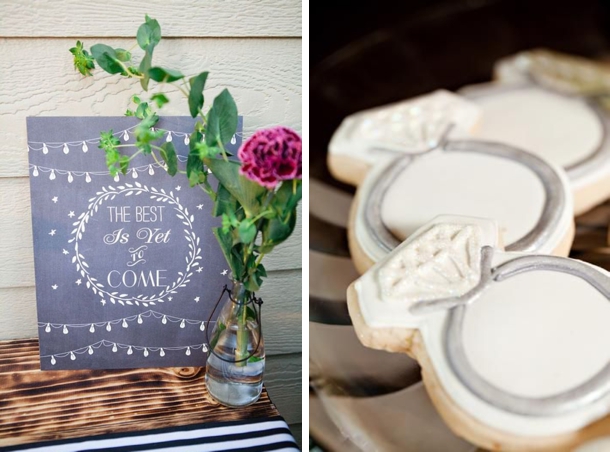 Image sources: Connie Dai Photography/A Vintage Affair Events & Rentals via Burnett's Boards (left); Pizzuti Studios via Hostess with the Mostess (right)
a pre-celebration celebration?
An engagement party is a great way to kick off a purposefully long engagement. It allows you to get your feet wet in the festive side of things, and can ease some of the "but I want attention / a party / to wear a pretty dress, and I want it now" anxiety that might otherwise jettison you into an early planning frenzy. There are as many ways to gather loved ones to celebrate your engagement as there are ways to plan a wedding, so the key is figuring out which party is right for you, if any at all.
And if, for whatever reason, you decide to get married within the next six months or earlier, you can skip the engagement party because, woman, you have a lot to do! Toast with Champagne, do a happy dance, and skip ahead to Chapter 2.
how to plan your perfect engagement party!
Engagement parties do bring up the question of etiquette. I'm all for wedding "rule" anarchy (even though I've included my own "rules" throughout this book—but, hey, it's my book, I make the rules . . . about rules, dammit!), but you might want to consider your guests and their easily bruised
egos early on. Generally, if someone is invited to the engagement party, there's a level of expectation that he or she will be included as a wedding guest as well. If you're leaning toward a limited guest list for the actual nuptials, consider only your immediate family and closest friends for an intimate pre-party. And remember, a lot can change if you're planning a longer engagement. I don't want to harsh your mellow, but here are some real issues to consider:
FINANCIAL STABILITY: If you're counting on stowing away a little of each paycheck in your wedding fund, bear in mind that the economy is always in flux and employment situations can change at a moment's notice. I've seen many a hopefully huge wedding and its guest list get cut back by necessity because of job loss. It ain't pretty, but it's real life, kiddo. This could leave your engagement party attendees hanging without an invitation to the main event; and while one would hope that people are sympathetic to the fallout of economic instability, rational thought sometimes falls by the wayside in wedding-or-ego–related matters.
PLANNING FOR THE FUTURE: As tempting or fun as an engagement party may be, take a moment and really consider whether you'd rather spend your money on that, or save it for your wedding budget, honeymoon, or newlywedded life. If you can live without the betrothal bash and practice patience now, it may allow you to splurge on something more valuable to you later on.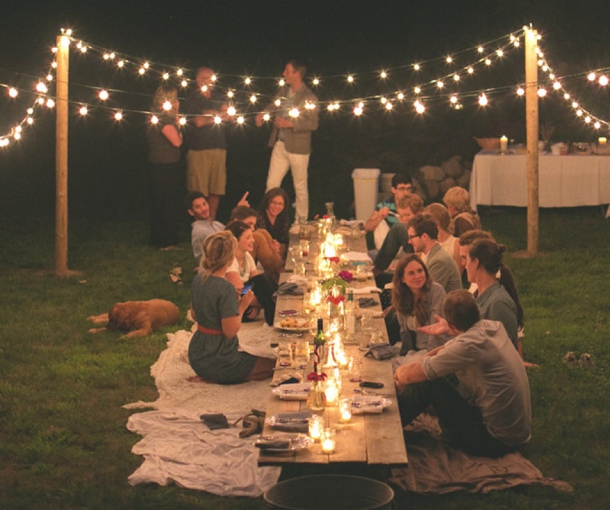 Image source: The Fresh Exchange

the host with the most
Engagement parties usually come to life in one of two ways. If people close to you are offering to throw one for you, and you want to take them up on it, find out how much ownership they want over the theme and details. (Like everything else surrounding your wedding, you don't have to accept help/input/ideas if it's not comfortable for you.) Use your best judgment in terms of how much to share your preferences or ideas with them, and offer to assist as much as possible in order to show gratitude, keep an eye on things, and make sure they stay aligned with your values. This is a great chance to practice the art of saying "Thank you so much," and "That's a terrific idea, but actually, we'd prefer this." You'll need that skill, sister.
The other option is to throw your own party. If hosting in your home isn't an ideal location, look into local parks and picnic areas, recreation centers, or community halls. If you're having it in your hometown, see if the elementary, middle, or high school you attended would accommodate you, and give your guests a peek into your history as a bonus. When you can bring in your own food, party platters are the least effort-and-expense solution. Loads of restaurants offer large tray self-catering options, which they'll either deliver or you can pick up and handle the service yourself. Price out several options in your area and pick which best fits your taste and budget! Also check with any food trucks in your 'hood to see if they'll roll by your location and serve for an hour. See the "Hint" on page 30 for ways to control guest consumption when there's a menu in the mix!
For brides who are a bit more hands-on and don't mind getting their hands dirty, here are a few fun, budget-friendly DIY ideas: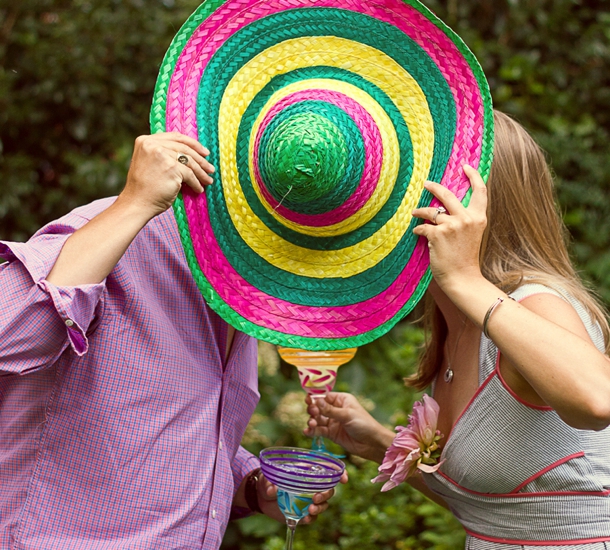 Image source: Kasey Loftin Photography
kick-ass ideas for hosting your own broke-ass engagement fête!
A FIESTA-THEMED PICNIC IN THE PARK
• Mix up a big batch of margaritas and/or sangria (What's that, you say? You need a good recipe for that? See page 225—BOOM).
• Decorate with some papel picado (Mexican wedding flags) or colorful banners.
• Cut off the tops a few dollar-store sombreros, stick a Mason jar in the middle, and fill the jar with colorful farmer's market blooms.
• Put some Gipsy Kings on your iPod.
• Set up a build-your-own nacho/taco/burrito bar (see page 232). ¡Olé!
HOT TIP: Make sure you're free to celebrate in a public park without a permit—and trust me, it's best to keep any adult beverages hidden away in plastic, colored cups.
A FAMILY-STYLE ITALIAN DINNER
• Cook up a heap of spaghetti (see page 228) or your favorite pasta dish (baked ziti bake-off, anyone?), and make a giant salad.
• Stick a bunch of candles in old wine bottles.
• Mix up a big batch of sangria (bulk drinks are your friend; I'm sure you're getting the hint).
• Put out some crusty bread in baskets with herbed butter in baby-food jars for centerpieces.
• Make up a playlist of Sinatra, Rosemary Clooney, and Tony Bennett. ¡Salud!
AN EXOTIC POTLUCK
• Pick a style of food, and ask each of your guests to bring a dish that suits. Explore the flavors of India, Greece, Mexico, Italy, Africa, or the Middle East!
• Provide drinks, some light appetizers, and a salad. Everybody wins.
• Have a multicultural dinner and assign each guest a different region of food to represent, for maximum variety.
A SUSHI-ROLLING SOIRÉE
• See the sushi setup on page 236 for a fun, interactive dining experience. Pick up inexpensive bamboo rolling mats, chopsticks, and seaweed sheets.
• Grab a few bottles of sake and some Japanese beer—and you've got yourself a party!
A WINE AND CHEESE TASTING PARTY
• Everyone brings a bottle of wine priced under $15 dollars.
• You supply a few hunks of cheese, cornichon pickles, olives, almonds, and crackers.
• Put each bottle of wine in a paper bag, number it, and hand out paper and pens for "tasting notes." Compare what flavors people identify and what they'd rate the wine price as, then do a big reveal!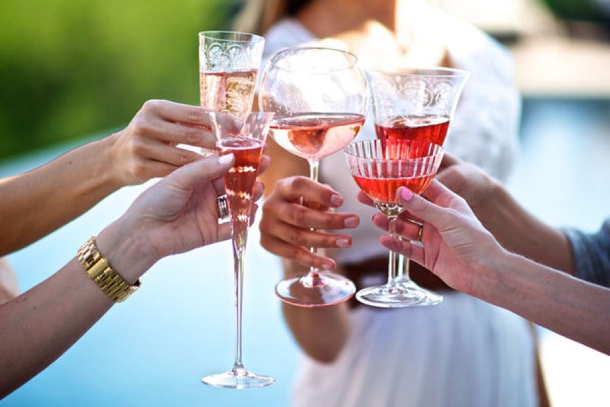 Image source: Michael Bullock/Camille Styles via Style Me Pretty
those who can't do . . . make reservations
Square away some tables or a private room at your favorite local restaurant and invite your favorite local people. There's absolutely nothing wrong with keeping it super-simple.
HINT: Speak with the management about negotiating a set, limited menu to keep your costs under control. For our rehearsal dinner, we worked out a deal with our local Mexican restaurant and planned a "burrito-only" menu to accompany prearranged orders of guacamole, quesadillas, chips, and salsa. We printed out easy menus for each place setting to let people know their options, and everyone loved it. No reason you can't do the same for your engagement party.
And on that note, there's also no reason your guests can't pay for their own dinners at your engagement party. They're people who love you. They want to celebrate with you. If it means shelling out a few bones for that pleasure, they'll do it. Or they just won't come, and they'll miss all the fun.
In short, there's no reason not to celebrate, if you want to!
The Broke-Ass Bride's Wedding Guide by Dana LaRue is published by Potter Style, an imprint of Penguin Random House (ISBN: 9780385345101) – order your copy or download as an eBook from Amazon.com.