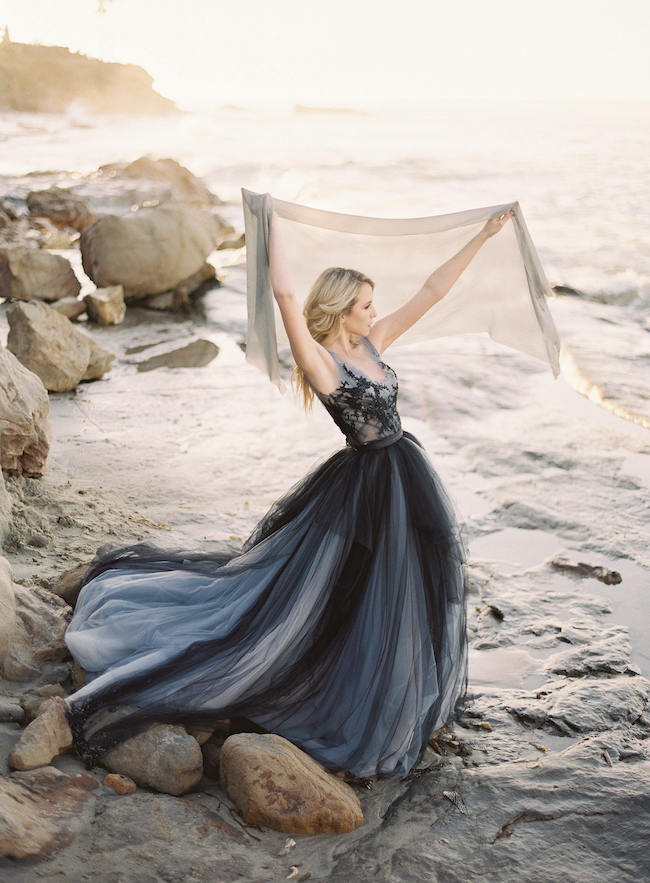 Calypso Nightfall Black Tulle Bridal Gown by Mywony Bridal
*Links in bold denote affiliate links. The cost to you remains the same, but SBB may receive commission for any sales made.
Who says you have to wear white on your wedding day? With today being the spookiest day of the year, I'm taking the opportunity to showcase some seriously gorgeous black gowns that are sure to please an edgy or alternative bride. But even if Gothic isn't your vibe, you might still want to consider a black gown. After all, the designer credited with bringing black to the bridal runway is none other than Queen Vera of Wang, and celebrities including Shenae Grimes, Ellen Pompeo, and Avril Lavigne have all rocked black wedding dresses on their big day. The key is to keep hair and makeup very soft and romantic, and choose gowns with beautiful textural detail, so the look is romantic and ethereal instead of harsh and Halloweeny. There are some absolutely BEAUTIFUL black (and other alt-coloured) gowns on Etsy, where I find designers are often both fashion-forward and accessible price-wise. I've rounded up 15 of the most gorgeous I could find!