Hello lovelies! We're making another weekend house call to stop in and share some of the beautiful stationery that has graced the pages of SouthBound Bride this year. Being a paper aficionado (and designer) herself, Candice has been trawling through the archives to bring you fifteen stand-out stationery moments from both weddings and styled shoots, and featuring the work of some of our favourite SA talents, including Seven Swans, indieberries and Lezanne's Designs (whose designs feature a fantastic three times in this countdown!). Over to you, Candice…
Glamorous Gold Art Deco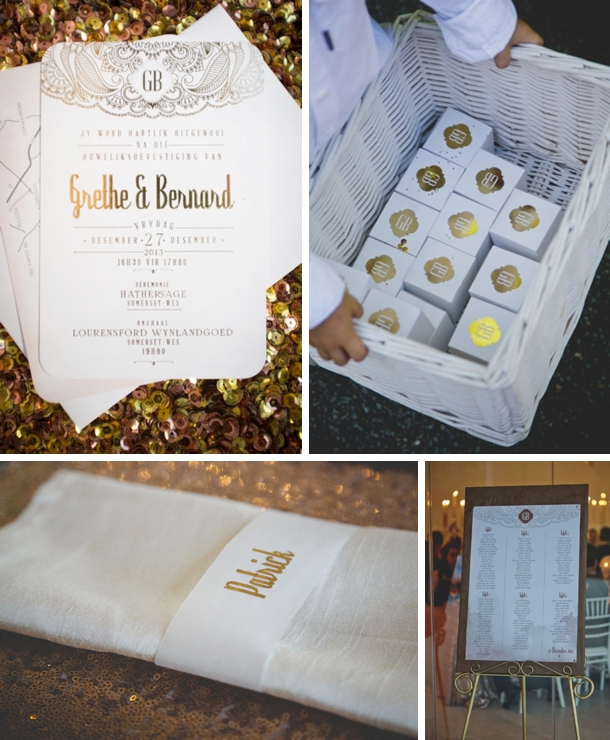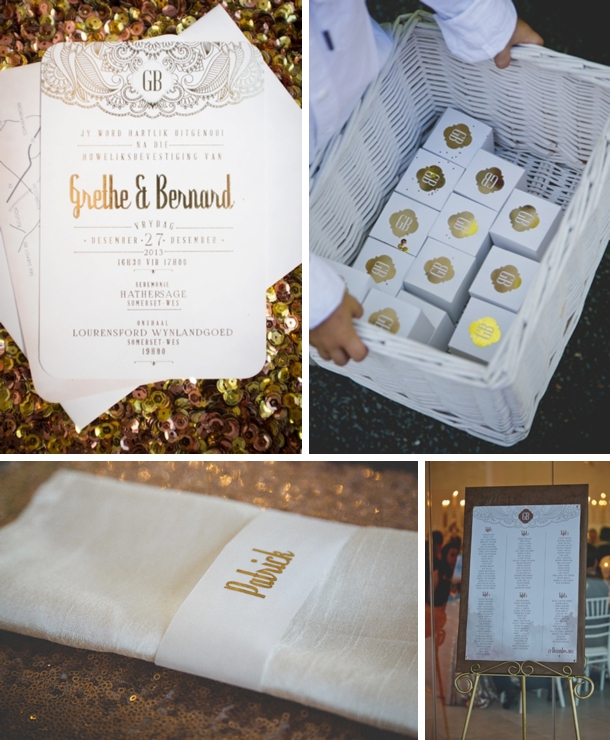 Stationery: Lezanne's Designs | Photography: Du Wayne Denton | VIEW WEDDING
CANDICE'S FAVOURITE: Everything about this gorgeous gold stationery from Greta & Bernard's wedding screams glamour. I fell in love instantly. I adore the fine detailing and gold foiling. My stationery loving heart is happy!
Letterpress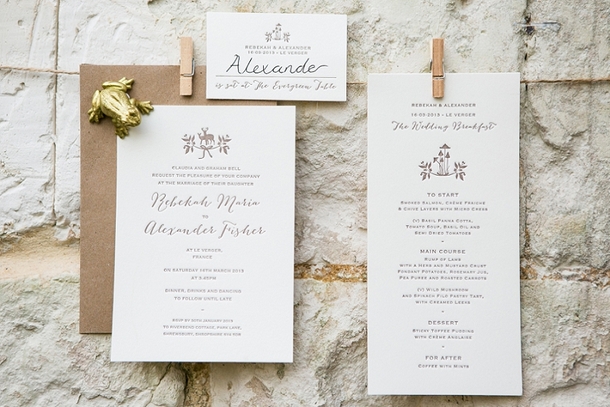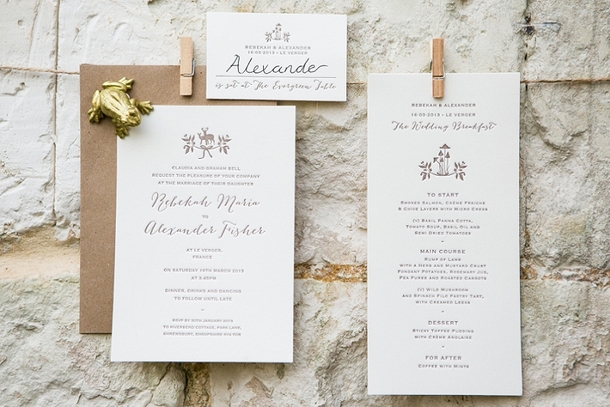 Stationery: Artcadia | Styling: Louise Beukes Styling | Photography:  Anneli Marinovich | VIEW SHOOT
I don't think this will ever go out of style. There is something so elegant and tangible about anything letterpressed. A good quality paper stock and some beautiful fonts are all you need for this timeless stationery, as seen in this whimsical woodland styled shoot.
Stitched Booklets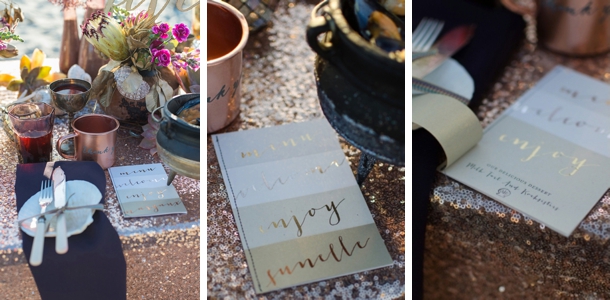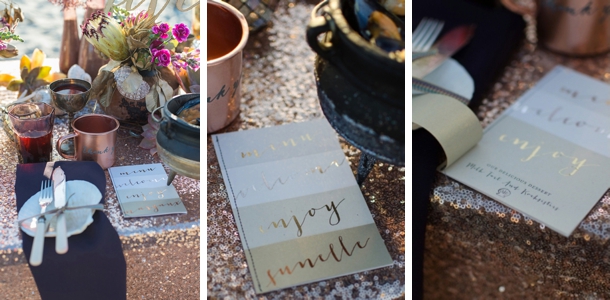 Stationery: Lezanne's Designs | Styling: Blank Canvas Event Design | Photography: Memory Box Photography
VIEW SHOOT
After the craze of stitched passport-type wedding invite booklets, we haven't seen very many since. It might be a little tired for invitations, but it works beautifully as a menu and place setting. Love how a touch of gold has also been brought in with some foiling on the cover for this West Coast glamour styled shoot.
Simple, Elegant Lasercut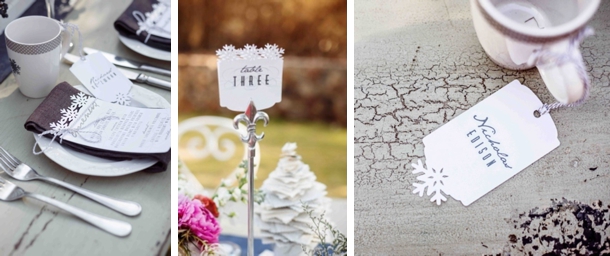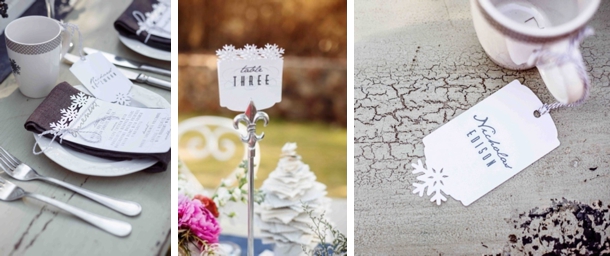 Stationery: Match Set Love | Styling: Absolute Perfection | Photography: Jani B. | VIEW SHOOT
Love these crisp and elegant lasercut paper details from this winter sunshine styled shoot. Expensive as lasercutting might be, it really just adds a touch of something special to your day.

Rose Gold Glitter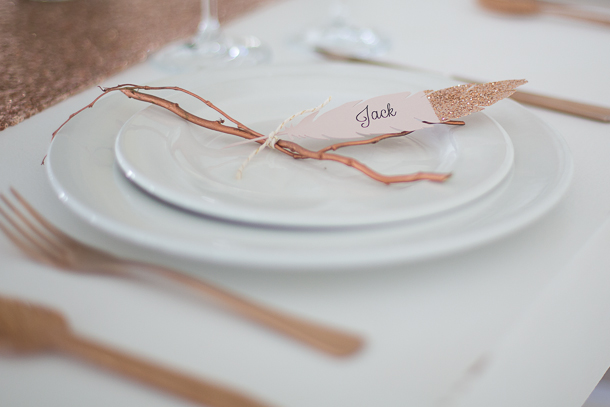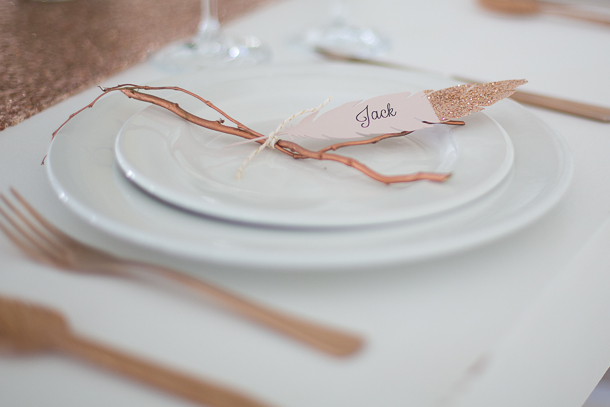 Stationery: Whispers of May | Stylist:  Just Jack | Photography: Veronique Photography | VIEW SHOOT
We have LOVED glitter in 2014, and are hoping to see much more of it in 2015. This delicate place setting from this autumn glitter styled shoot is so unique and the glitter-dipped effect is such a clever way to bring some sparkle into your stationery.
Modern Typeface Storytelling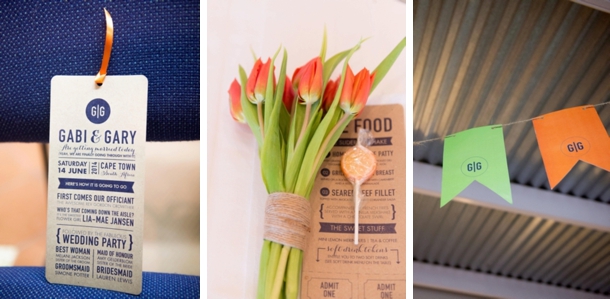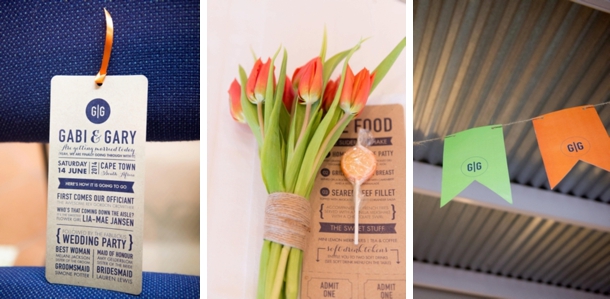 Stationery: Seven Swans | Photography: Cheryl McEwan Photography | VIEW WEDDING
Stationery is such a great way to incorporate your love story into your day, and we especially love the 'story invitation' trend as well as Gabi & Gary's ceremony programme twist. (We also always give kraft paper two thumbs up!) Give your guests some insight into your journey with fun fonts and bold typefaces used throughout your big day.

Engraved Wood & Perspex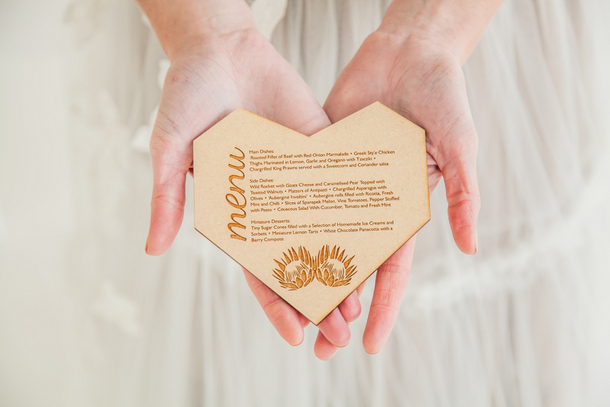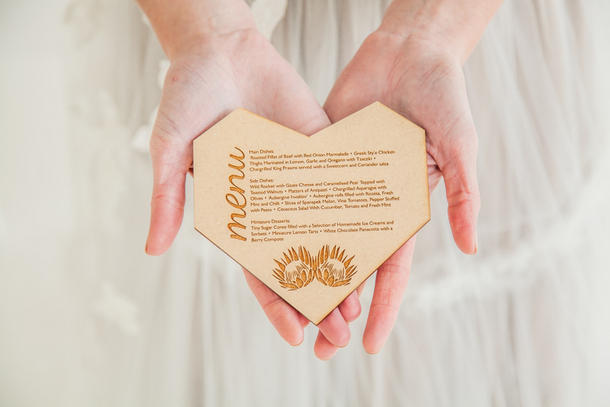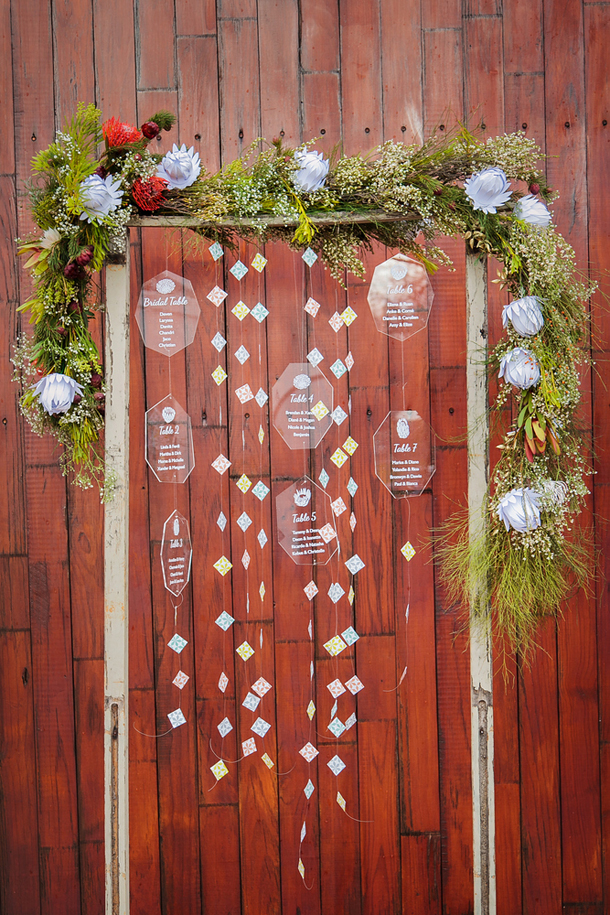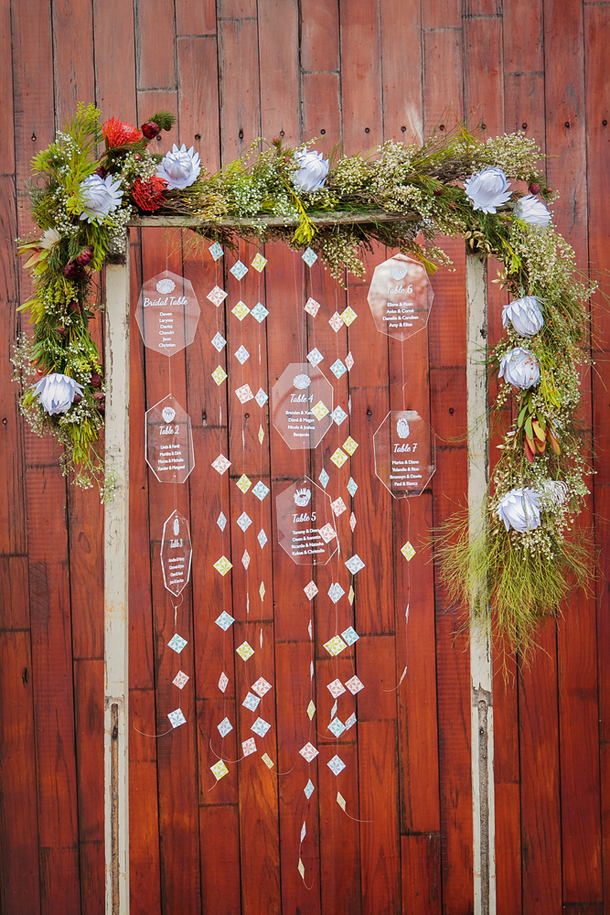 Stationery: Inge Basson | Styling: Kadou Wedding & Event Co-ordination | Photography: Michelle Wiese
VIEW SHOOT
Feel like a change from paper and card? Engraved wood is perfect for an eco-chic wedding, and can also be used as beautiful keepsakes for your guests. This engraved perspex, mobile-style seating chart is also such a great idea! Top with an arrangement of flora and fauna and you have the perfect feature for a farm-chic wedding, as seen in this gorgeous Protea Landscape styled shoot.
Eco Chic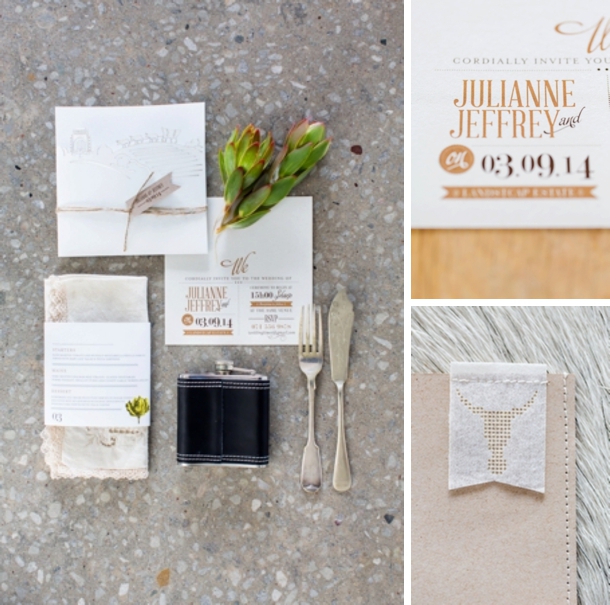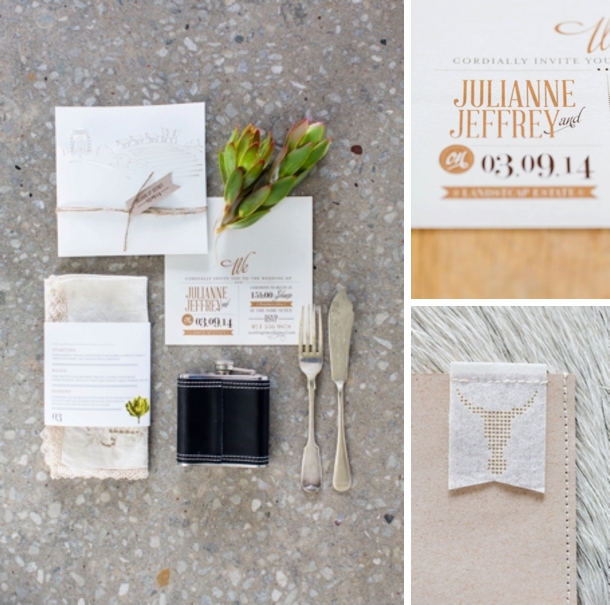 Stationery: Lezanne's Designs | Styling: Leipzig Weddings and Functions | Photography: Wesley Vorster
VIEW SHOOT
Rustic twine, beautiful textured paper and a neutral colour palette will perfectly compliment a rustic eco-chic wedding for the boho bride – this set was from our winning styled shoot, Voortrekker Frontiers.
Hand Painted Botanicals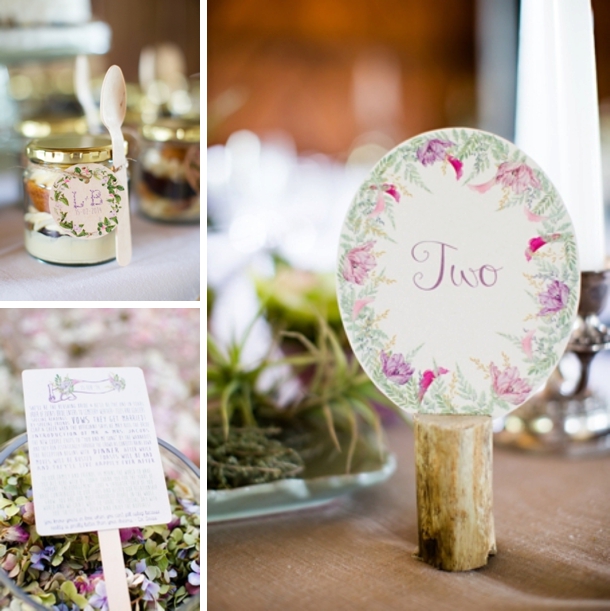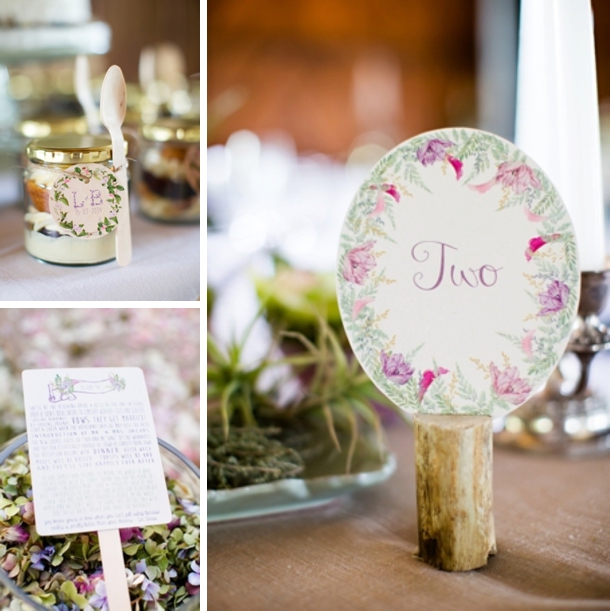 Co-ordination, flowers & decor: Eco-chic Weddings | Photography: Van der Bijl Photography
VIEW WEDDING
Deep greens, delicate hand painted details and sustainable materials were all thoughtfully considered in Leigh & Byron's beautiful botanical wedding.

Watercolour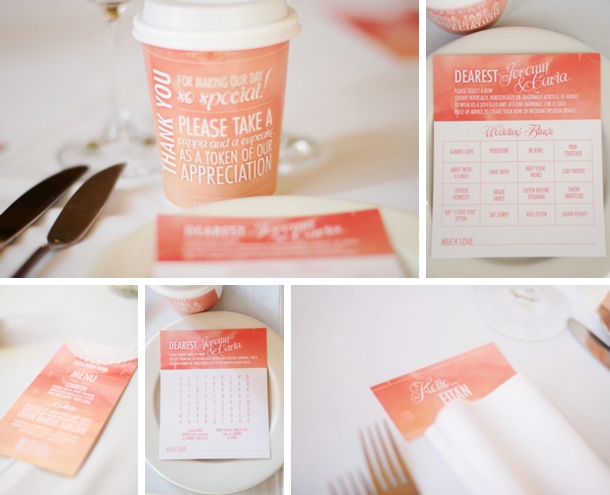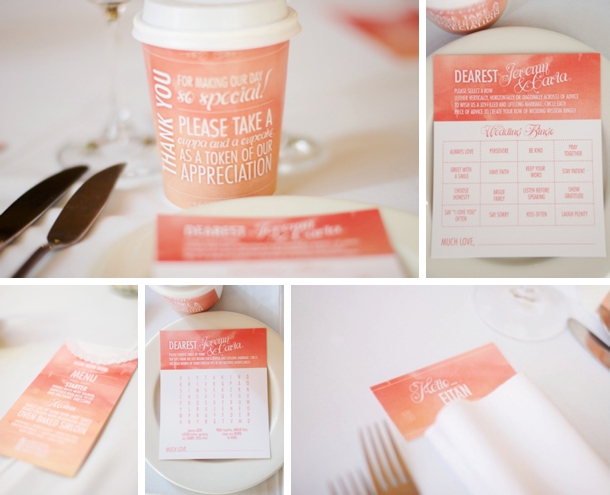 Stationery: Oh Yay | Photography: Moira West Photography | VIEW WEDDING
Watercolour has been a huge hit in 2014 and can be incorporated beautifully into your stationery and décor. We love how Carla & Jeremy used an ombre watercolour effect in shades of coral and cream. Their gorgeous stationery included coffee cup sleeves, wedding bingo (awesome idea!) and menus!

Illustrated Travel Theme Stationery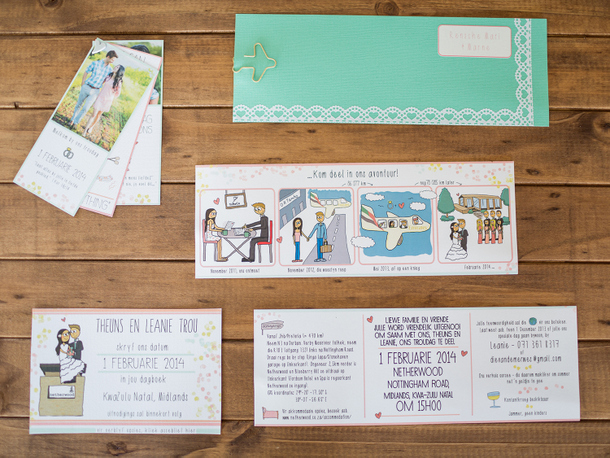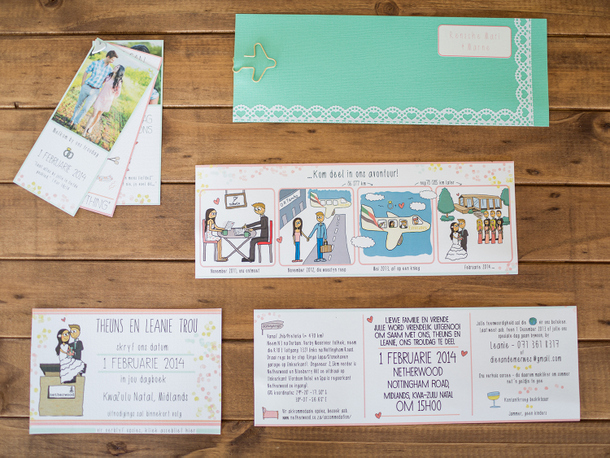 Stationery: indieberries | Photography: Rensche-Mari Photography | VIEW WEDDING
The SBB team just adore Leanie & Theuns' cute and quirky customized invites done by the super talented Ché of indieberries. The stationery explains their engagement story and as it was so unique (read about it here!) they decided to use the theme of travel throughout their stationery. What an awesome idea!
Darling Delft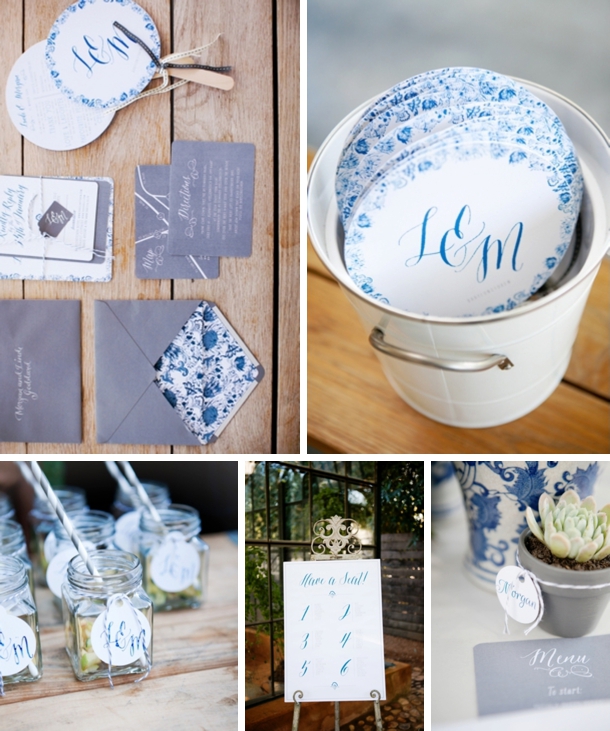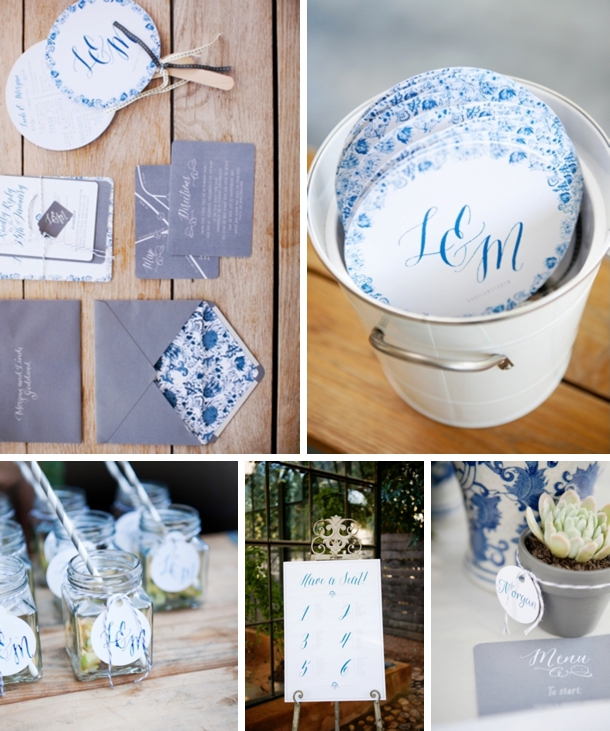 Stationery: Moonbeams & Polkadots | Photography: Moira West | VIEW WEDDING
Delft is just so darn pretty! Loved that Lindi & Morgan incorporated Delft patterns into their stationery. All the details were carefully considered, and one can't help but love the round ceremony paddle fans, used for the order of events. The blue and white is so fresh and perfect for a botanical Babylonstoren wedding.
Patterns & Prints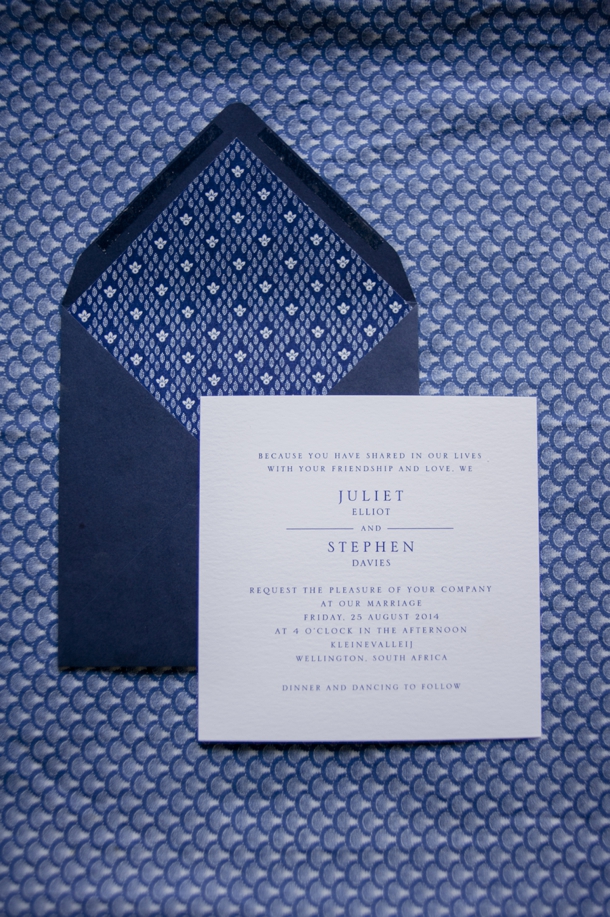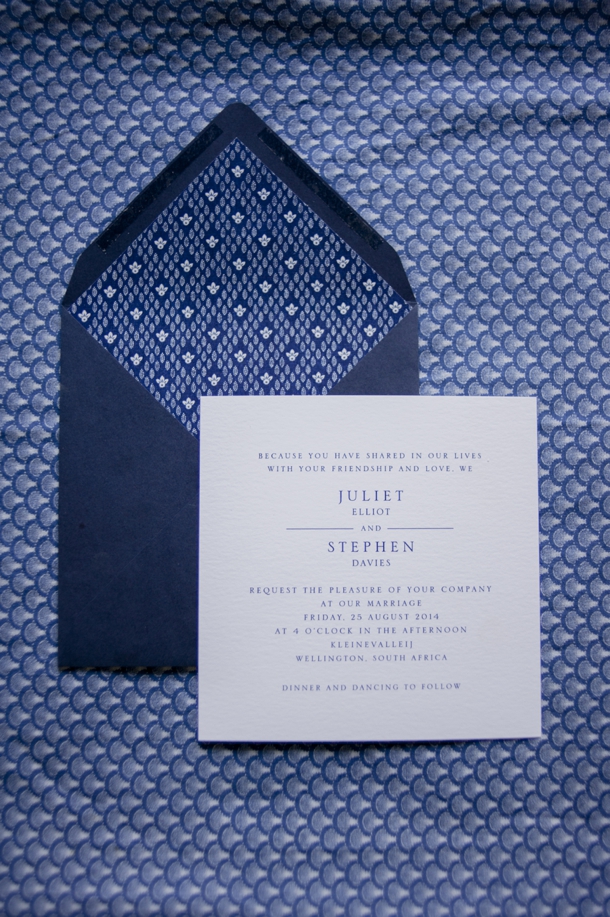 Stationery: Seven Swans | Styling: Gaby Frescura for SouthBound Bride | Photography: Piteira Photography
VIEW SHOOT
A subtle way to include some Proudly SA flair into your day is to incorporate a touch of shweshwe print into your stationery and décor. I love how this bold shweshwe print envelope liner works so beautifully with a crisp and simple invite. For more inspiration on how to incorporate this type of print into your wedding day, see Gaby's fabulous styled shoot.

Mismatched Prints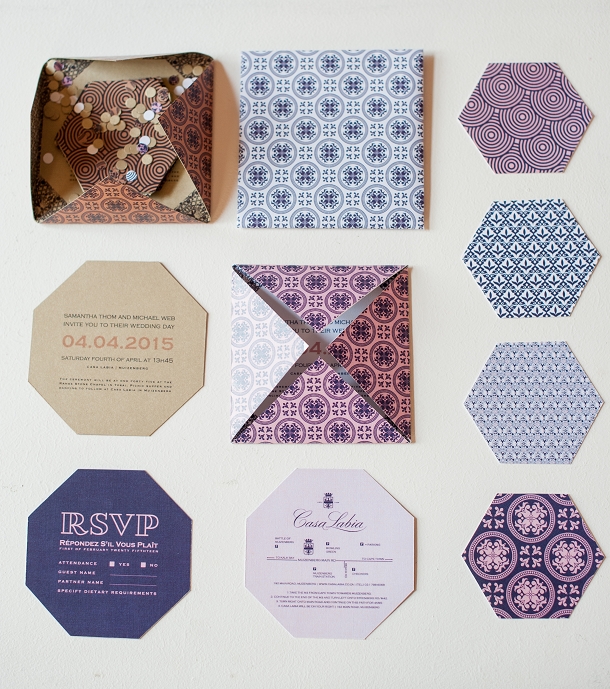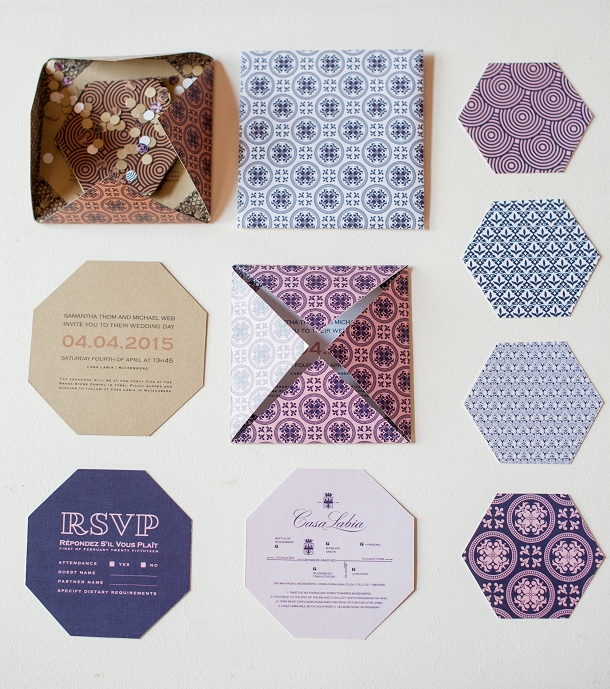 Stationery: Pink Pigeon | Photography: Yolande Snyders | VIEW SHOOT
GABY'S FAVOURITE: Why not, instead of matching all your stationery, go for a few versions of the same style in different colours and patterns? With so many decisions to make about your wedding day, this is one thing you don't have to compromise on. I also love the unique graphic shape of the die-cut invite card from this Rose Quartz styled shoot, a nice change from the traditional square or rectangle.

Quirky & Proudly South African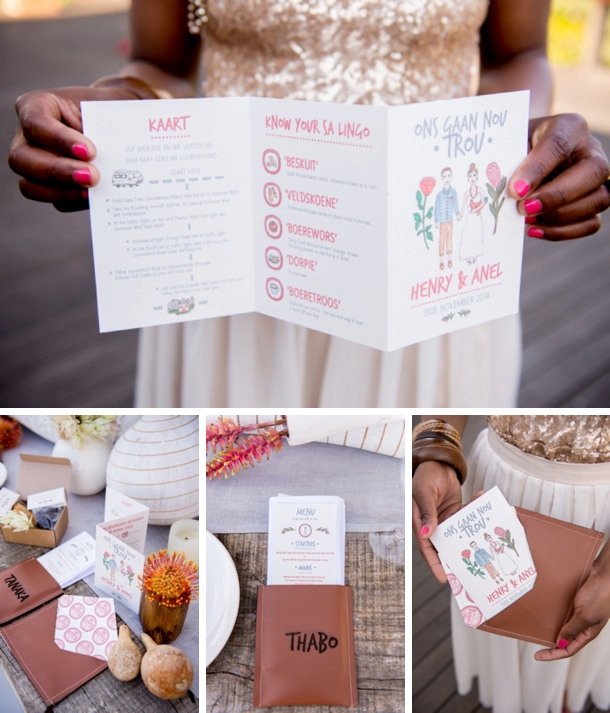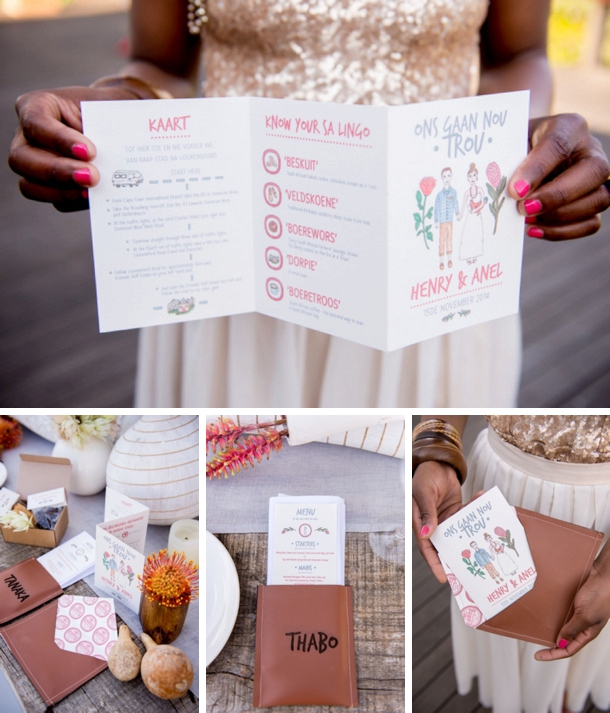 Stationery: Blooming Wonderful | Styling & co-ordination: Creation Events | Photography: Cheryl McEwan
VIEW SHOOT
Have a bit of fun with your stationery! A quirky illustration and some fun phrasing all add to the atmosphere of your day. This one is sure to be a crowd pleaser (and will keep your guests amused, while you are having your couple shoot done!). We also love that unusual leather was included in the stationery of this African Roots styled shoot.