Okay fact: it's hard to narrow down all of the categories in our annual 'best of' roundups. But harder than hard – almost impossible, in fact – is selecting just 20 dresses that represent the absolute amazingness that our fashion-forward brides bring to the table each year. I swear, 2014 has been the most difficult choice yet, because so many of our real weddings showcased an incredible, on-trend, super-flattering and often original take on current bridal fashion, making each bride look like a movie star. From illusion lace and portrait backs (and boy, was this ever the year of beautiful lace!), to soft colour infusions, statement backs, shoulders and sleeves, and beautiful accessories – as well as some one-of-a-kind standalone creations – SouthBound Brides had it ALL going on. The result is not only a gallery of gorgeousness from SA's top designers (and the world's, hello Vera Wang!), clever brides and talented family members, but a collection of inspiring and stylish ideas for brides-to-be. Bravo, brideys, bravo. And to make it extra special, I've let those very brides describe each creation and how they chose it in their own words.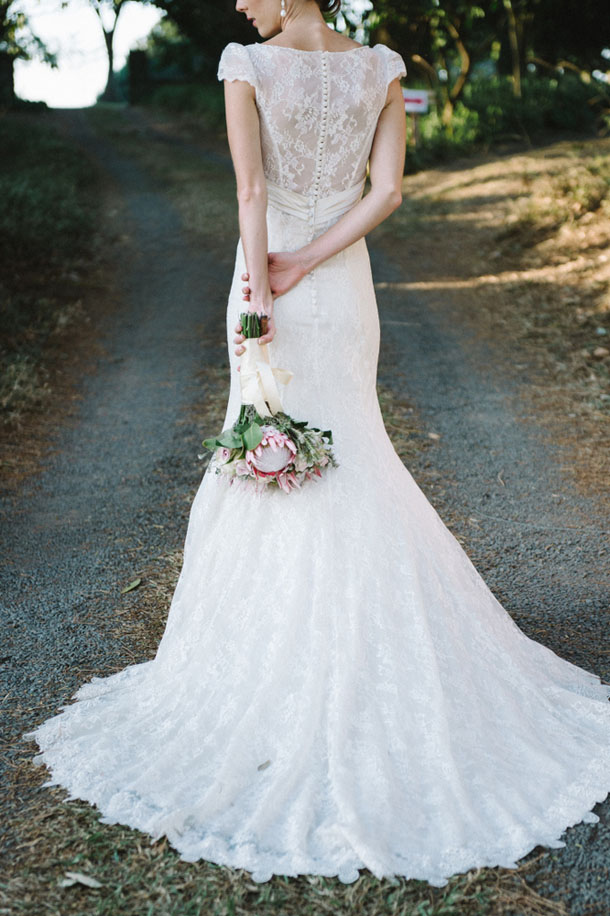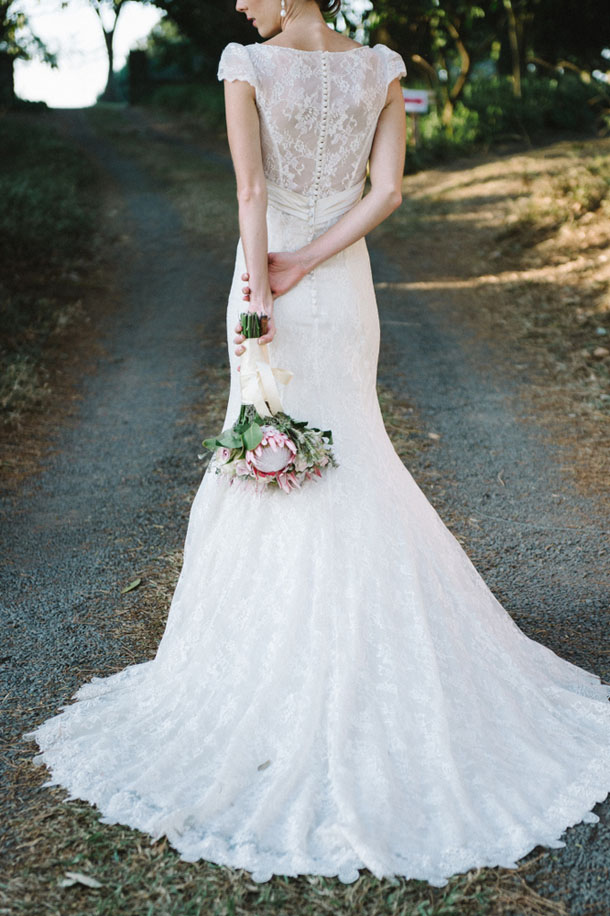 Dress alterations & fitting: Bianca Warren | Photography: Bright Girl | VIEW WEDDING
Lauren says: "I searched high and low but could not find THE dress. Eventually, after what felt like a hundred different dress appointments, I imported my dress which was then altered and changed by my very close friend, fashion designer, Bianca Warren. It was Chantilly lace with a small cap sleeve and a raw lace back. It had an encrusted brooch, buttons all the way down my back and a long train which I clipped up when the night began! It was my dream dress and I've never felt more like a princess than when I was wearing it!"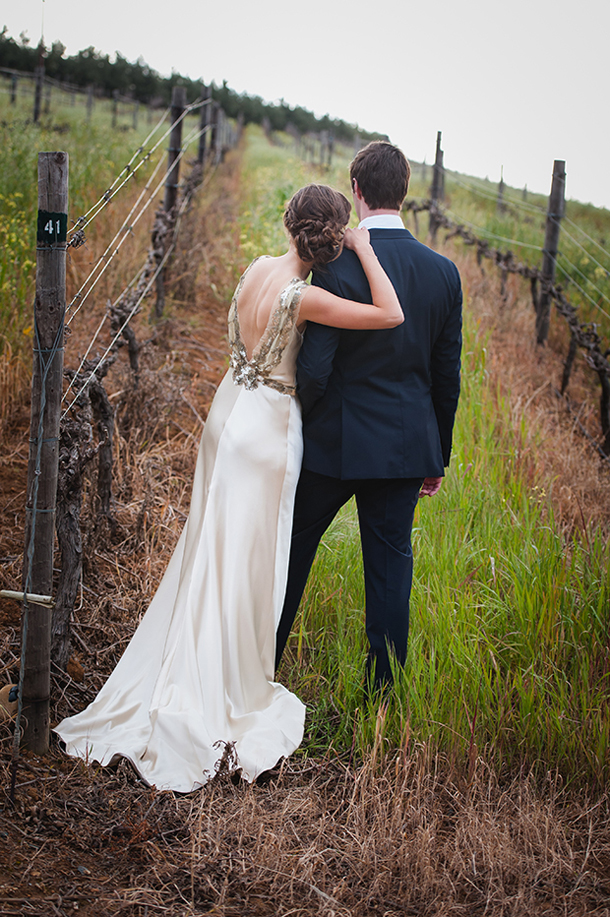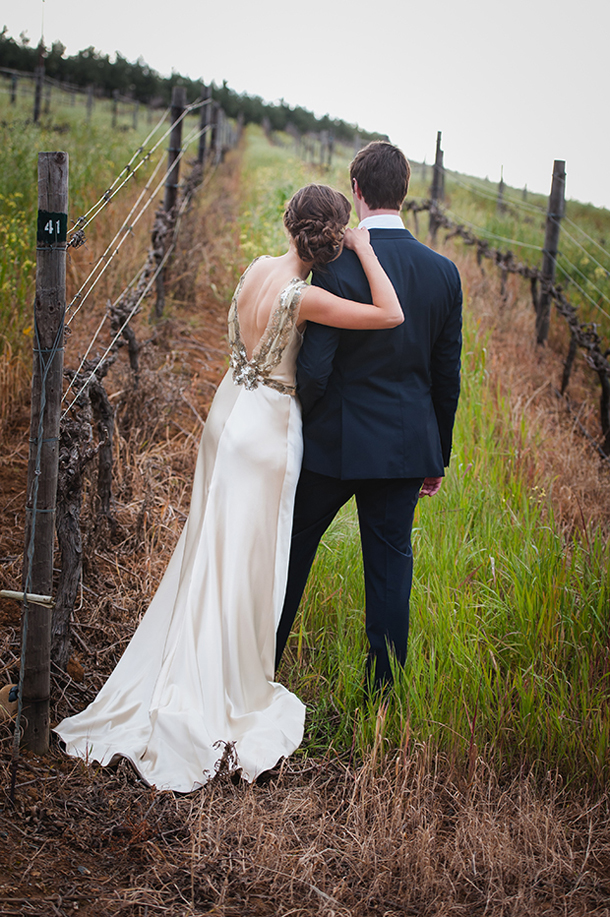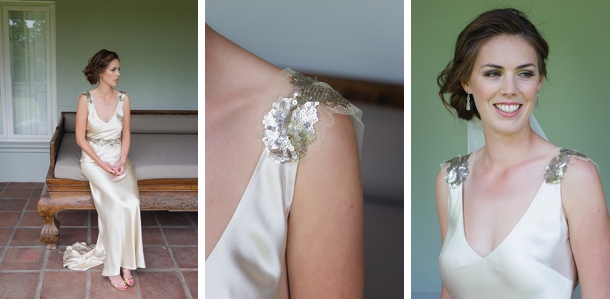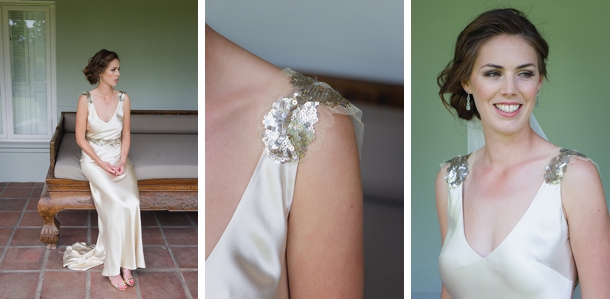 Dress: Johanna Johnson | Photography: Lauren Kriedemann | VIEW WEDDING
Georgie says: "I bought my wedding dress in Sydney after looking at a few places. I wanted something elegant, relaxed and straight down. As soon as I tried on dresses at Johanna Johnson I knew they were exactly what I was after. Their service, advice and help made the whole process so easy and enjoyable."  This gorgeous gown was also GABY'S FAVOURITE.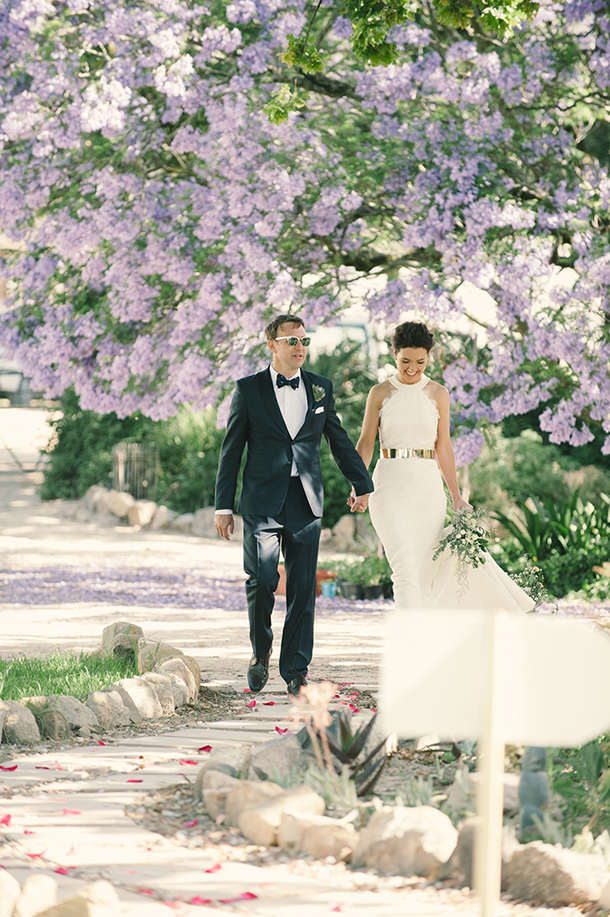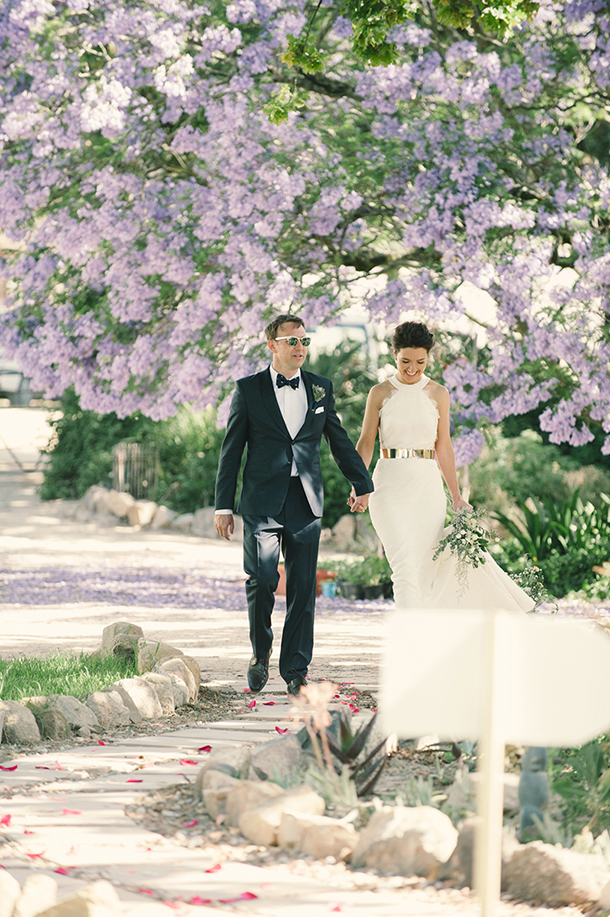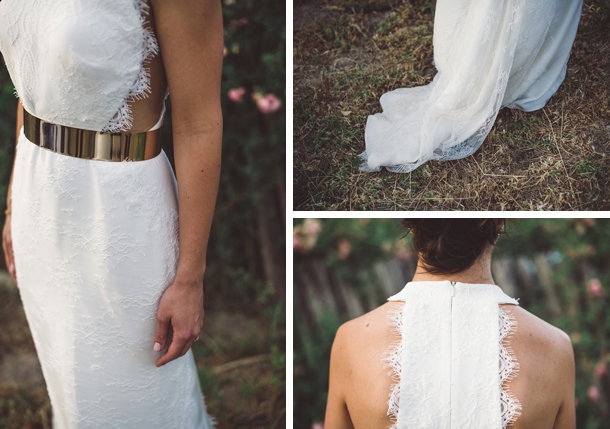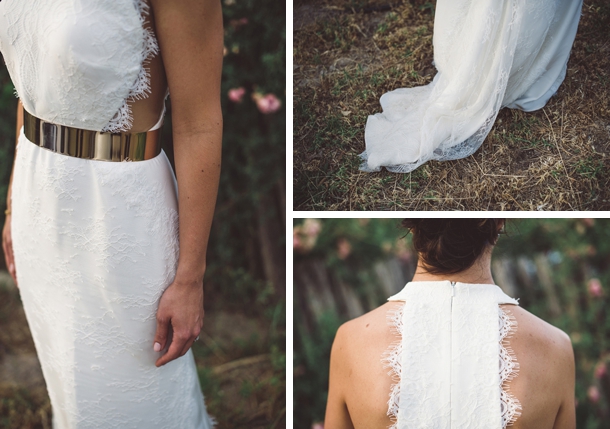 Dress design: Bride | Photography: dna photographers | VIEW WEDDING
Robyn says: "Working in fashion and having made a few wedding dresses before, I knew this was going to be a challenge – just too many options! I was very lucky to find inspiration after 'not wedding dress' shopping. I found the shape I wanted, sketched up a few options and it all came together. I created the pattern and, knowing where my talents do not lie, handed it over to an amazing lady Tanya Dimitrova who sewed up the Moroccan silk I chose with expert skill! The dress really came to life when I hand stitched the beautiful French lace I got from a boutique mill, Darquer. It worked out exactly as planned."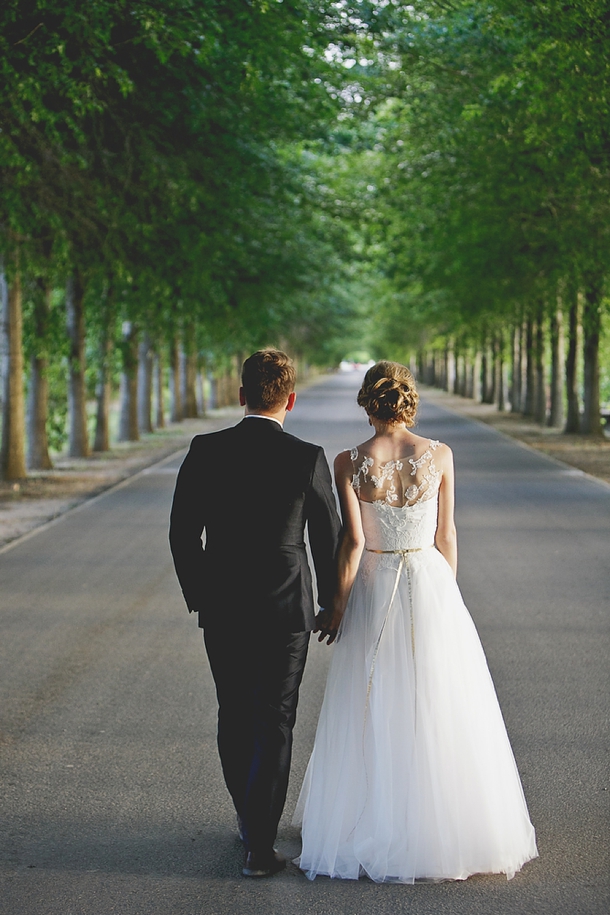 Dress: Zani Denton | Photography: Du Wayne Denton | VIEW WEDDING
Grethe says: "I made a range of appointments at various different dress-hiring and dress-making places – afterwards, I realised that my ideal dress did not yet exist and so I compiled a short description of my perfect dress as well as a few pictures taken at the fittings and sent it to a few dressmakers to see if their quotations matched my budget. And that's how I discovered my dressmaker, Zani Denton – who also happened to be our photographer's wife. She did it as a last favour to me as she no longer makes wedding dresses."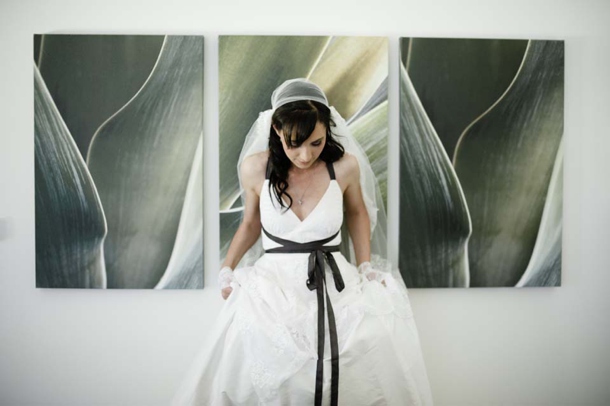 Dress: Rene O'Neil (bride's mother) | Photography: Jules Morgan | VIEW WEDDING
Naomi says: "My mother made my dress, gloves and garter belt. The dress had pockets… I loved that!"

Dress: Kobus Dippenaar | Photography: Lizelle Lotter | VIEW WEDDING
Jeanne says: "The process started with an image of a Jean Paul Gaultier perfume bottle and a visit to Joel & Son Fabrics in Church Street, London. I boarded a SAA flight with metres of blush silk and organza as hand luggage and had Kobus Dippenaar's studio in Loop Street, Cape Town as my final destination. I arrived with a clear idea of what I wanted but certainly did not have the vocabulary to describe the whimsical dress of my dreams. Intuitively Kobus transferred the image in my mind to a design on paper."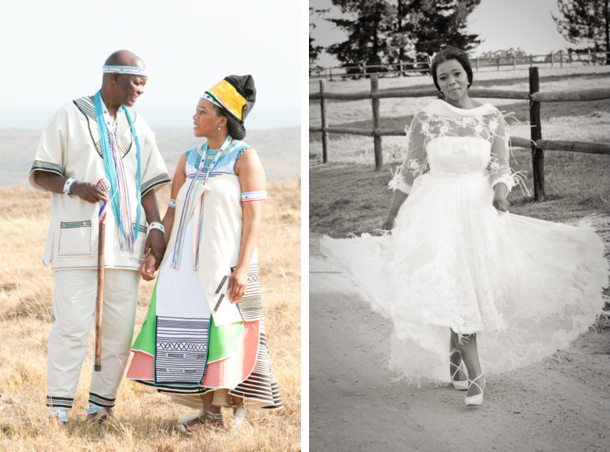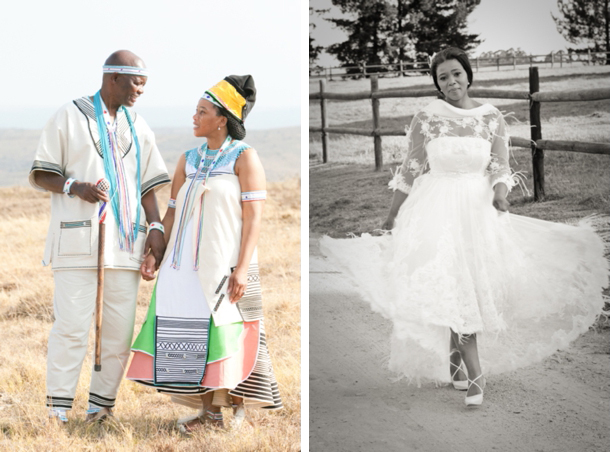 Dress (right): Terrence Bray | Photography: Monica Dart | VIEW WEDDING
Tembakazi got to wear not just one beautiful gown but two to her two-part traditional & western wedding – so of course, we had to include both! The second, by designer Terrence Bray, included a subtle hi-lo hemline, illusion lace, a glam boat neckline and ostrich feather detailing, reflecting the Eastern Cape location of both weddings.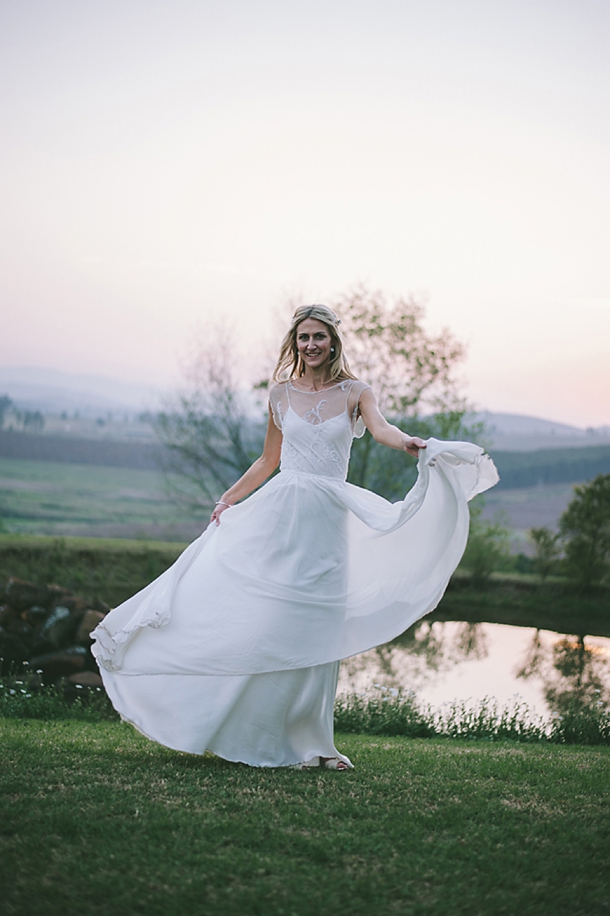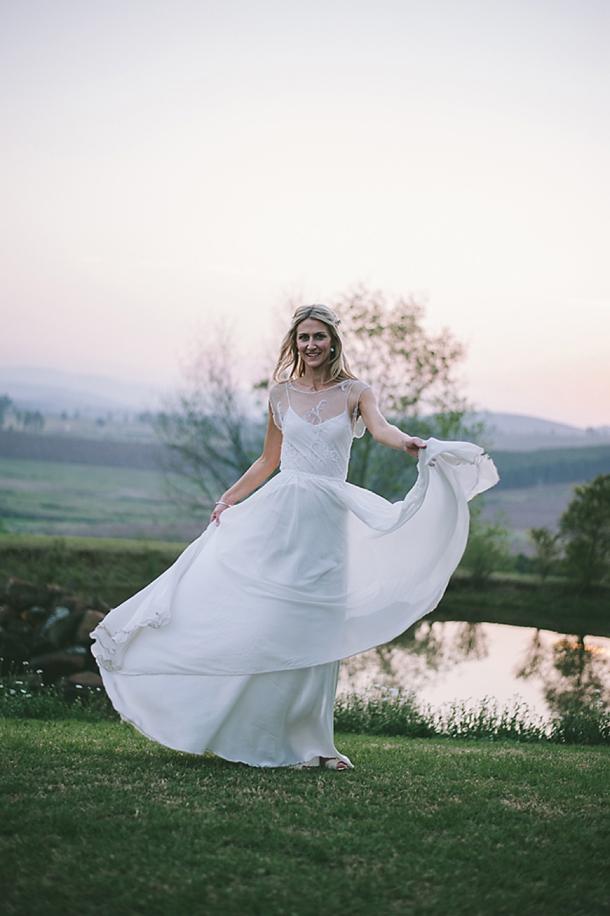 Dress: Lunar | Photography: Derryn Semple | VIEW WEDDING
Bridget says: "I've always know that I wouldn't get married in a typical wedding dress so it was the best surprise to walk into Lunar at 44 Stanley on my way out to lunch with friends and see my perfect wedding dress hanging in the store. I chased Matt out the shop very quickly while I enquired if it was for sale and made an appointment for the next day to try it on. It was very simple, flowy and pretty which is my style so it made the decision very easy to make and I felt completely comfortable in the dress."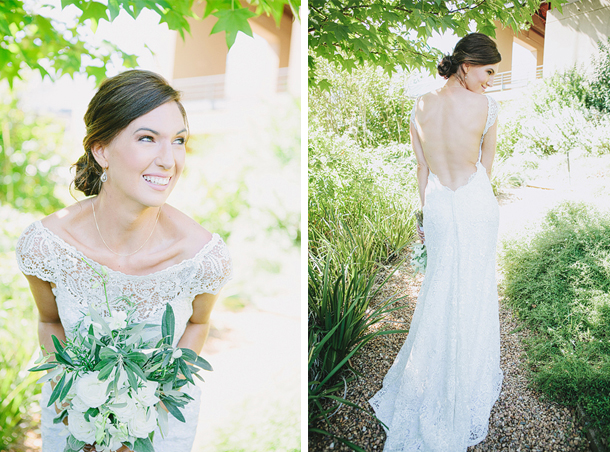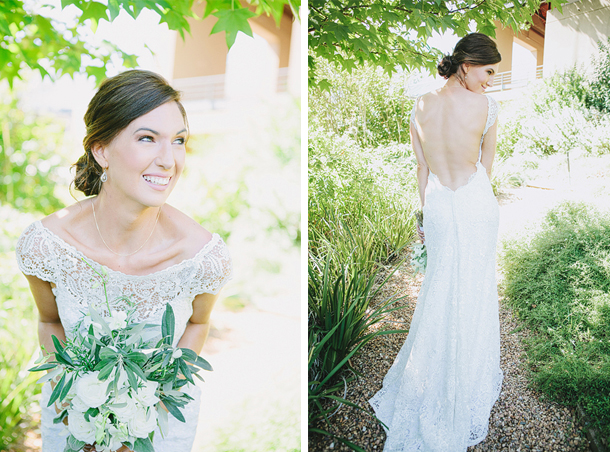 Dress: Alana van Heerden | Photography: Aglow Photography | VIEW WEDDING
Tamsyn says: "If I knew one thing about my dress, it was that I wanted a low back and a lot of lace. When I met Alana Van Heerden, she guided me and together we designed a low back with lace scalloped edges. The front of the dress is more conservative and the lace follows my collarbone with a 'bustler' underneath all the lace. I decided on a heavier lace with a very fine gold thread through the design so it could be form fitting with a slight train. The material underneath was ivory, so the whole dress was off-white. It is the dress of my dreams…"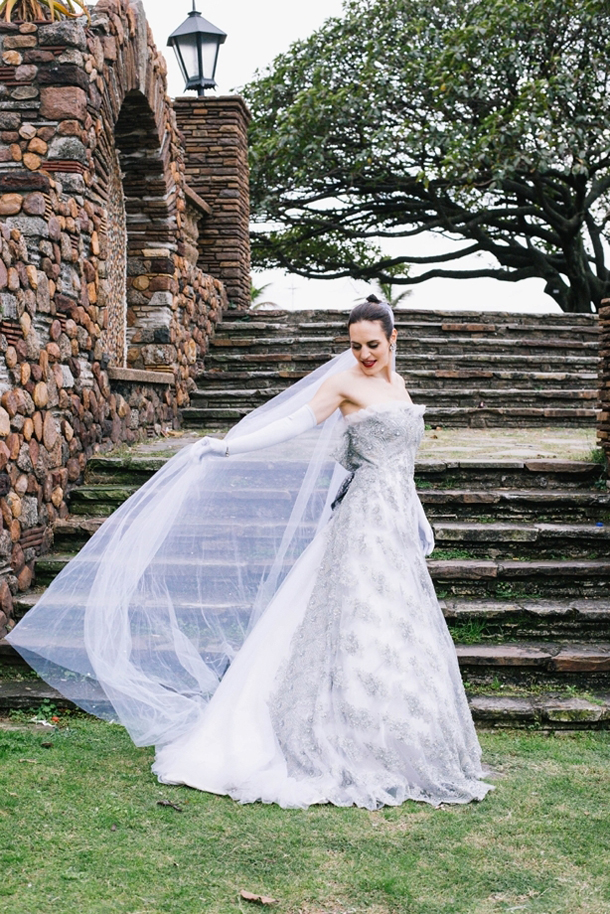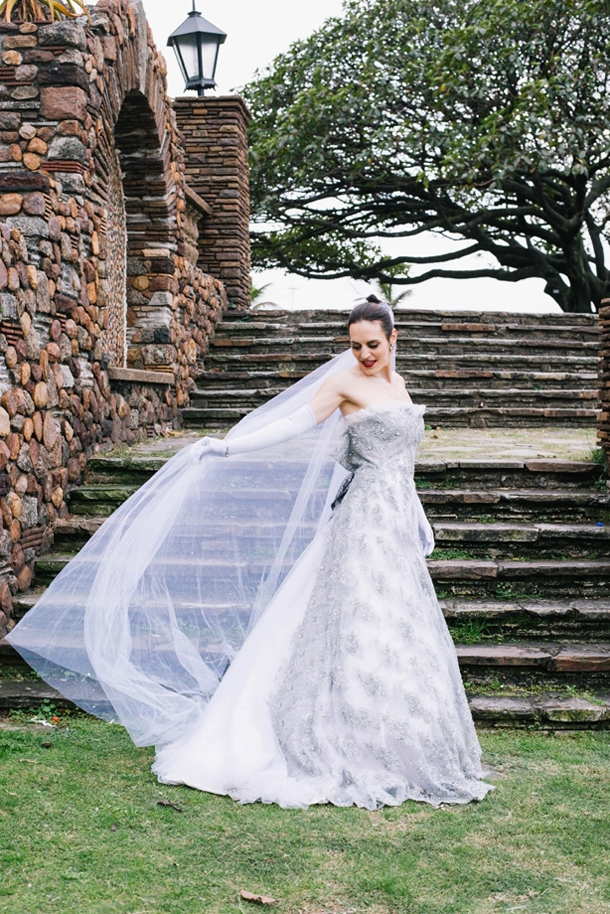 Dress: Gideon | Photography: Kate Martens | VIEW WEDDING
Taryn says: "I saw a picture of a Christian Dior gown from Gianfranco Ferre's last collection for the design house and just loved it! Then I asked South African designer Gideon if he could re-work it and he did. He is such a talent, an amazing gent."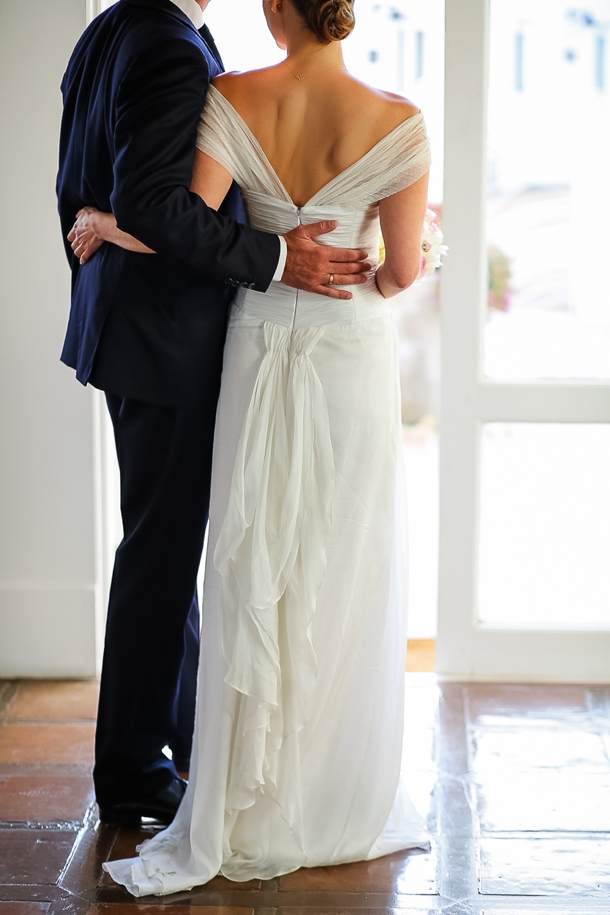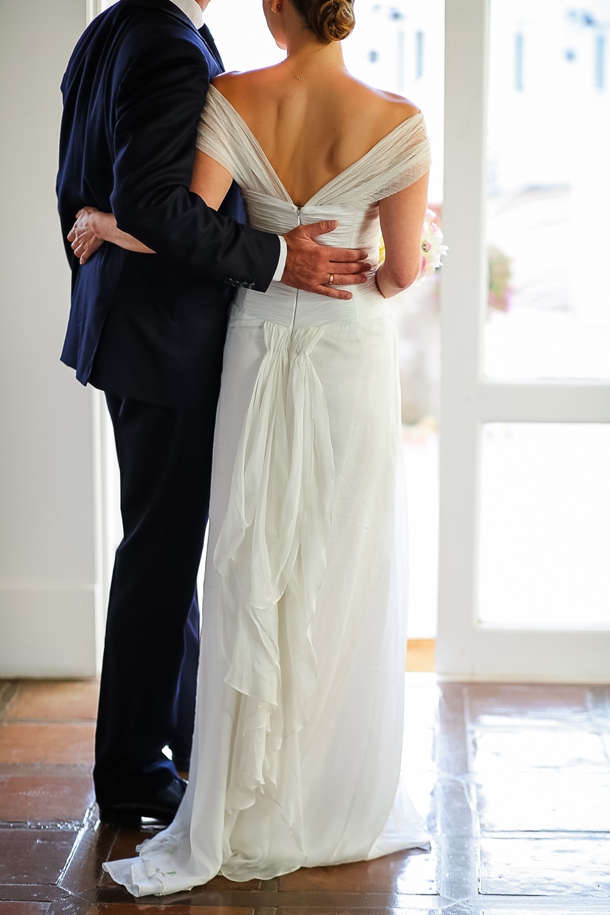 Photography: Nikki Meyer | VIEW WEDDING
Nina says: "I searched online first for three weeks and found The One and only dress from a Spanish label."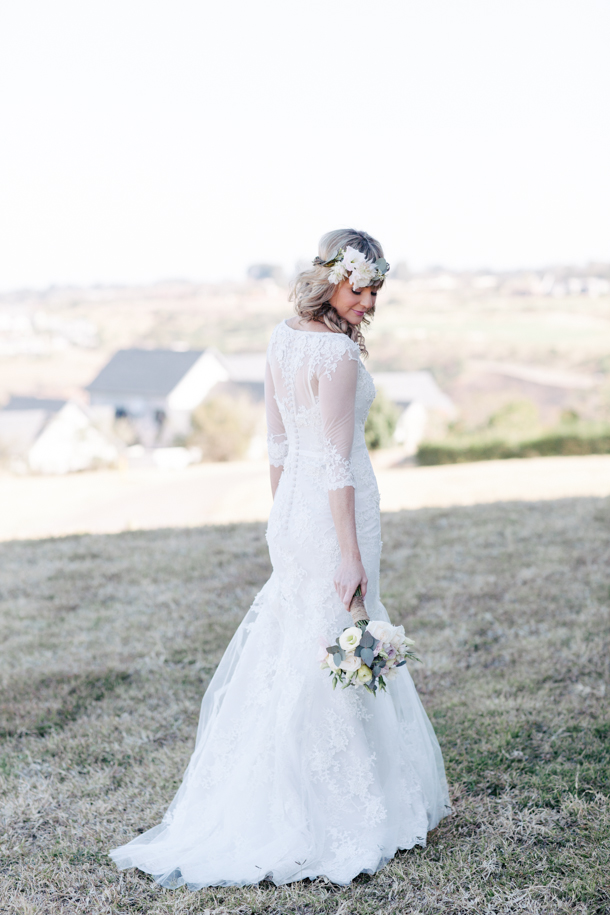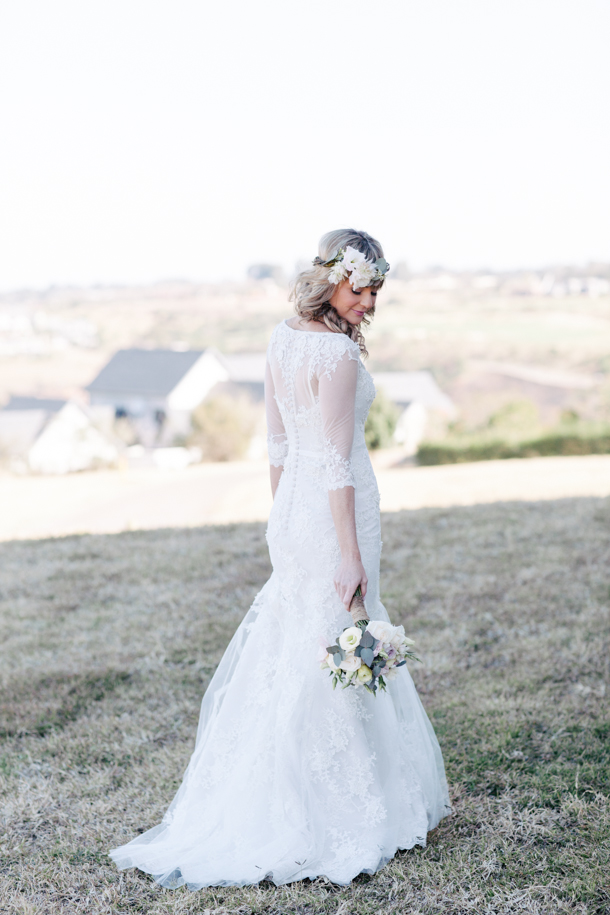 Dress: Yolande Wortman | Photography: Vanilla Photography | VIEW WEDDING
Katy says: "I have always loved wedding gowns with sleeves, there is something very timeless about them. I found a picture of dress I thought would be perfect and called Yolande Wortmann to see if she could rework it. She did a beautiful job, I couldn't have asked for anything more."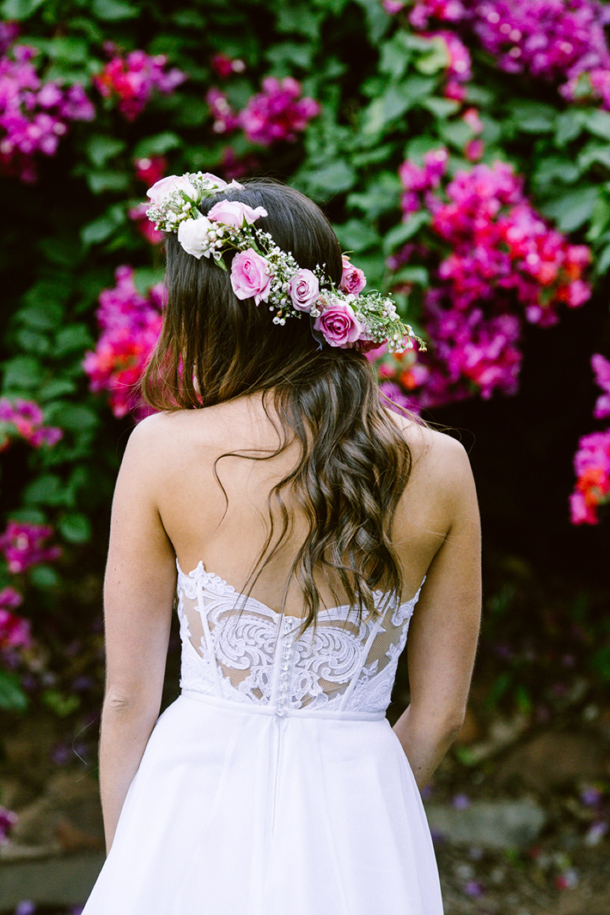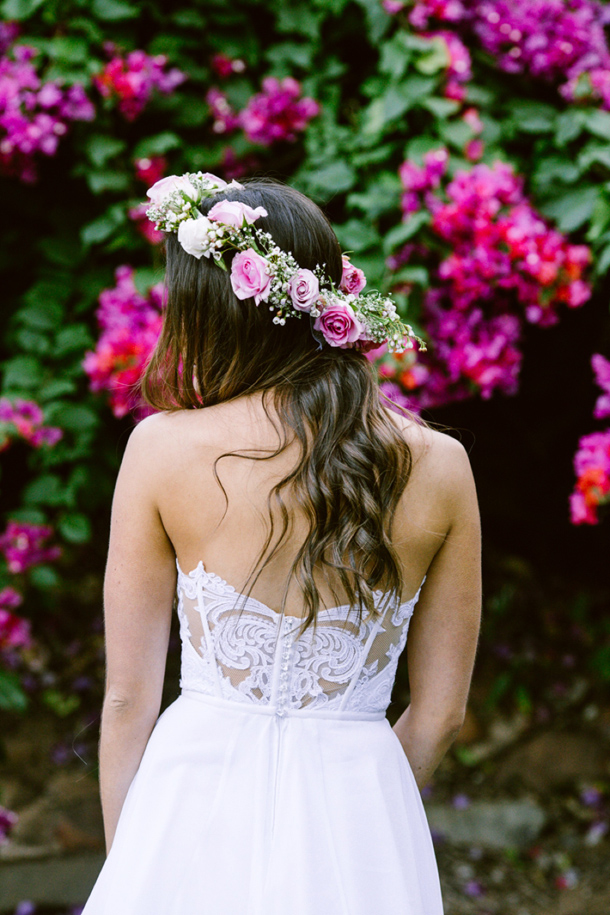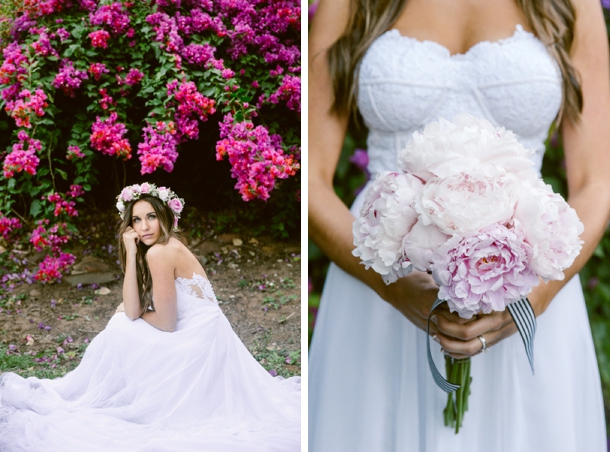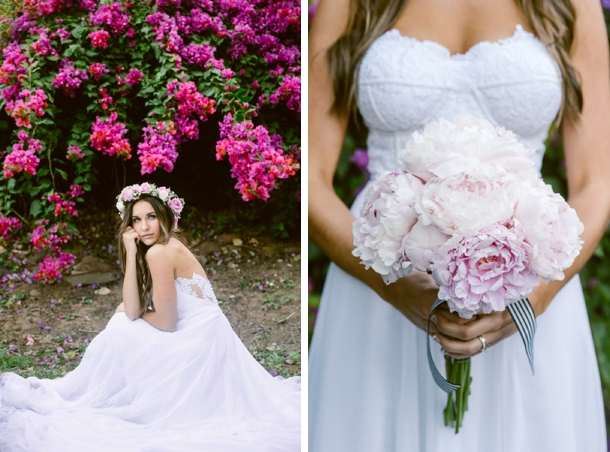 Dress: Julia Ferrandi  | Photography: Lad & Lass Wedding Photography | VIEW WEDDING
Jessica says: "When I got engaged, I knew exactly the gown I wanted, and so the challenge for me was finding someone who could bring my vision to life. After meeting with Julia Ferrandi, showing her my dress idea and seeing her giddy excitement over it, I knew that she was the one to bring it to life. I didn't have a single doubt or concern along the way, I knew my dress was in the safest hands. From the fabric and lace shopping to every single fitting, it was a surreal dream come true. The dress was EXACTLY how I imagined it to be."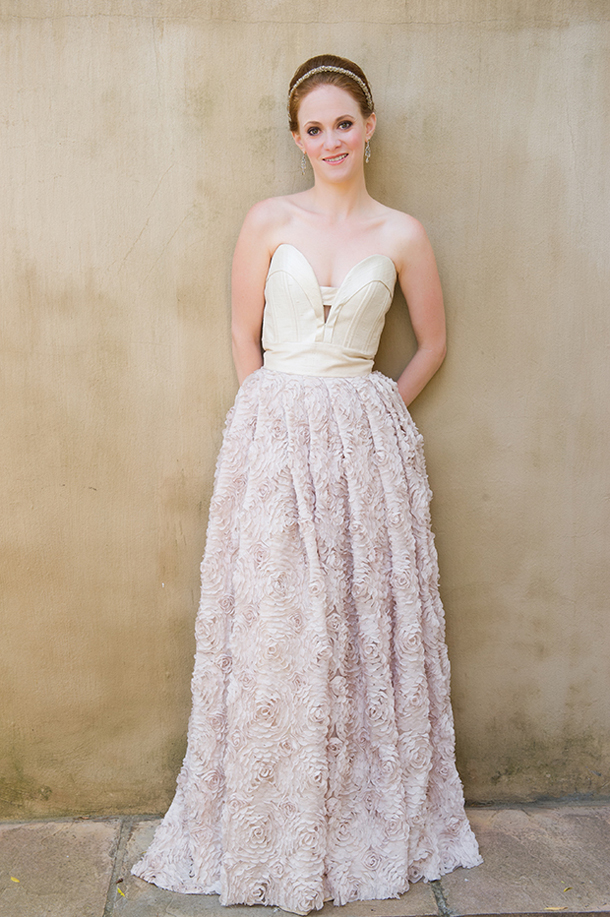 Photography: Lauren Kriedemann | VIEW WEDDING
Claire wore such an unusual and beautiful ruffled blush dress – sheer romance with her husband's traditional kilt!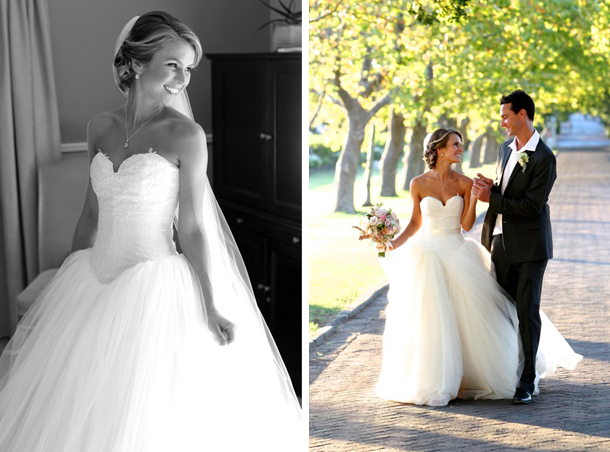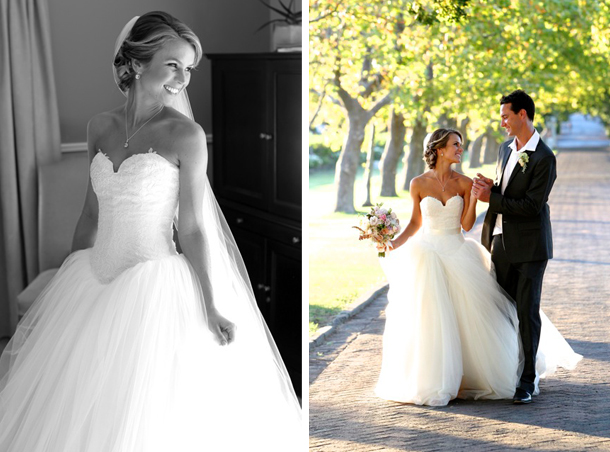 Dress: Vera Wang | Photography: Absolutely Loved Photography | VIEW WEDDING
Stella says: "I've been in love with a dress since I was 16 years old. A timeless, feminine, elegant and beautiful dress; perfect in my eyes and I knew it would have me feeling like a real life princess. It's one that made my jaw drop to the ground the very first time I saw it. It is timeless, feminine, elegant, beautiful. It is simply perfect. So when I got engaged, it only took me about two weeks to decide on AND buy my dress!"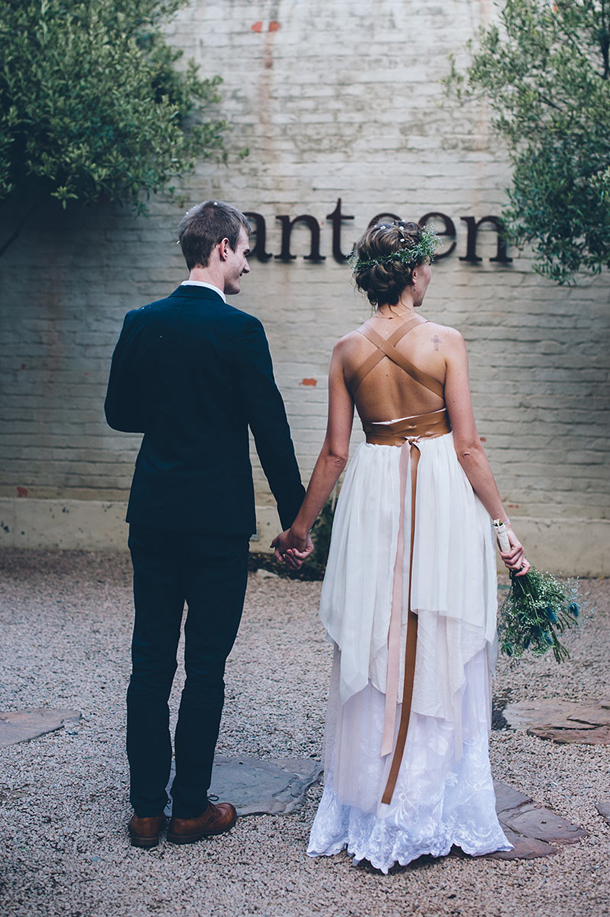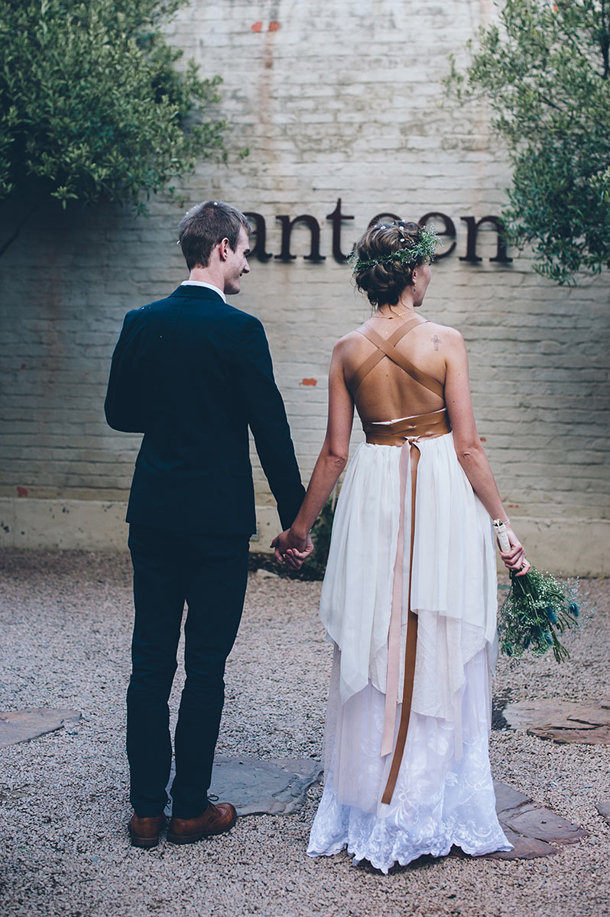 Dress: Douglas Paton | Photography: Creative Emporium | VIEW WEDDING
Cindi says: "I have never been a ballgown type of girl and wanted something simple but with a twist. Before even being engaged I fell in love with a dress I saw on Pinterest. The lace and leather was the perfect match. I helped pick out the fabric and after it had been sewn together I cut the angles and lengths into each layer."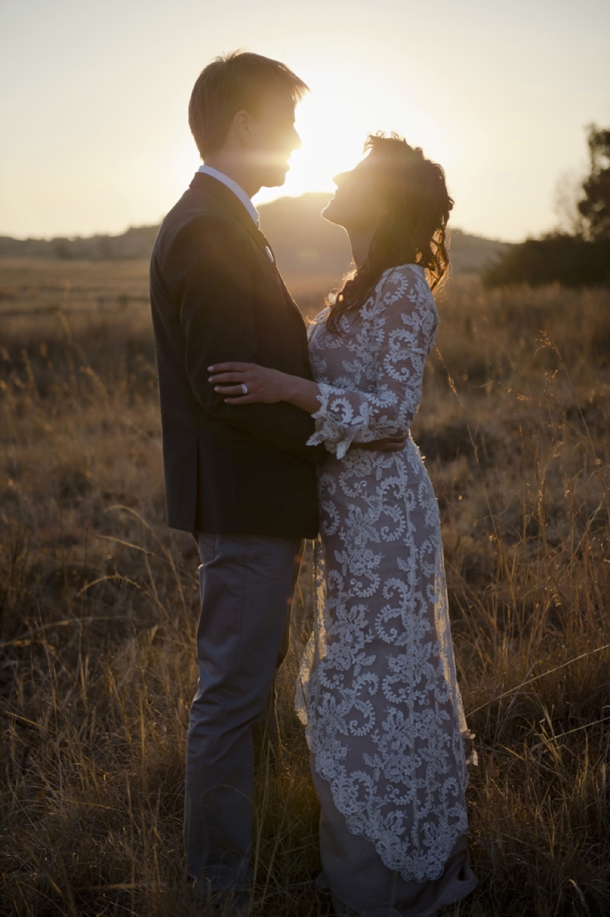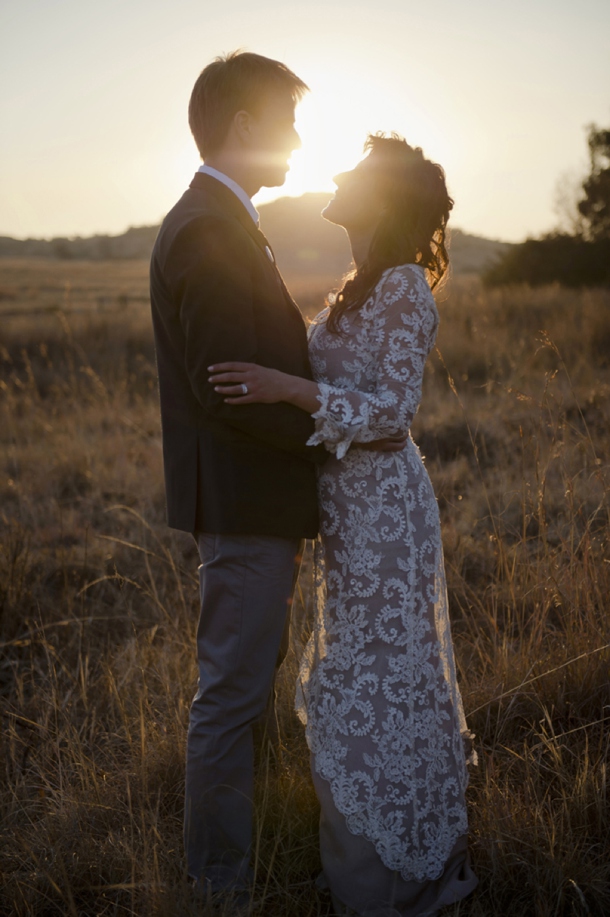 Photography: GingerAle Photography | VIEW WEDDING
Haloise says: "My knowledge on weddings was zero – I had to ask for a lot of advice from friends and the internet helped tremendously! I couldn't find many choices for winter wedding dresses, but I had a few ideas and asked a seamstress to make it for me. Putting all those inputs together, I had a gown!" Haloise's nude lace creation was this year's PINTEREST FAVOURITE.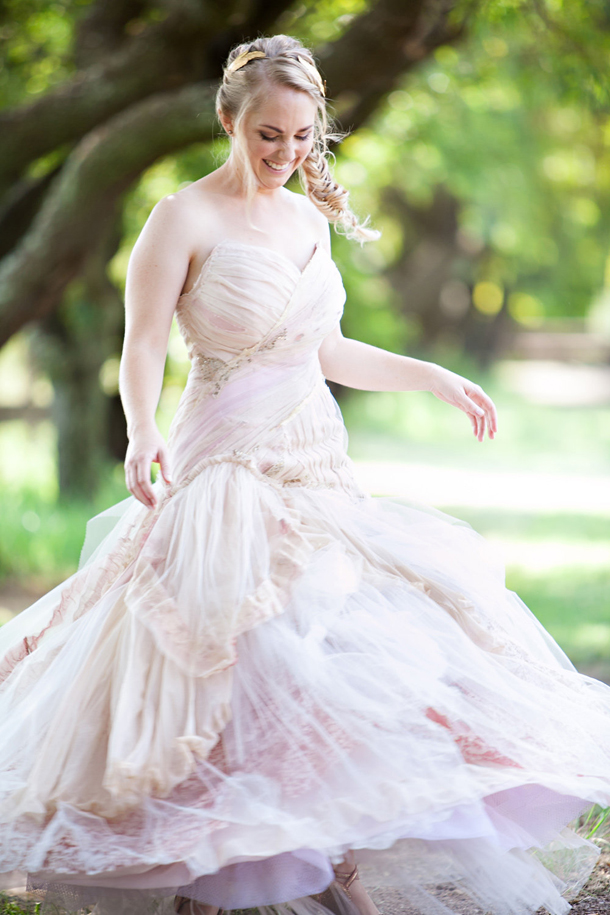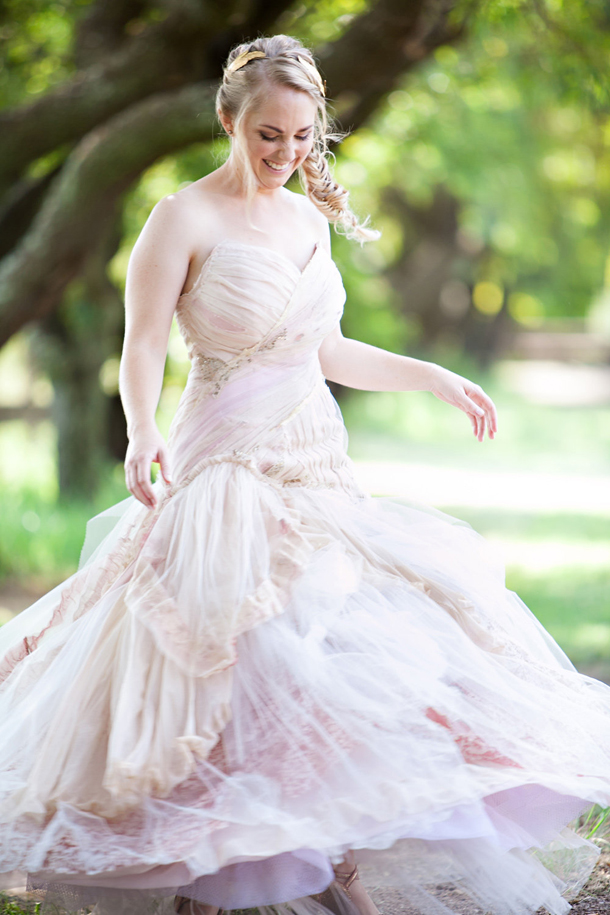 Dress: Dimity Eco-bride | Photography: Van der Bijl Photography | VIEW WEDDING
Leigh says: "I'm not a white, lace overlay and crystal embroidery kind of a girl and so finding a dress I loved in a boutique was a challenge. I dreamed of a wild, tulle creation in every shade of blush and burnt rose with raw edged texture and lots of drama. Wendy Schultz of Dimity Eco-bride took these vague musings and numerous Vera Wang clippings and created the most beautiful dress. Wendy is a genius and her ethos of recycling and reusing forgotten bits and pieces fit perfectly into our wedding vision! She gives old fabrics new, sparkly lives. The masterpiece she designed for me combined tones of blush with distressed gold details and included fabric from an antique sari of deep rose, and an Egyptian shawl with hand clamped burnished metal embellishments and of course, lots of upcycled tulle! Wendy's attention to detail and craftsmanship is beyond comparison and I will cherish the dress she gave me forever. It is unique and exquisite and most importantly, me."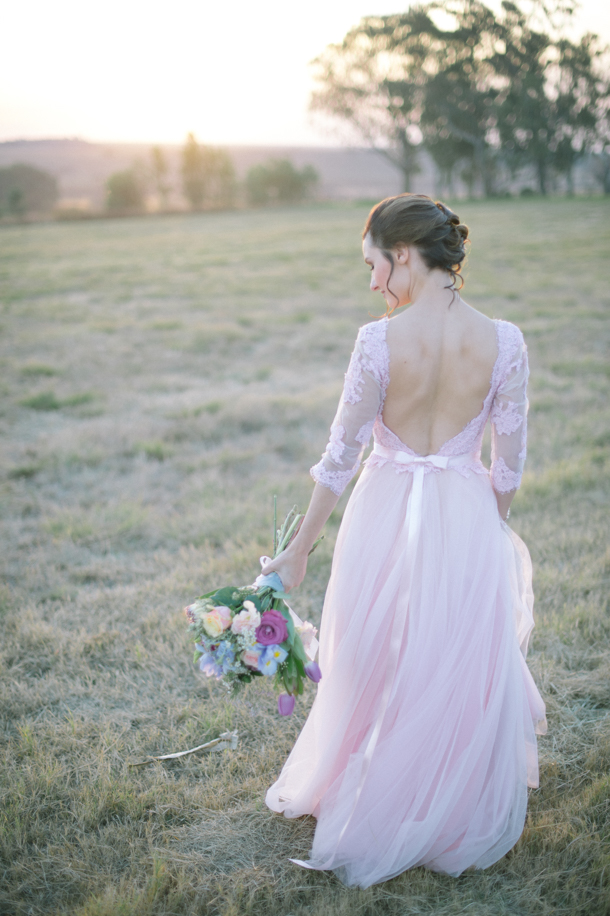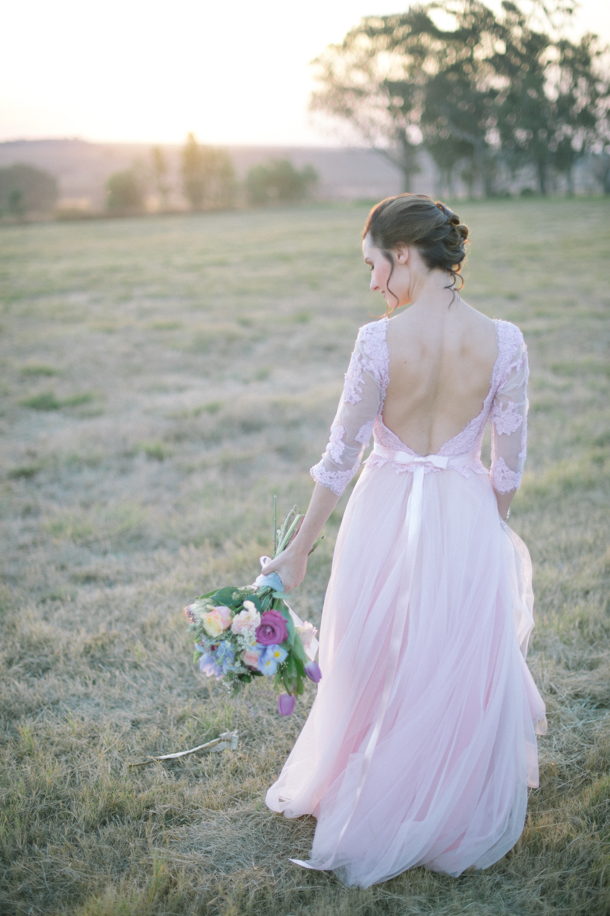 Dress: Rina from Catherine's Collection  | Photography: Laura Jansen | VIEW WEDDING
Evette says: "I wanted a pink wedding gown, so we opted to have my dress made. My lovely sister-in-law referred me to the lady who made her wedding dress as well, and together with Rina from Catherine's Collections my dream became a reality. We spent many days discussing and tweaking designs, looking for the right fabric and dyeing lace and fingers. Being a trained ballerina with a very active imagination, I wanted a dress that allowed me to move and dance, yet still make me feel like I was the star of my own fairytale."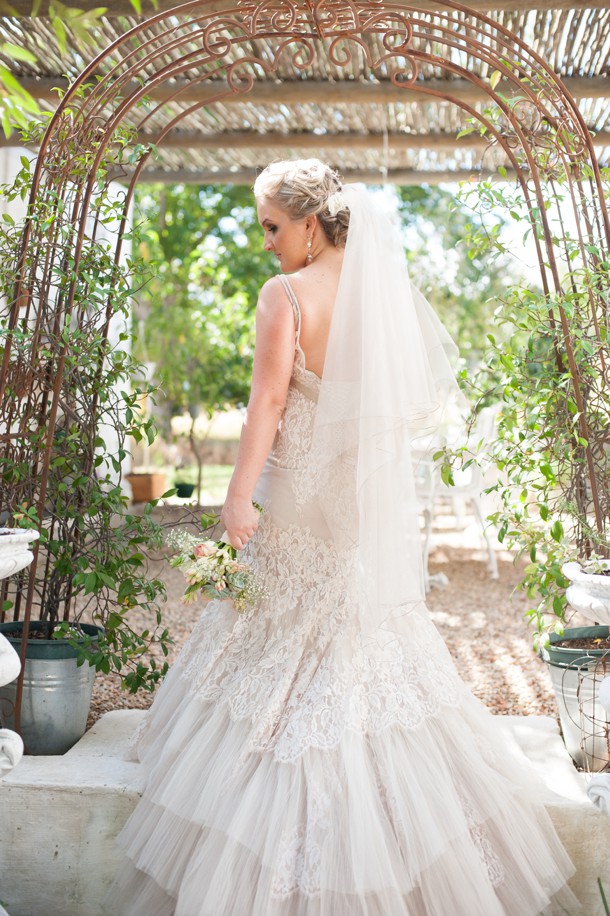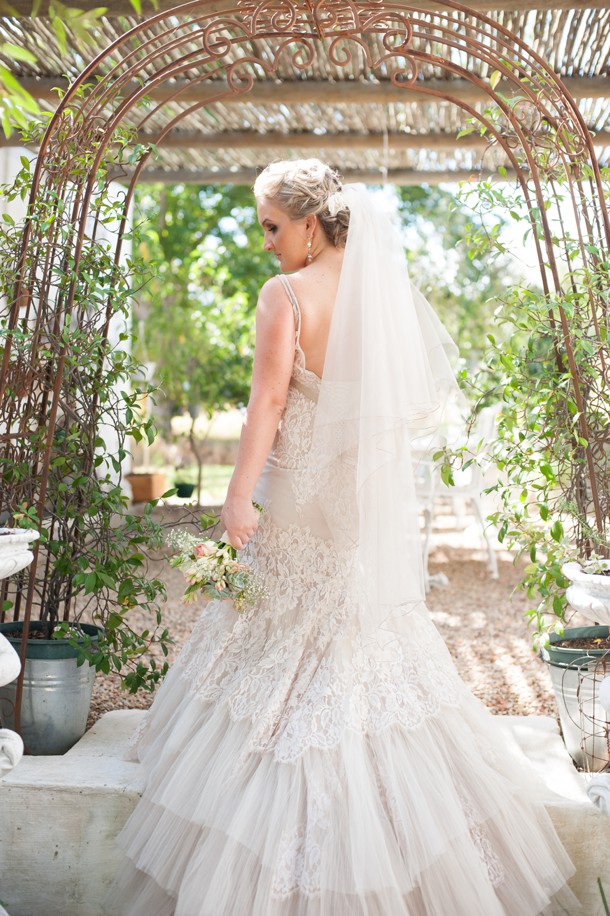 Dress: Elizabeth Stockenstrom | Photography: Nicole Rich | VIEW WEDDING
Ilani says: "Before we got engaged I always knew that I liked Elizabeth Stockenstrom's vintage lacy wedding dresses. So when we got engaged, I made an appointment with Elizabeth to try on some dresses. My mother went with me, and when we walked into the fitting room there was a dress that a I saw and immediately showed to my mother. I told her: "I want that one". It was something unusual, something that I hadn't seen anywhere yet and I absolutely fell in love with it. So within an hour I had found my perfect dress."