Hello lovelies! We're continuing our countdown of my favourites from 2013 – but I think this might have been the most difficult to choose of them all! The truth is that I think every bride I feature is stunningly beautiful – not just because of the dress (although we LOVE the dresses) or the accessories or the makeup or the hair, or even because each bride shows off her own unique style and beauty on the day, but because of that special glow that just makes brides look amazing. Call it the look of love. That said, there are some brides whose sense of fashion and style just goes beyond – here are the ten looks that really blew me (and you) away this year. Each has something different and inspiring to offer – and they're proof if ever there was one that some of the best wedding day looks come from those who aren't afraid to bend or break the rules. It's YOUR day. Dress YOUR way.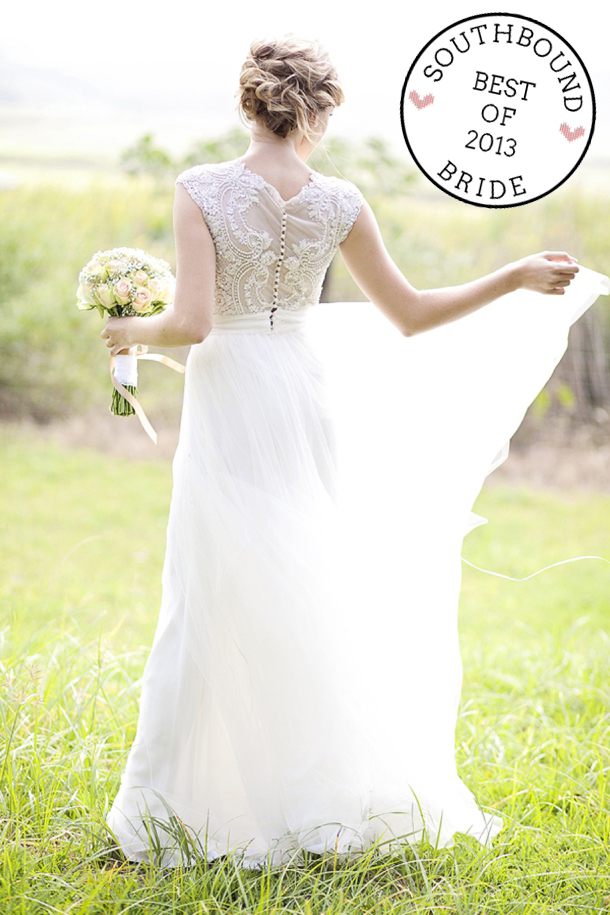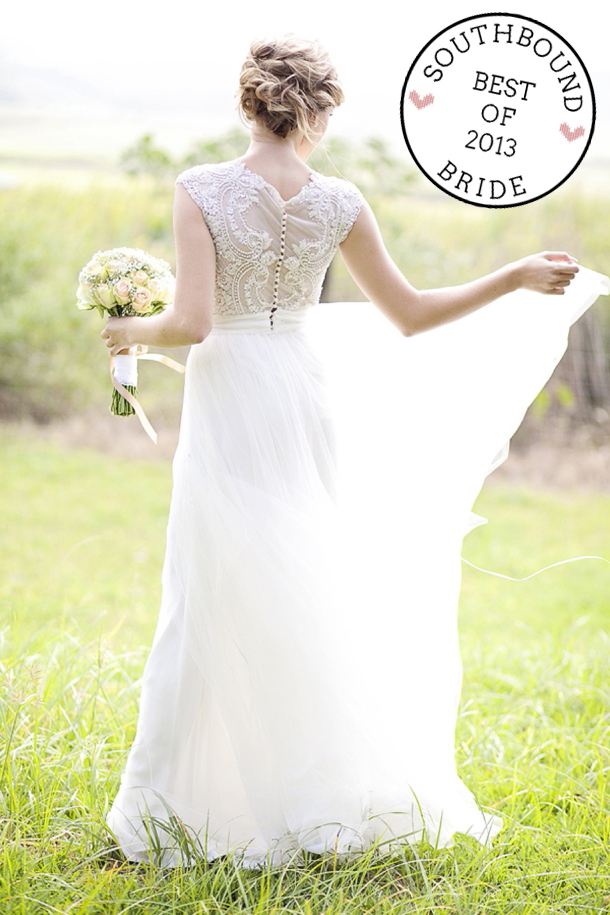 Let's get to it. I think this heavenly creation was my favourite dress of the year – and bride Julia made it herself. Yep, I kid you not. How talented is she? It wasn't just the portrait back (which okay, we are all crushing on right now), but the ephemeral quality to the material. It's just so, so pretty. See the whole wedding (dress by Julia Ferrandi, photography by Fiona Clair).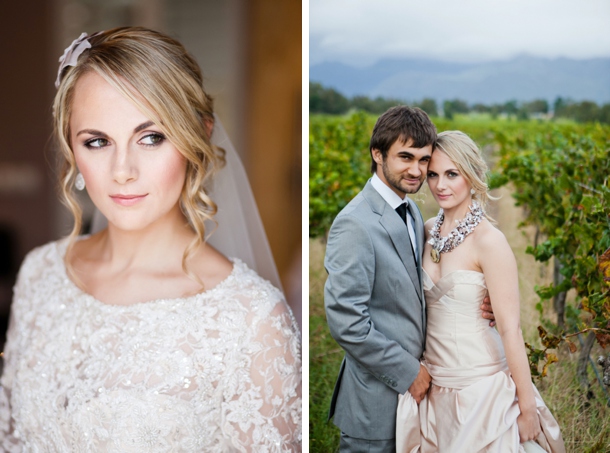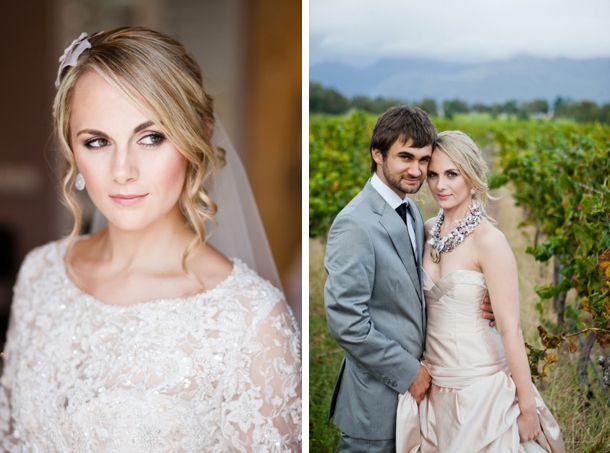 Another talented bride, Annemarie created her custom statement necklace, which I adore. And that wasn't all I loved – Annemarie's gorgeous champagne pink dress, by Johann Smith, was complemented for the church ceremony with an incredible lace overlay. See the whole wedding (photography by Vivid Blue).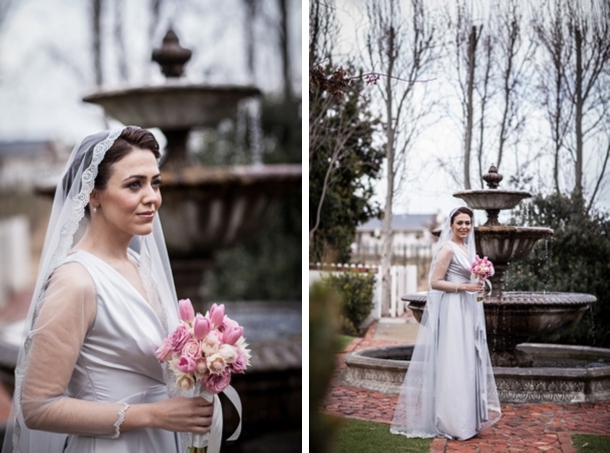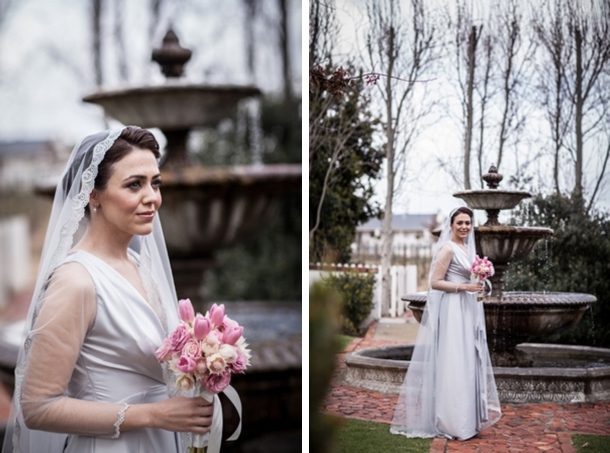 From champagne pink to the softest dove grey, bride Maria's look was so unusual and beautiful, I just fell in love with it. The silk came from Malaysia, and was made up as a gift by family friend Francina Underhill, then paired with a romantic floor-length mantilla veil. On the day, the grey of the dress matched the grey of the rainy skies – spectacular! See the whole wedding (photography by Cari Photography).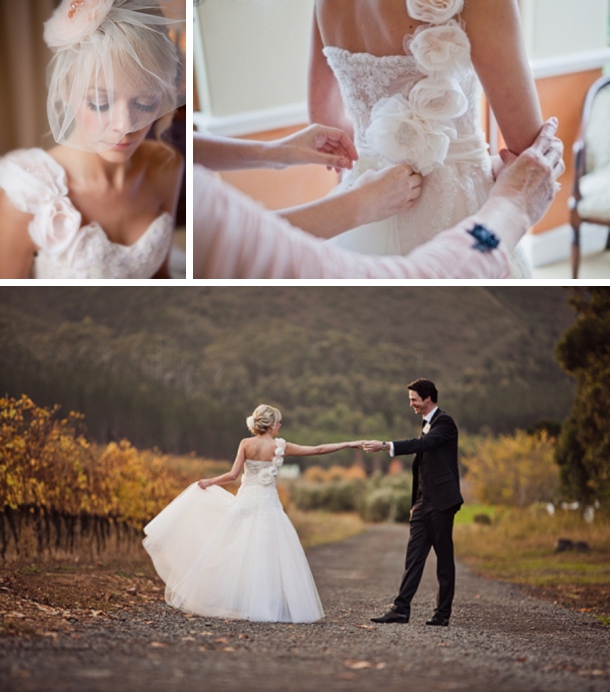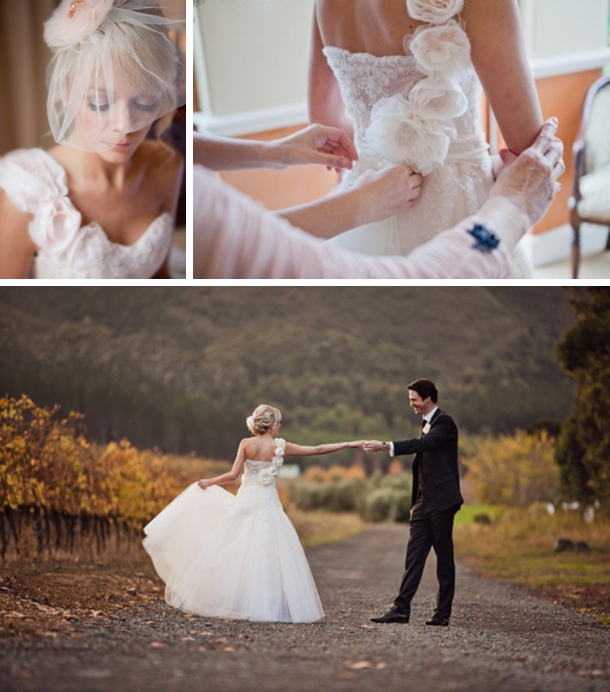 A little more traditional, but no less lovely, was Hestelle's frothy, romantic dress by Alana van Heerden. I loved the addition of the rose detailing across the shoulder, which so perfectly matched the soft blush paper flowers that adorned the reception. For the ceremony, Hestelle added a cheeky birdcage veil headpiece, making the look both modern and a bit whimsical.  See the full wedding (photography by Aglow Photography).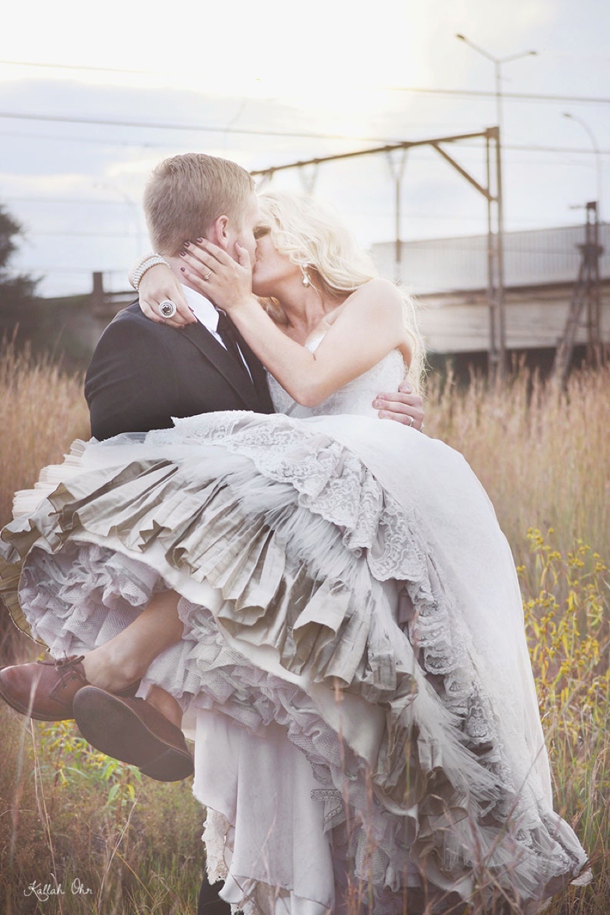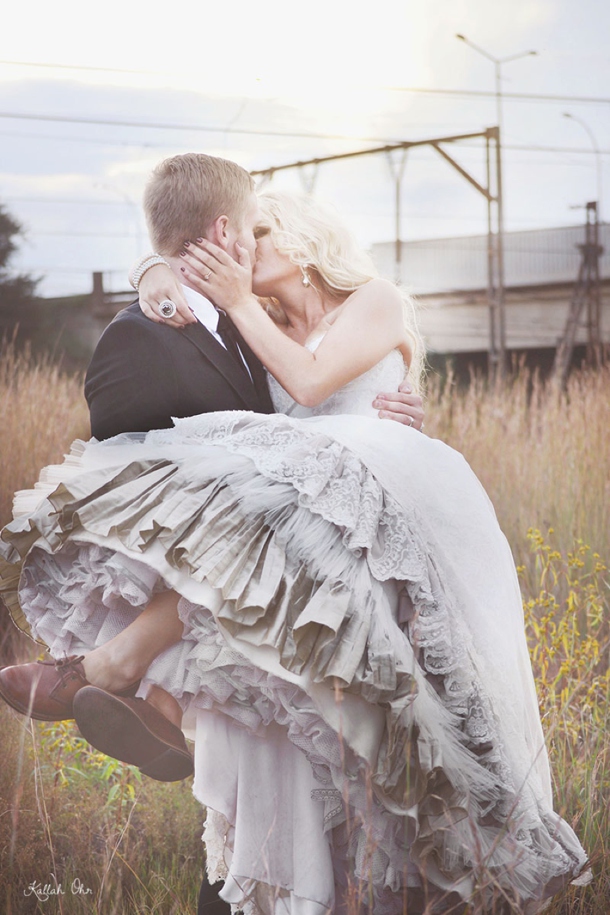 This next look was a HUGE hit with you on Facebook! Was it the vintage-inspired, layered lace dress with grey trim by Anel Botha Couture? Well yes, definitely, but we also loved the proudly South African touch of veldskoene peeping out from underneath. Truly a SouthBound bride! See the whole wedding here (photography by Kallah Ohr).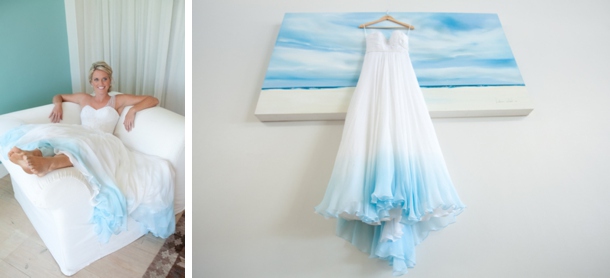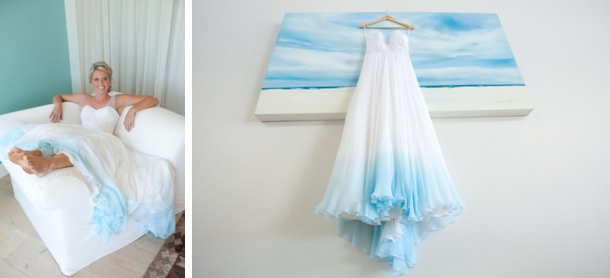 What could be better for a beach wedding than an ombre dress? Nothing, that's what. Bride Leigh wore this absolutely stunning Rosenworth creation with aqua blue ombre at the bottom, as if it had been dipped in the bluest ocean. LOVE. See the full wedding (photography by Monica Dart).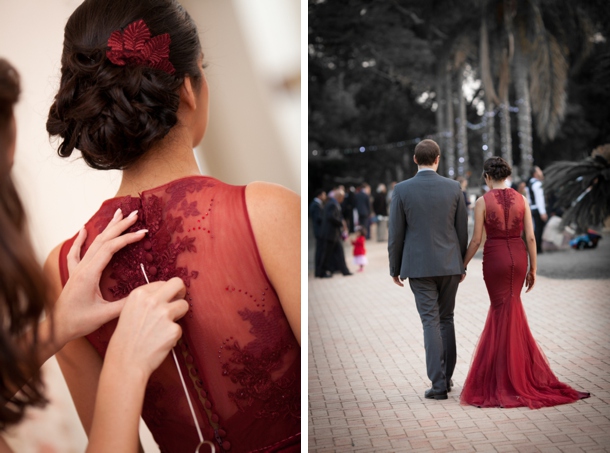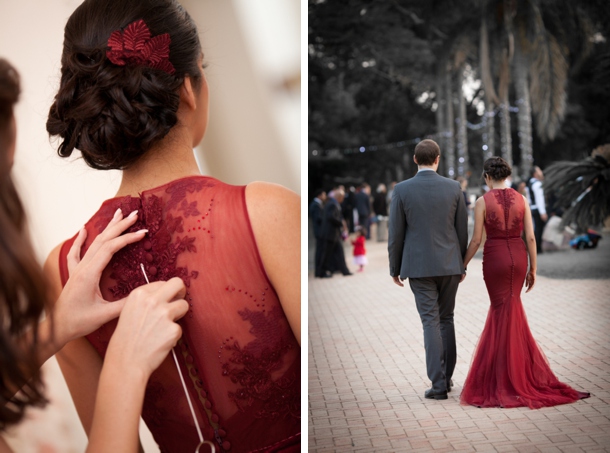 We're not done with colour yet (didn't I tell you it would be one of 2013's biggest trends, along with, ahem, illusion backs? ;) ). This beauty was the boldest colour statement we featured this year, and it still takes my breath away. Bride Sasha chose talented upcoming designer Casey Jeanne to create this striking beauty (to complement her own), and it stopped all of us in our tracks. See the whole wedding (photography by DS Murrel Photography)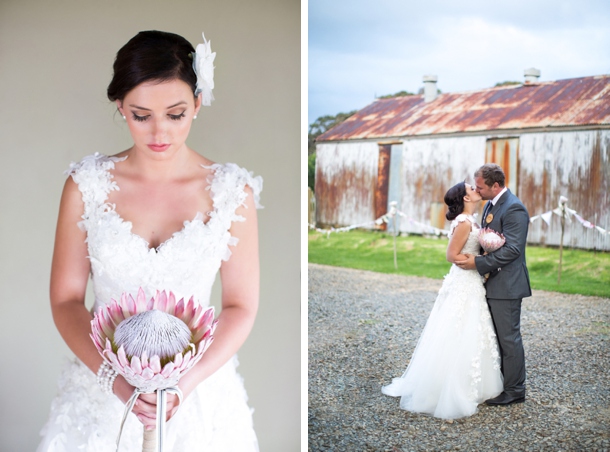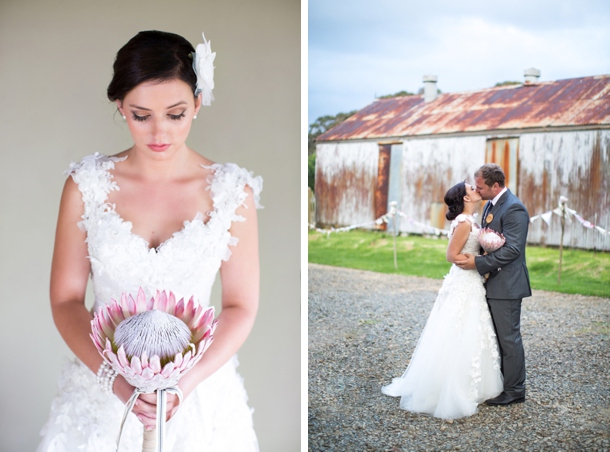 Just. Look. At. That. Detailing. Has a bride ever had prettier shoulders? I absolutely loved bride Juane's dreamy dress by Werner Dey, from the soft embellished neckline to the frothy skirt. Isn't it lovely? See the whole wedding (photography by Wesley Vorster).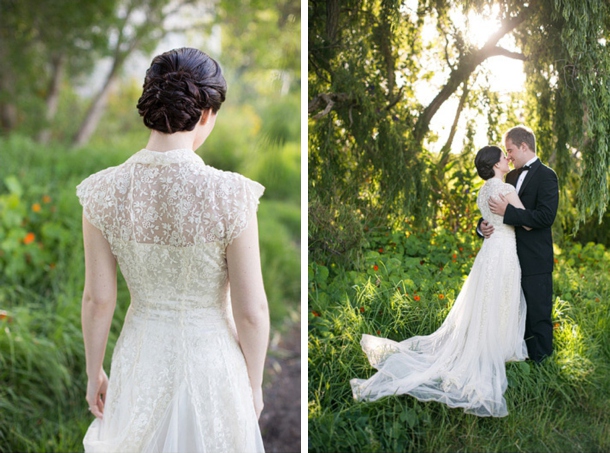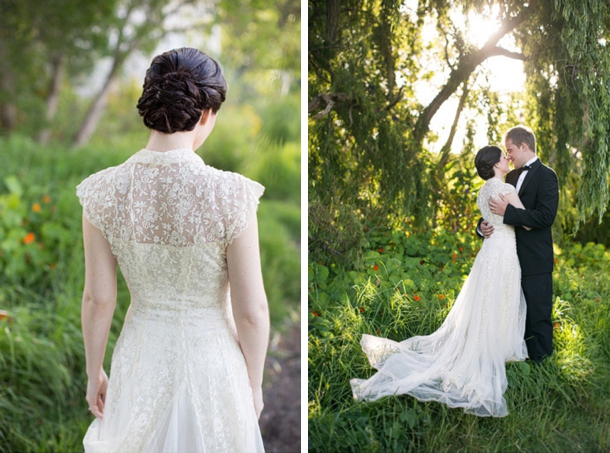 This one's a bit different, because it isn't actually the wedding dress. And believe me, our RLB Candice's wedding dress was a beauty. But I loved her idea of having a vintage lace wedding dress (that she bought off eBay, can you believe?) for her engagement shoot so much that I had to include it here. It's perfectly combined with a chic updo – she looks like royalty. Why not think out of the box for your own e-shoot, and consider wearing one of the alternate looks you loved and decided against for your wedding day? See the whole eshoot (photography by Catherine Mac; additional pics above from her blog).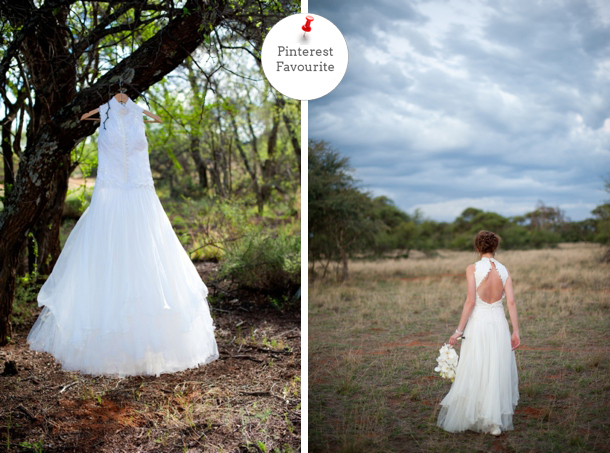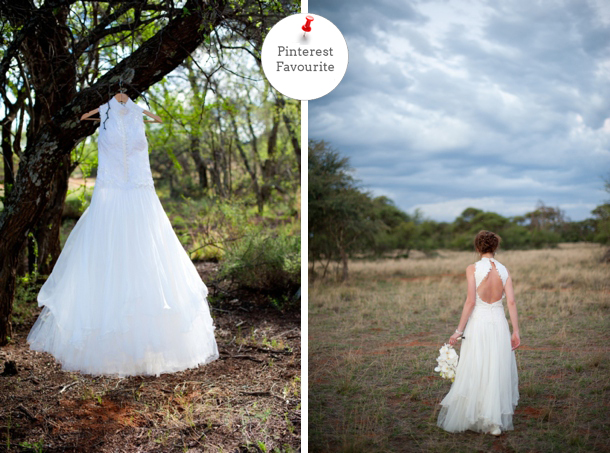 Finally, here's a dress that was a Pinterest fave among you, the lovely SBB readers. I love the unusual high neckline of Marike's dress by Anmari Honiball, with a surprise portrait back – the perfect combination of modest and sexy. I also love the layers on the skirt – so pretty! See the whole wedding (photography by Charmaine Spangenberg).
So those were our top 10 wedding looks, but I thought I would also include a roundup of some of the prettiest hair styles spotted on our 2013 brides…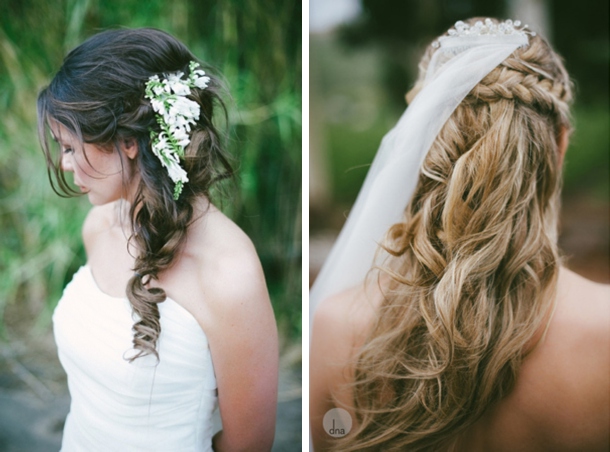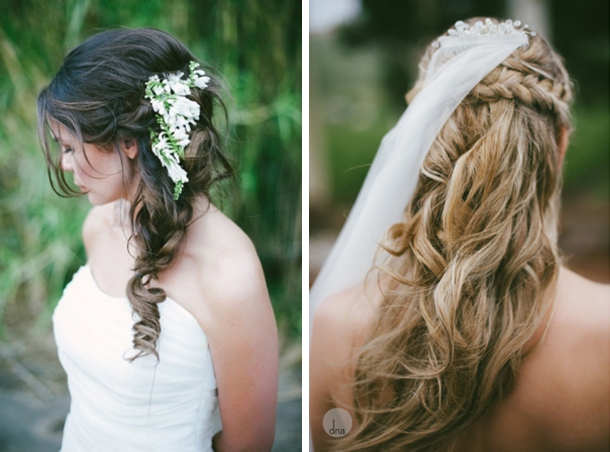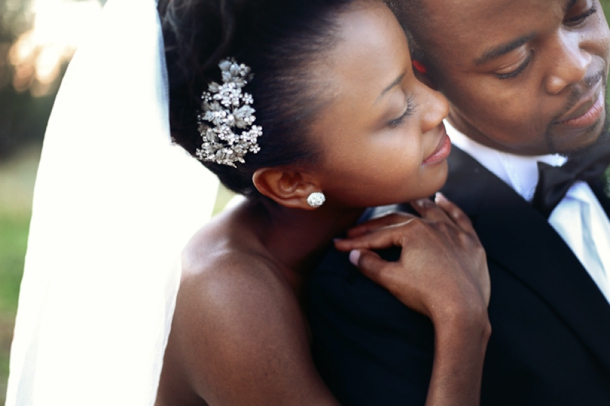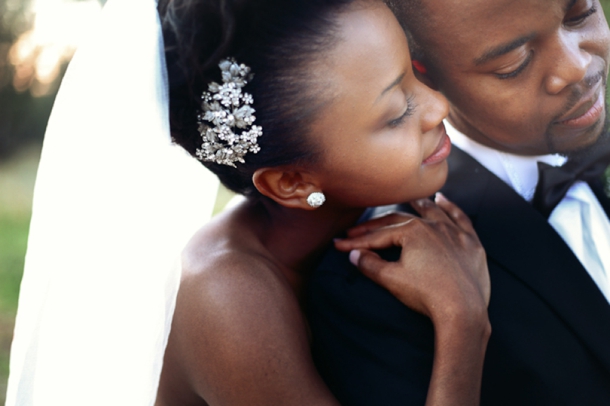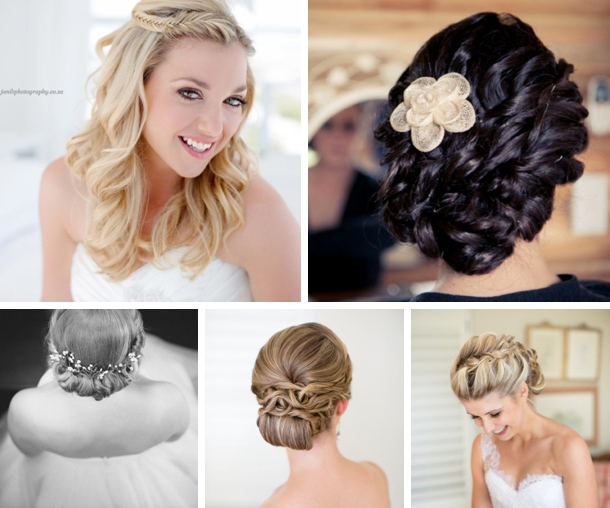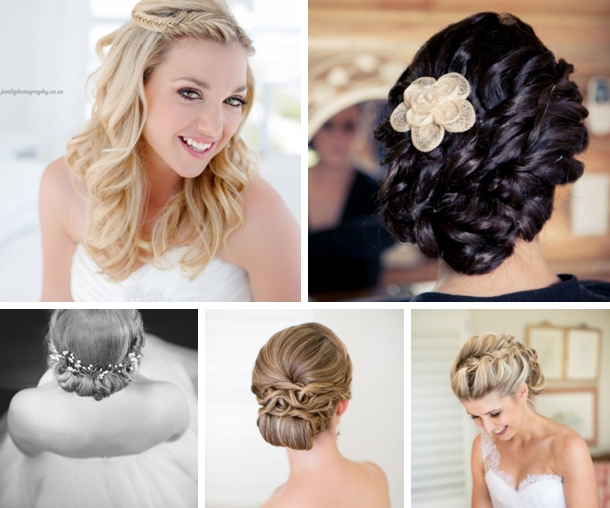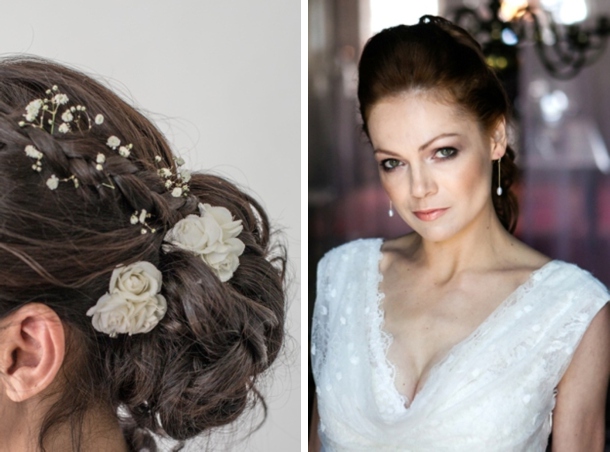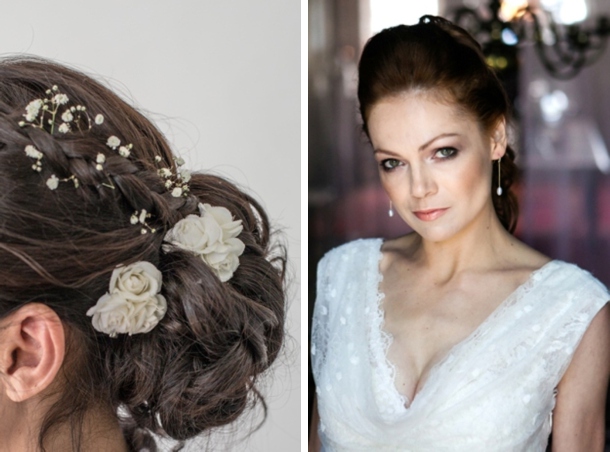 Row 1- Bubbles photographed by dna photographers, hair by Natalie Roos (left); Liana photographed by dna photographers, hair by PowderPuff Makeup (right); Row 2- Mankoana photographed by Andrea Carlyle, hair by Lulu; Row 3- Jo photographed by Jani B. (left); Anneke photographed by Coba Photography, hair by Hair Studio 49 (right); Row 4- Lynsay photographed by Charlene Schreuder (left); Emma photographed by Veronique Photography, hair by Alicia Buckle (centre); Marené photographed by Catherine Mac, hair by Ida Webster (right); Row 5- Amanda photographed by i.am.tamryn, hair by Danielle Jacobs (left); Alet photographed by Vivid Blue, hair by Helga Bridal (right)