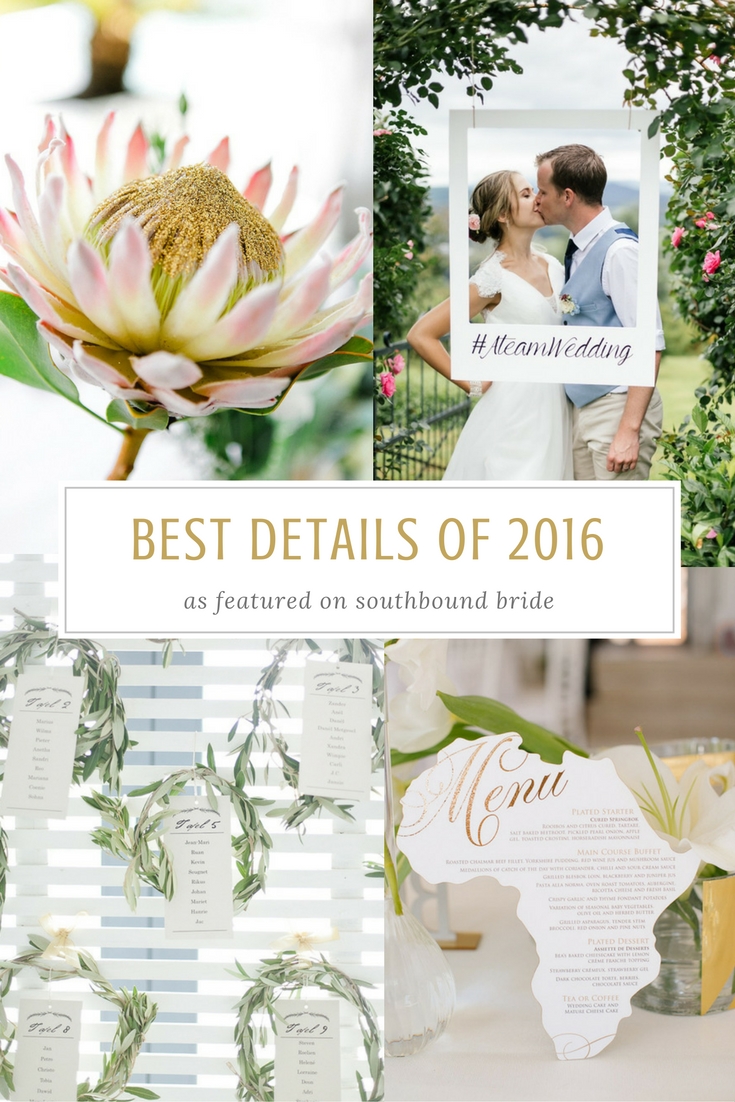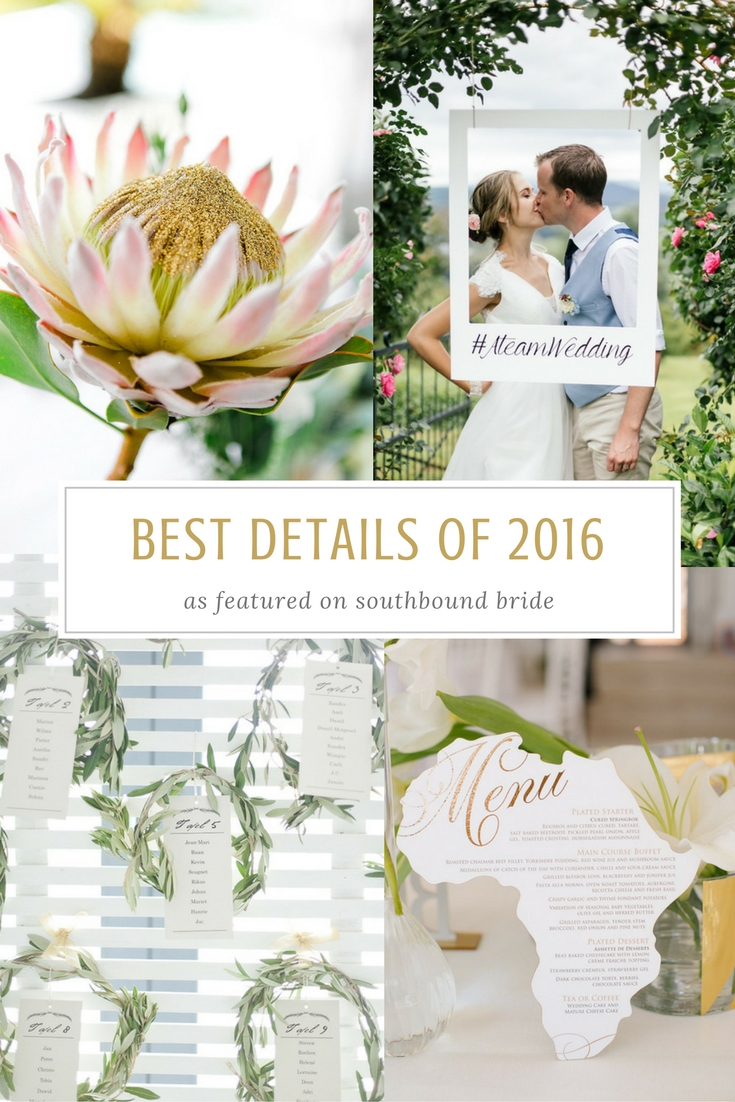 Hello lovelies! Hope you had a wonderful Christmas break, and are enjoying some much needed off-time until the new year! We're continuing with our Best of 2016 series today by counting down twenty of our favourite details and ideas from real weddings throughout the year. Each of them is sweet and stealable, so take a look and be inspired!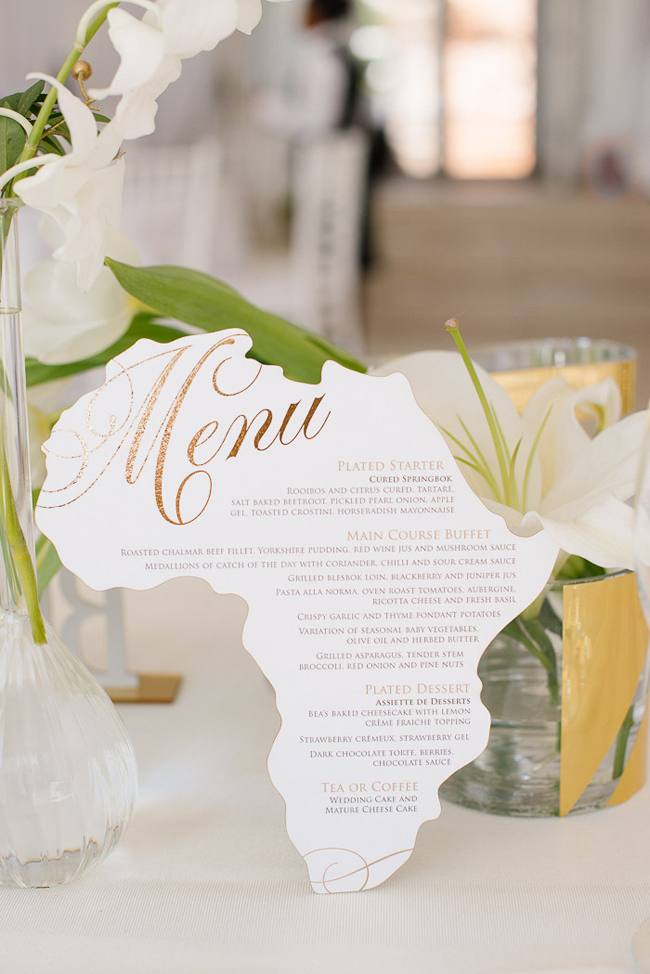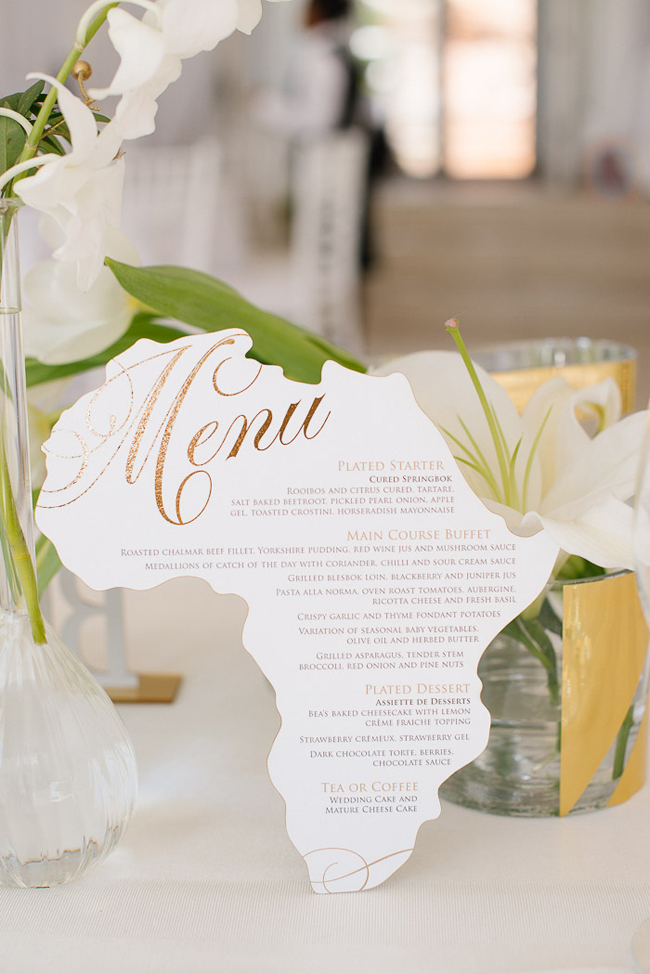 from DANIELLA & DIETER'S ELEGANT PINK & GOLD WEDDING
Stationery: Lezanne's Designs | Photography: Tasha Seccombe | Flowers & décor: Green Goddess flower studio
African touches always have our hearts here at SBB, and we loved this simple, elegant idea of menus in the shape of the African continent (with a touch of gold foil for extra zazziness!)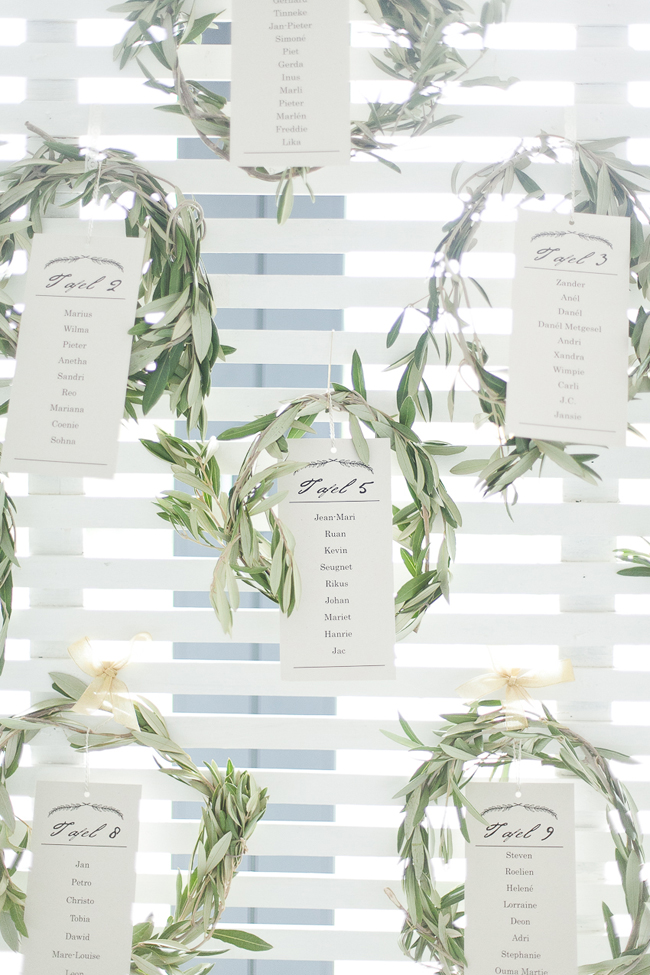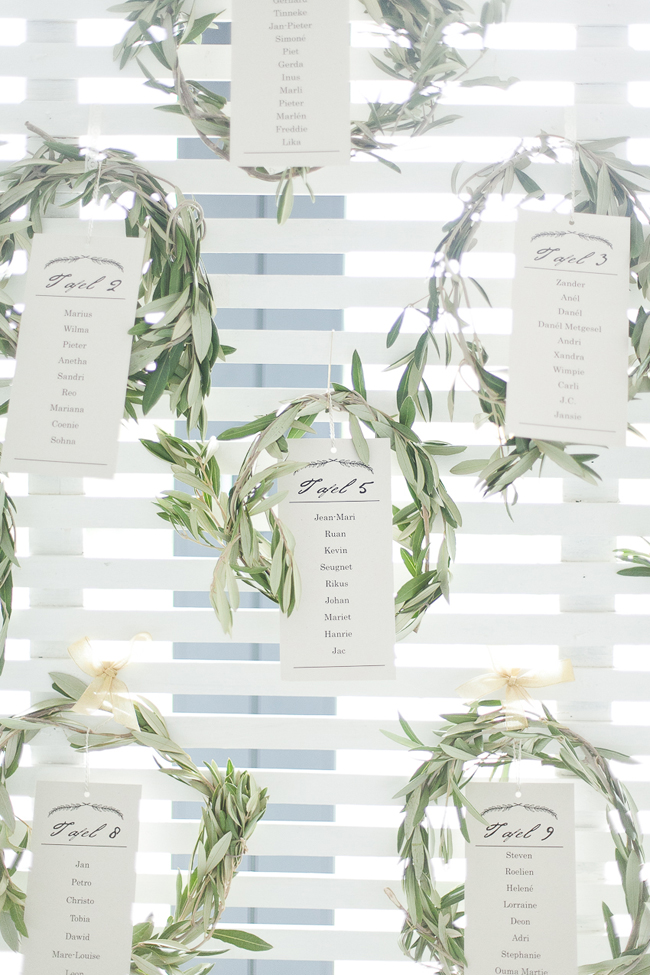 from MARLI & INUS'S ORGANIC FAITH-FILLED WEDDING
Flowers & décor: Anel Botha | Photography: Nadine Aucamp
Using garlands and wreaths as part of a table plan display was something more than one SouthBound bride did this year, and we loved it. Never more so than for Marli & Inus' wedding, which incorporated olive details throughout for their symbolic meaning, including olive oil favours and these olive leaf wreaths.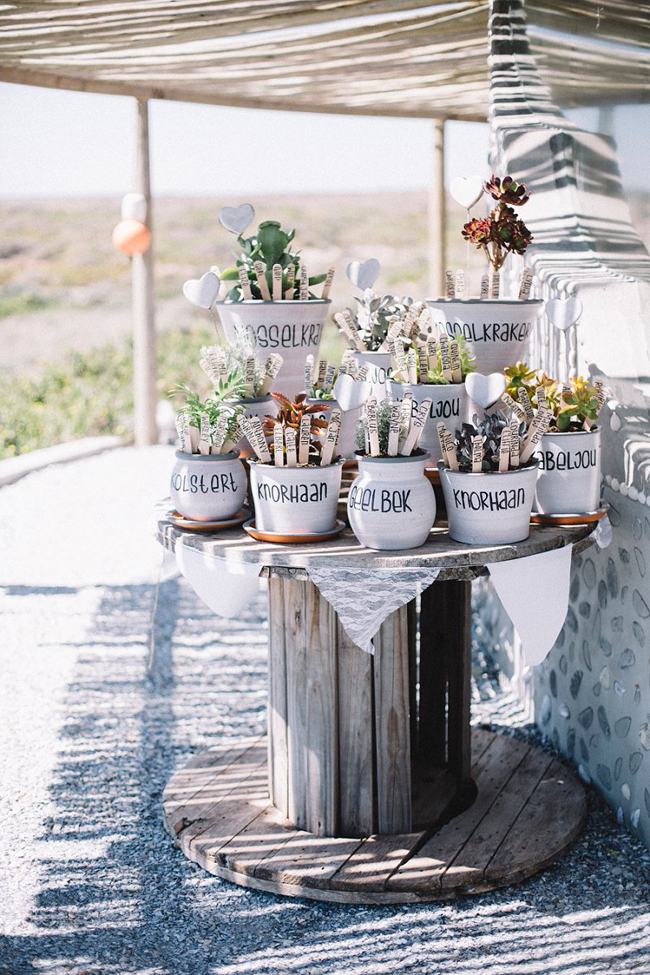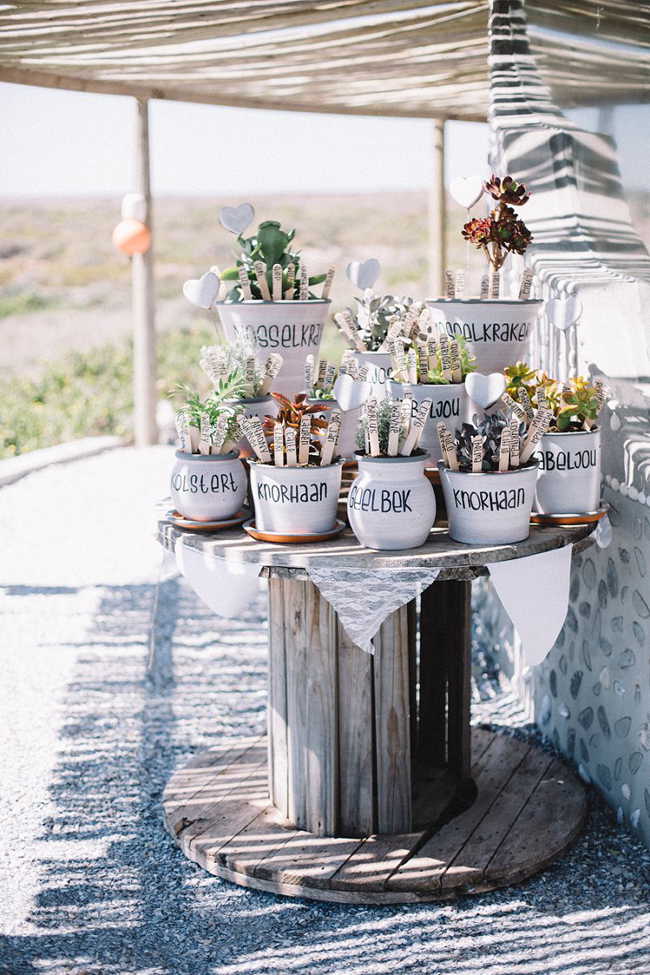 from JAYNIE & RUDI'S DIY BEACH WEDDING
Photography: Ronel Kruger
There were so many rustic beachy details to love in this wedding, from sailboat centrepieces to driftwood signage, but the one that got pinned most often was this delightful escort display, using pots filled with succulents and herbs, and plant markers with the guests' names on them. The idea was mirrored with the favours, where guests got to take home their own succulents in handmade ceramic pots made by the bride's aunt.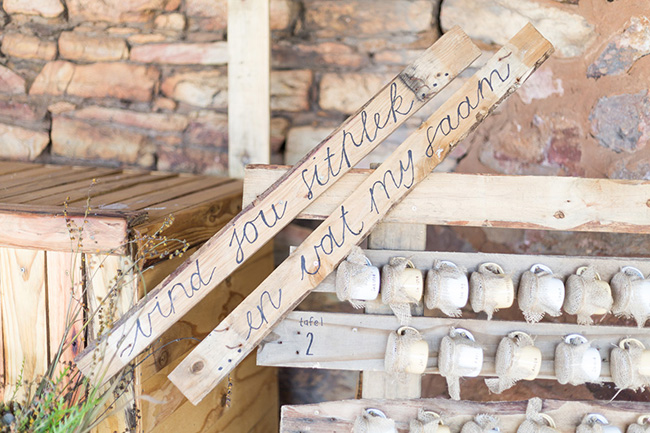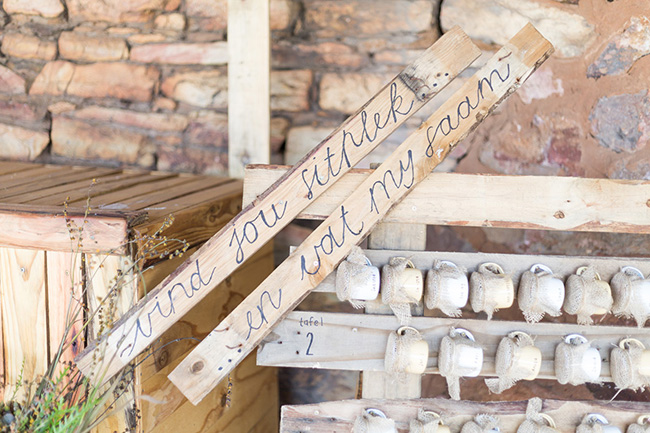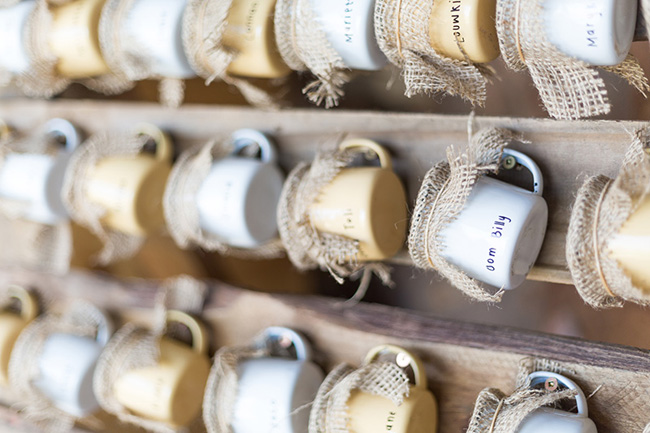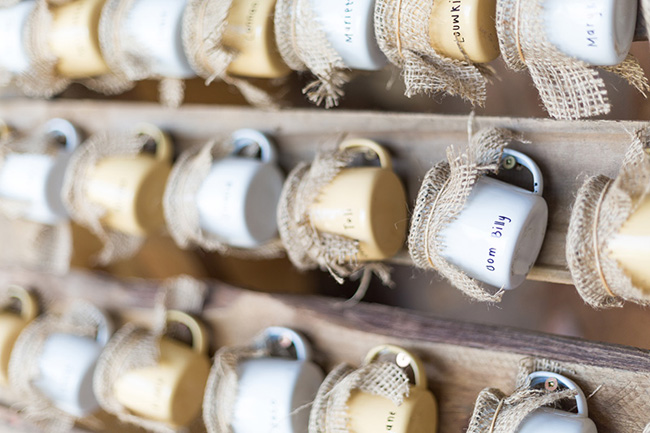 from CHRISTEL & ANDRIES' DIY FARM WEDDING
Photography: DGR Photography
Christel and Andries are "farm kids" at heart, so their wedding was full of rustic, down on the farm touches from windmills to milking cans to John Deere bunting! But our favourite was their take on escort cards – little enamel mugs with guests names on them, which doubled up as favours.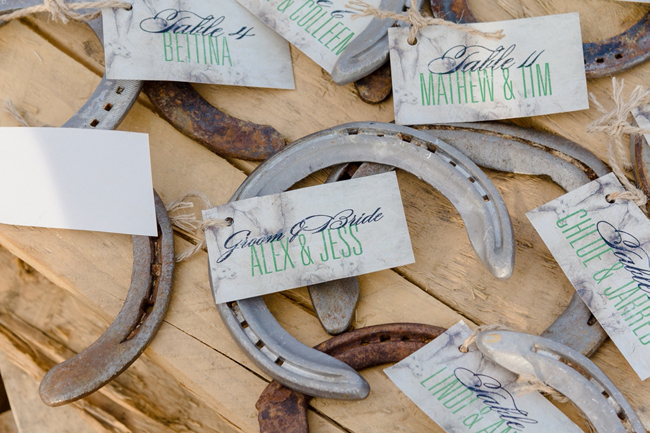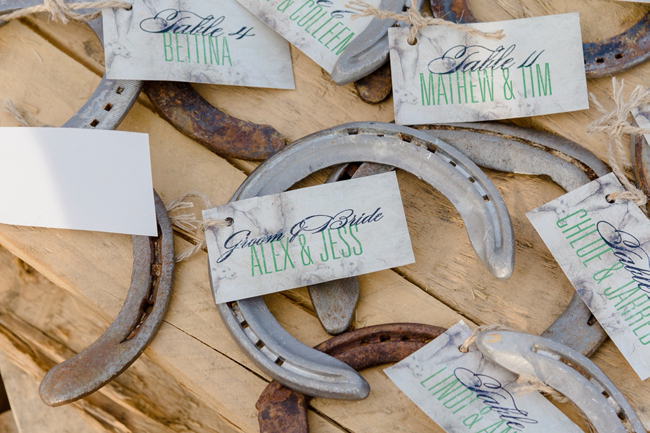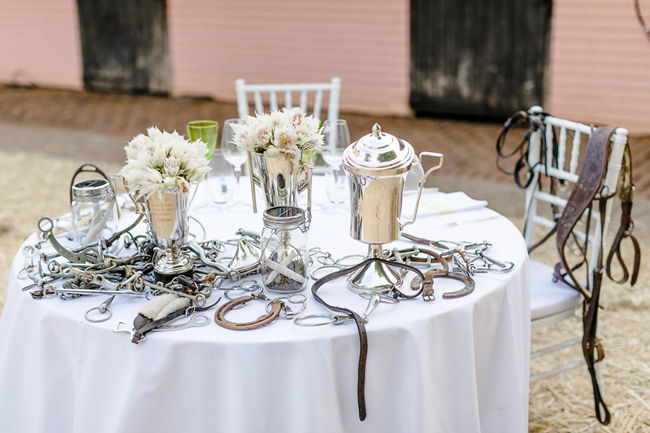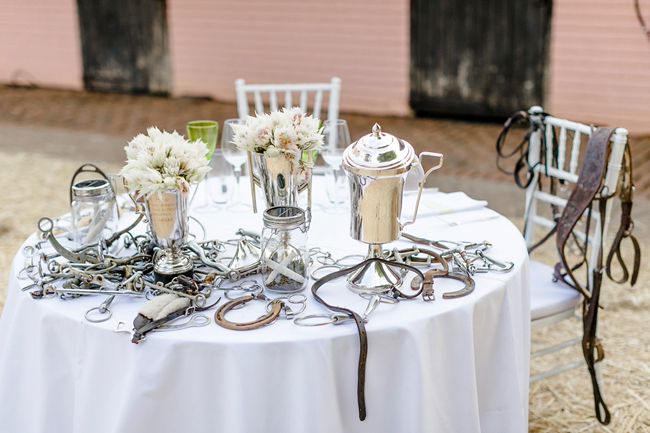 from ALEX & JESS' EQUESTRIAN THEMED WEDDING
Photography: Christine Joy Photography | Coordinator: Otto de Jager Events
For a true Karoo stud farm wedding, this couple went all the way, with their ceremony in a paddock and reception at the stables. In keeping with the look, equestrian and racing themed decor was included throughout, and we loved the horseshoe escorts – the perfect way for any horse-loving couple to bring a bit of extra luck to their big day!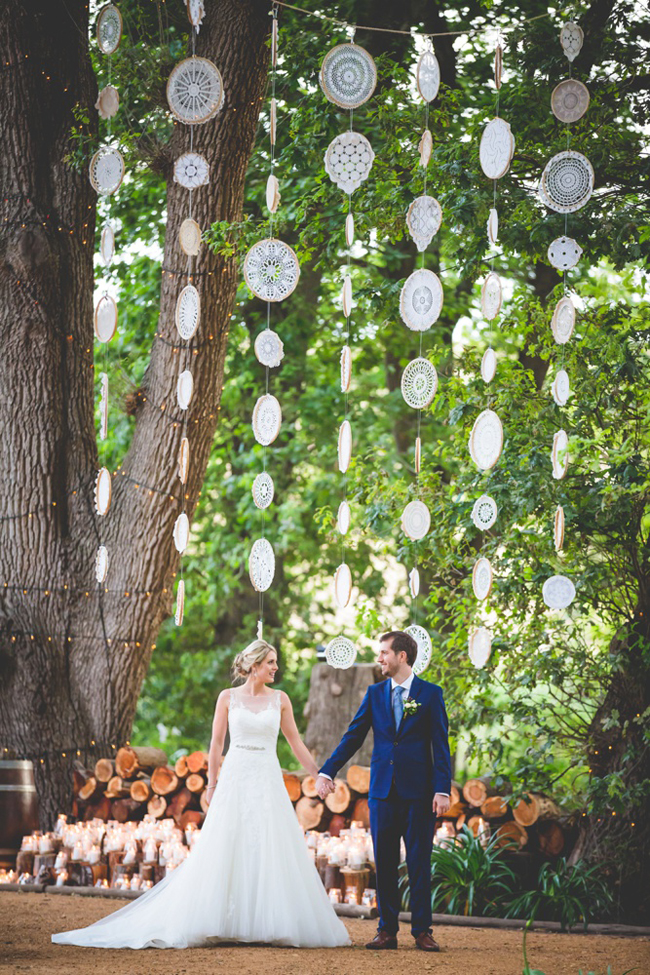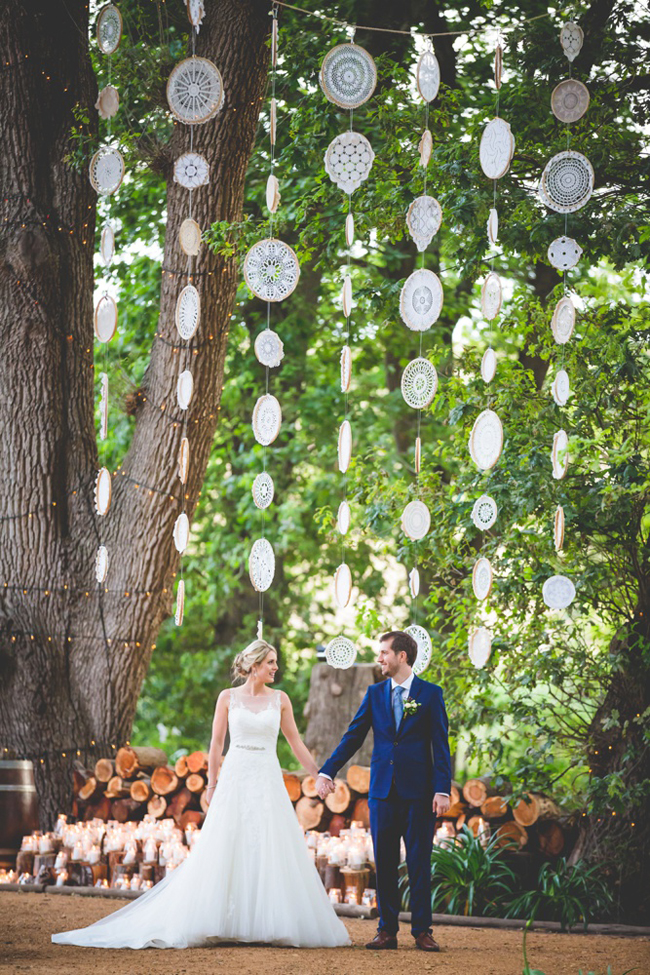 from LARA & DYLAN'S ELEGANT FOREST WEDDING
Flowers & décor: Saffron Functions| Photography: Kobus Tollig Photography
Boho decor was all the rage this year, especially dreamcatchers. We loved the way that Dylan and Lara used crochet 'dreamcatchers' for a spectacular display – and don't forget that sea of candles in jam jars that kept the wow factor going long into the night!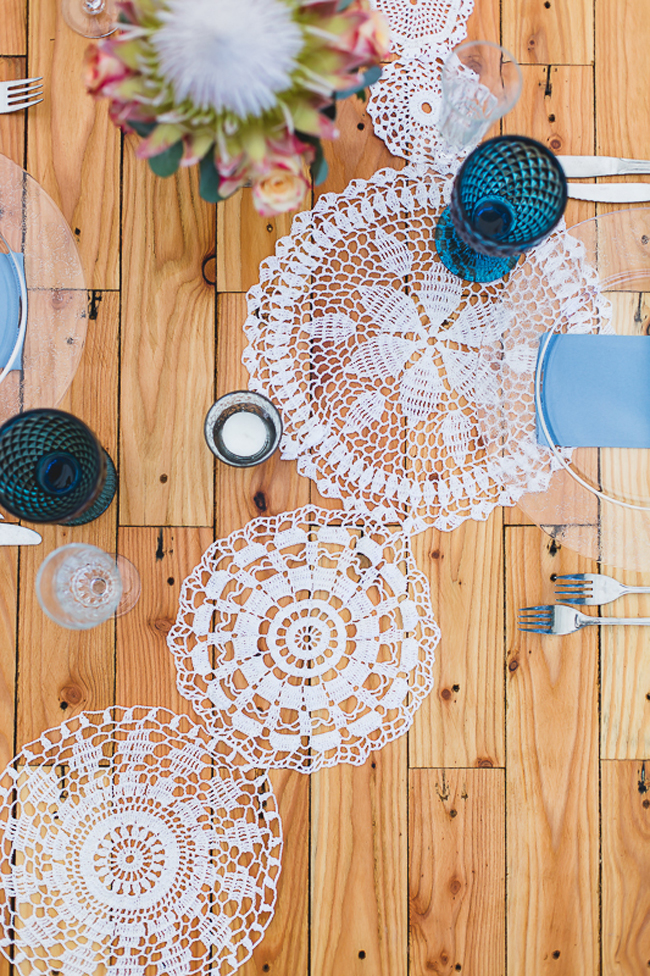 from MINETTE & LOUIS' RUSTIC FARM WEDDING
Flowers: Dulcie Ehlers | Photography: Linda Fourie
Such a clever idea! We're loving these crochet doily table runners created for Minette & Louis' wedding – and I know you vintage-loving brides did too!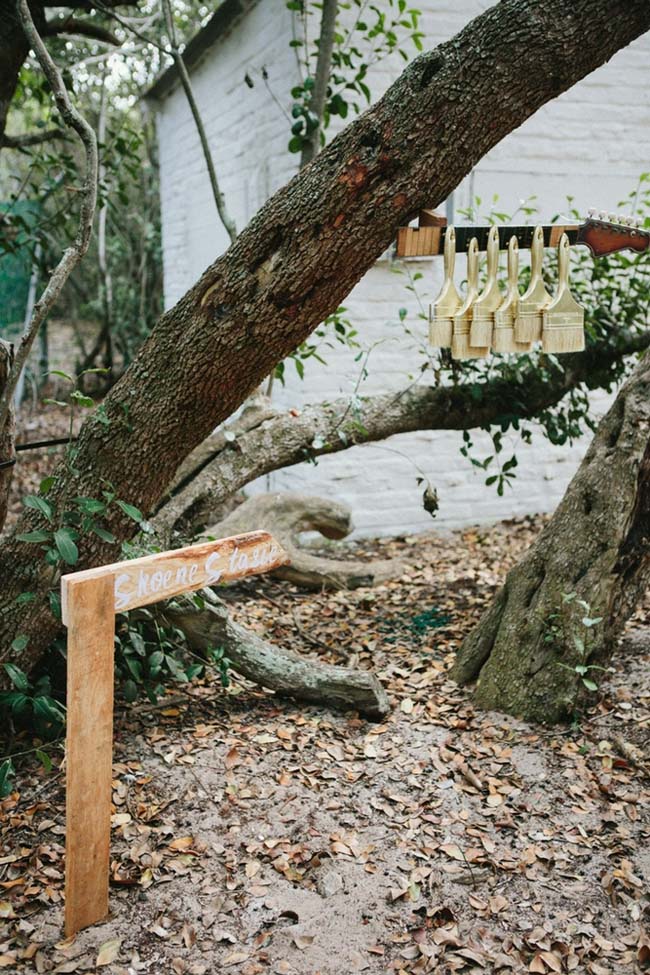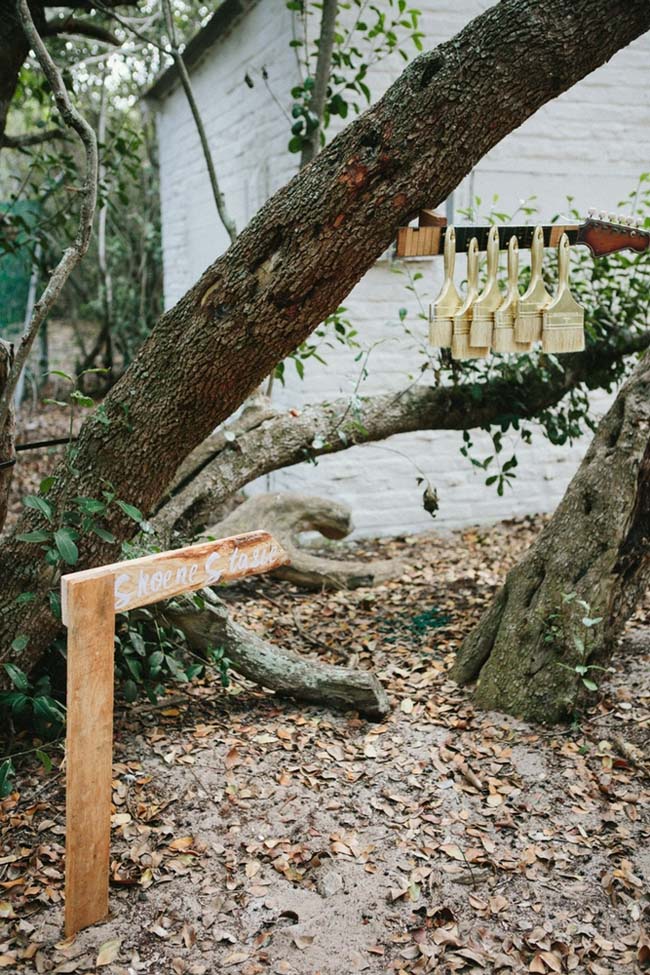 from MARELI & CONRAD'S BOHO BEACH FESTIVAL WEDDING
Photography: Coba Photography
We just love couples who make practical pretty, and with a boho beach ceremony, a shoe station is a necessity. With paintbrushes ready to brush sand from guests' feet afterwards, there was even a nod to the music festival element of Conrad and Mareli's wedding with the use of a guitar fretboard.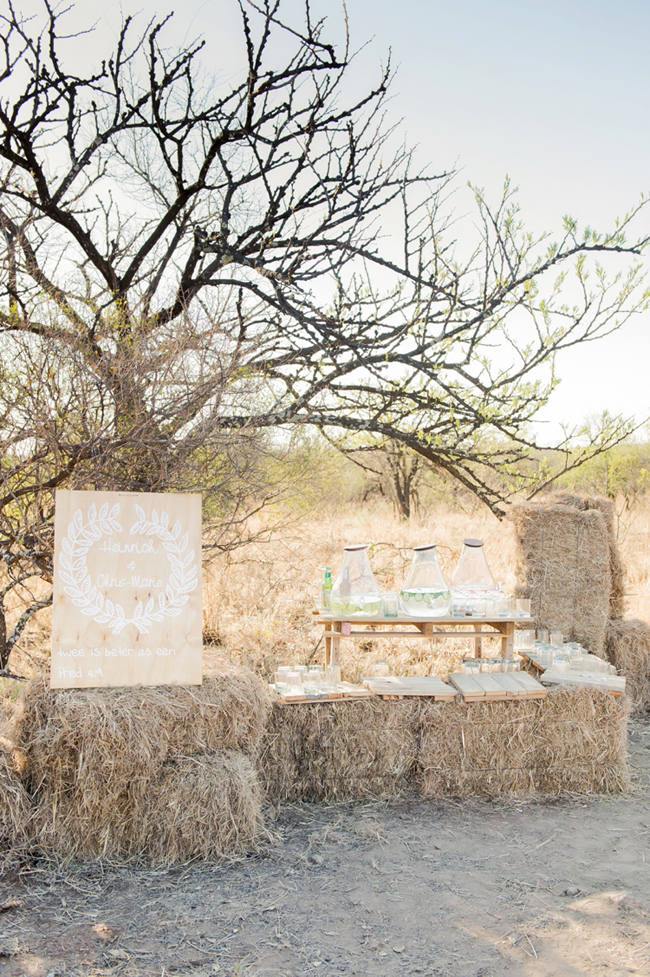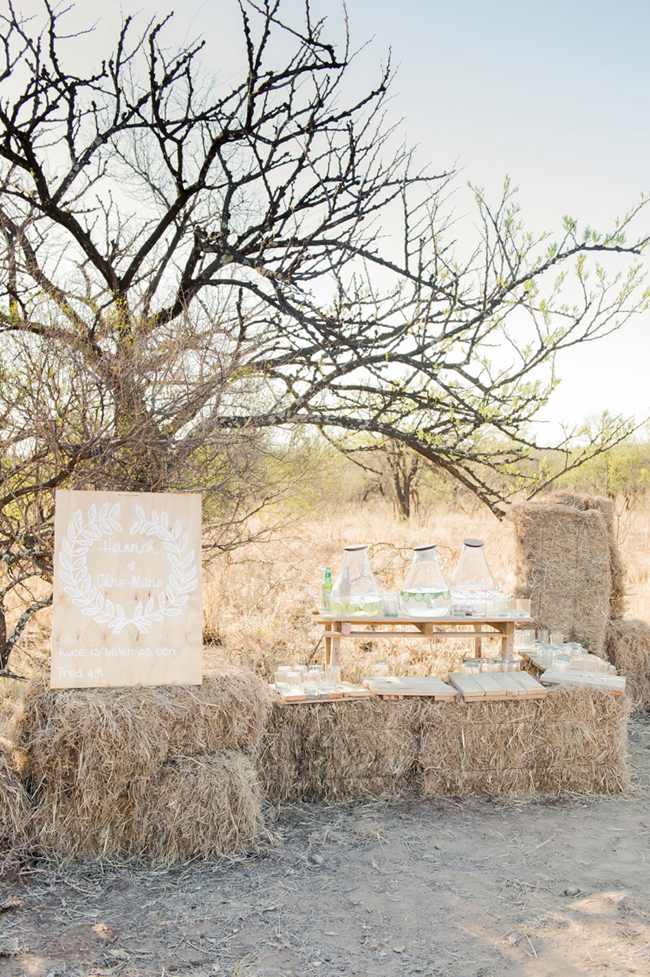 from CHRIS-MARIE & HEINRICH'S ORGANIC BUSHVELD WEDDING
Photography: Rianka's Wedding Photography
This wedding was chock-full of thoughtful bushveld details, but one of our favourites was the rustic lemonade station waiting for guests post-ceremony. The sweetest way to combat the summer heat!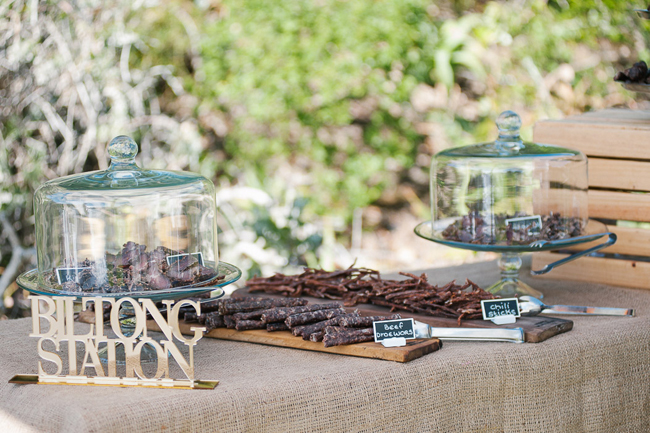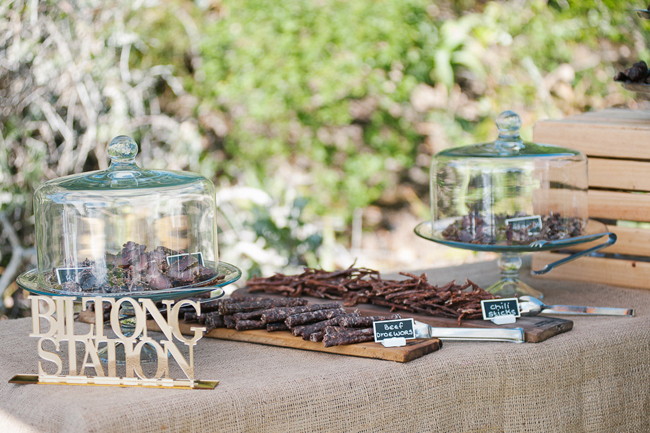 from DANIELLA & DIETER'S ELEGANT PINK & GOLD WEDDING
Stationery: Lezanne's Designs | Photography: Tasha Seccombe | Flowers & décor: Green Goddess flower studio
Another homegrown detail from Daniella and Dieter's wedding was the biltong station they set up for their guests during cocktail hour – the perfect South African twist on this wedding food trend! Guests nibbled on biltong and droewors while a marimba band played in the 12 Apostles Hotel gardens – love!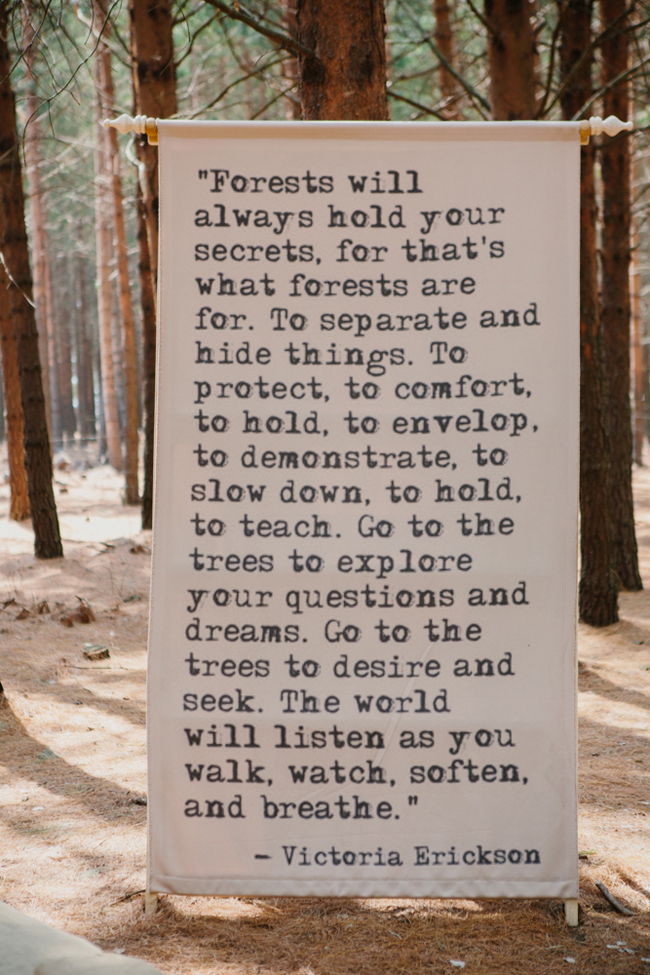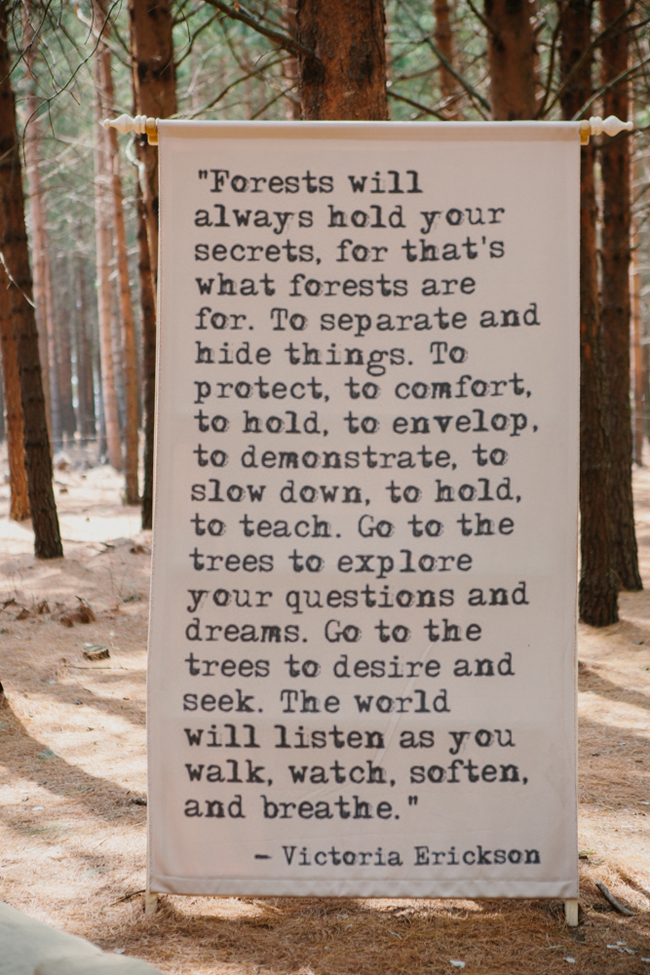 from URSULA & CHRIS' CHARMING FOREST WEDDING
Photography: Carolien & Ben
We already included this gorgeous wedding in our Top Ceremonies collection, but I just had to bring special attention to the banner that was part of the decor at Ursula and Chris' forest wedding. It was such an unusual and clever idea, and really added to the whole look and feel – why not consider going big with some of your favourite words at your own wedding?!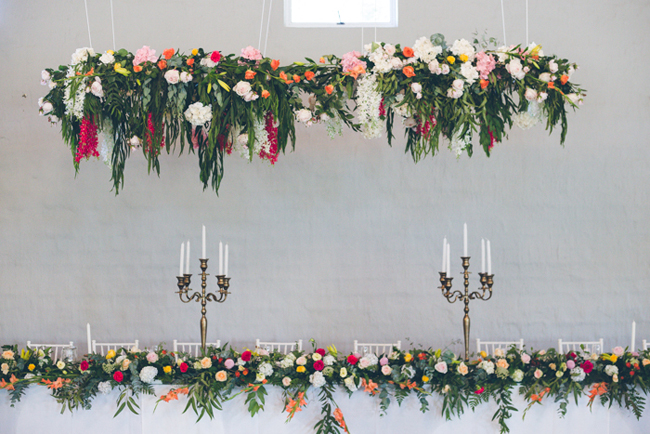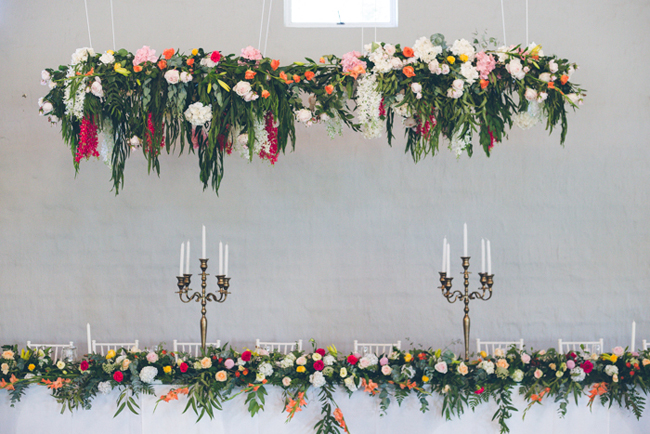 from KELSI & TIM'S INSPIRING COPPER & BRIGHTS WEDDING
Flowers & décor: Kerry's Flowers & Decor | Photography: Summertown Pictures
If there was ever a year for the hanging centrepiece + table garland combo, 2016 was it. We adored every one of these fantasy floral elements that graced the pages of SBB, but especially Kelsi and Tim's. This couple had one request of their florist: as many flowers as possible. The result was bright, colourful, and utterly memorable!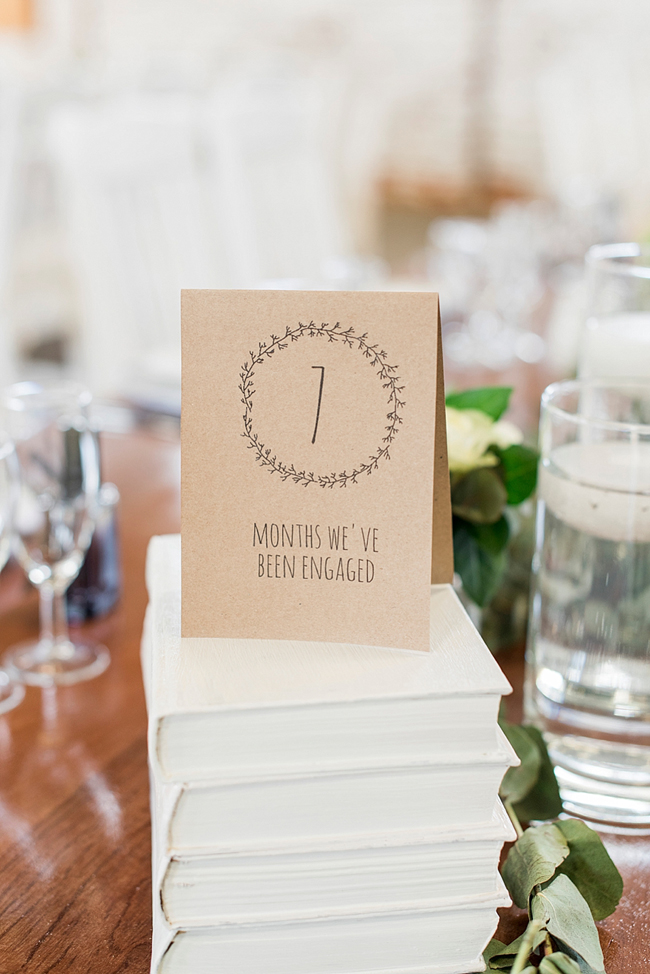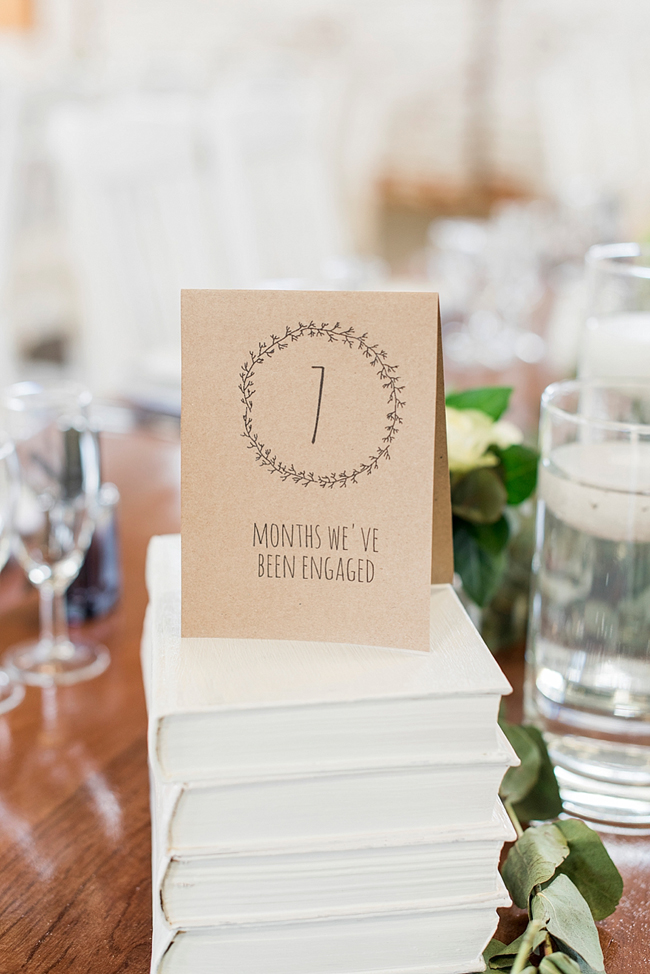 from CELESTE & DEWALD'S ROMANTIC ROSE FARM WEDDING
Photography: Jack and Jane Photography | Coordinator: Alet Wessels
Everything about Celeste & Dewald's wedding was pretty as can be, but we especially loved their twist on the book centrepiece trend, using plain white volumes, combined with kraft paper table numbers that reflected milestones in the couple's relationship. Such a fun conversation starter for guests!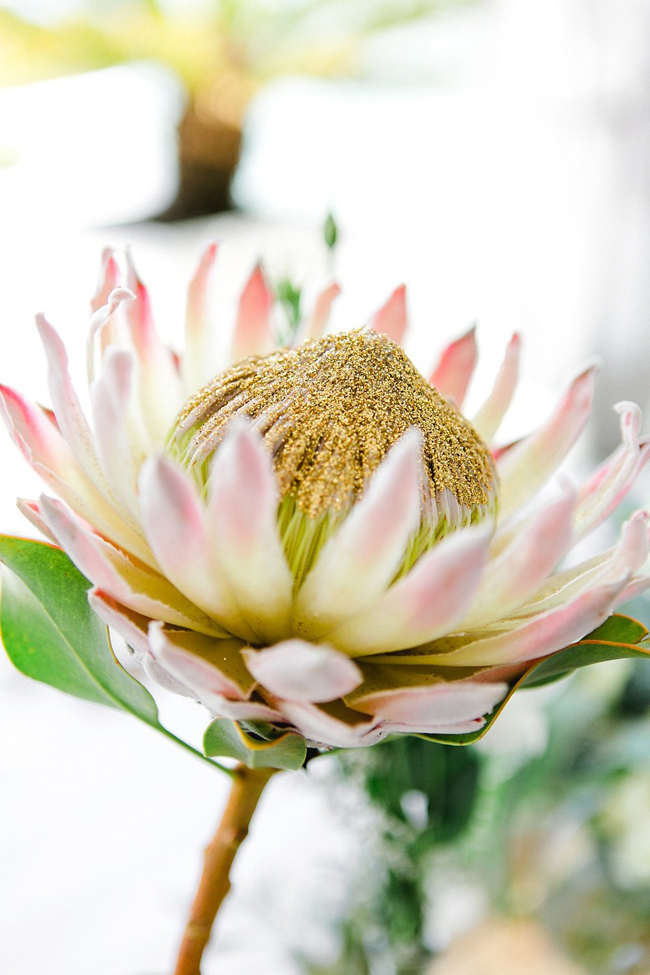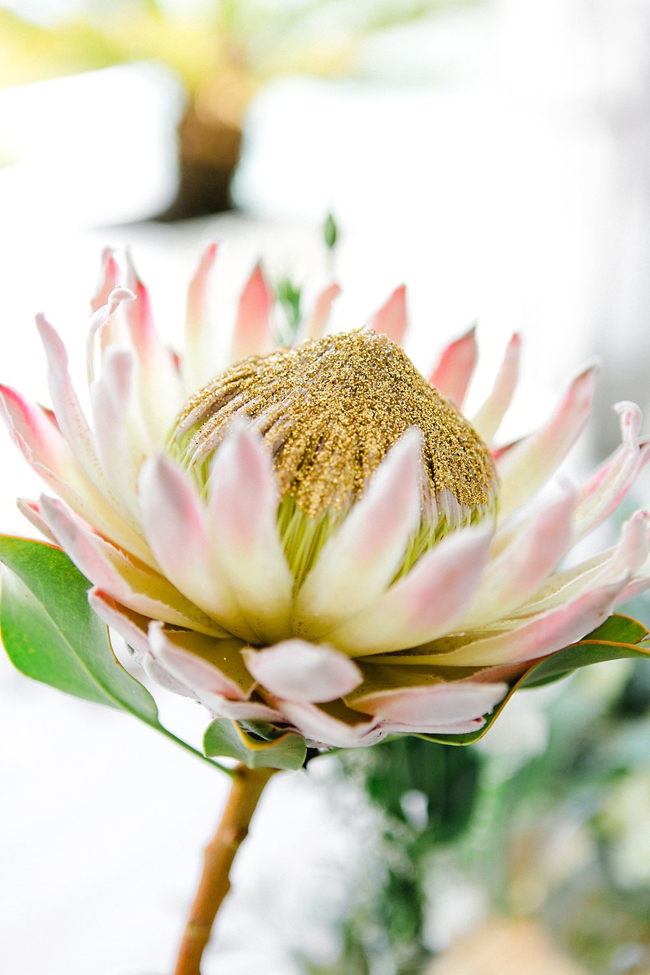 from MICHELLE & BERTIE'S OCEAN GLITZ WEDDING
Flowers, décor, styling & stationery: Michelle's Occasions| Photography: Aglow Photography
We love proteas, and boy do we love a bit of glitter? So glittery proteas? Pretty much the favourite detail here at SBB this year!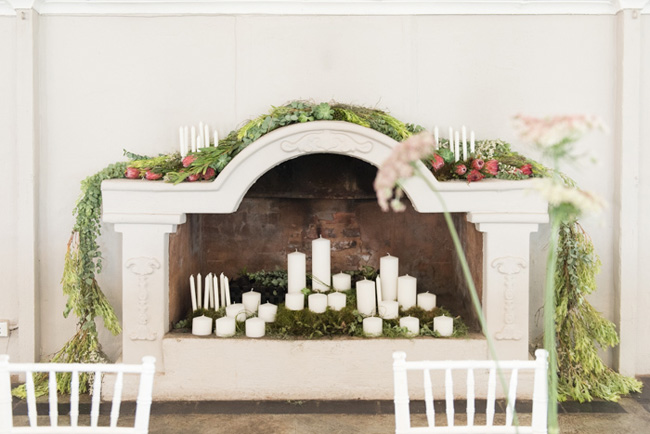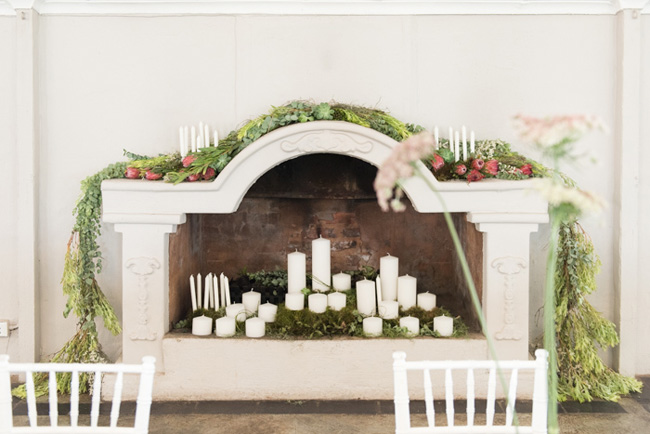 from KIRSTY & KOBUS'S FRENCH COUNTRY NATURAL WEDDING
Flowers & décor: Danette4eve | Photography: Louzelle van Dyk | Venue: Green Leaves Country Lodge
If you have a cool feature as part of your venue decor, make the most of it, I say. That's just what Kirsty and Kobus did with this fireplace, filling it with candles and greenery, and draping it with an elaborate garland. So a pretty feature becomes a focus point!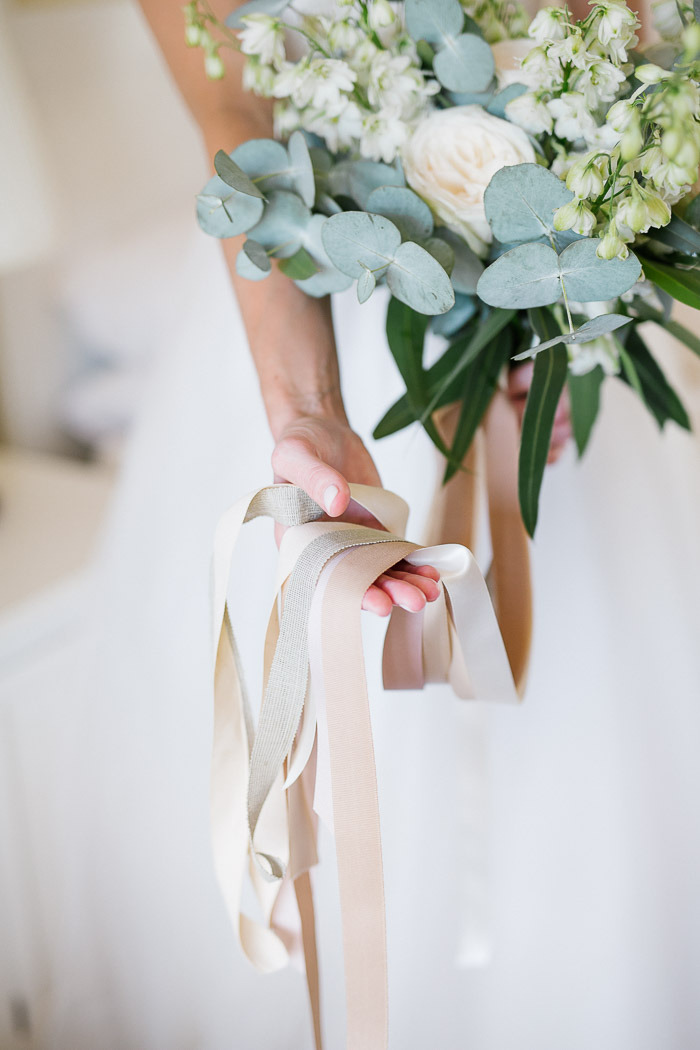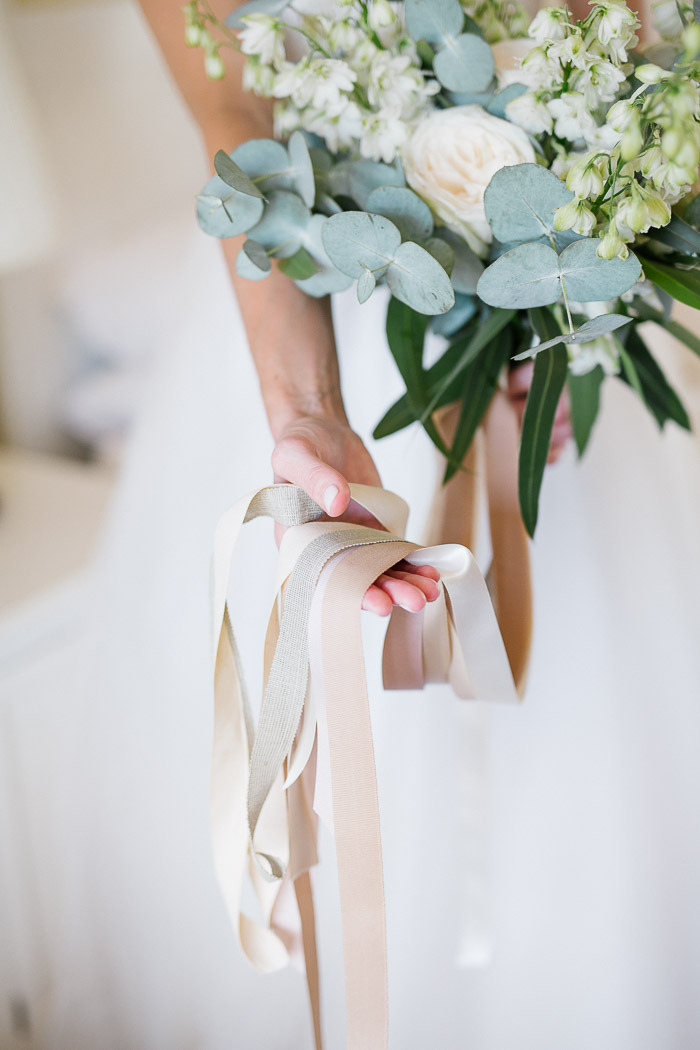 from KELLY & DEAN'S ROMANTIC PREPPY WEDDING
Flowers: Floral Art | Photography: Tasha Seccombe
Is there any prettier way to finish off a beautiful bouquet than with a cascade of ribbon? Especially when not just the bride, but all the bridesmaids and their bouquets get to share in the pretty! It's a simple detail, but these bouquet ribbons really added a romantic touch to Kelly and Dean's big day that we loved.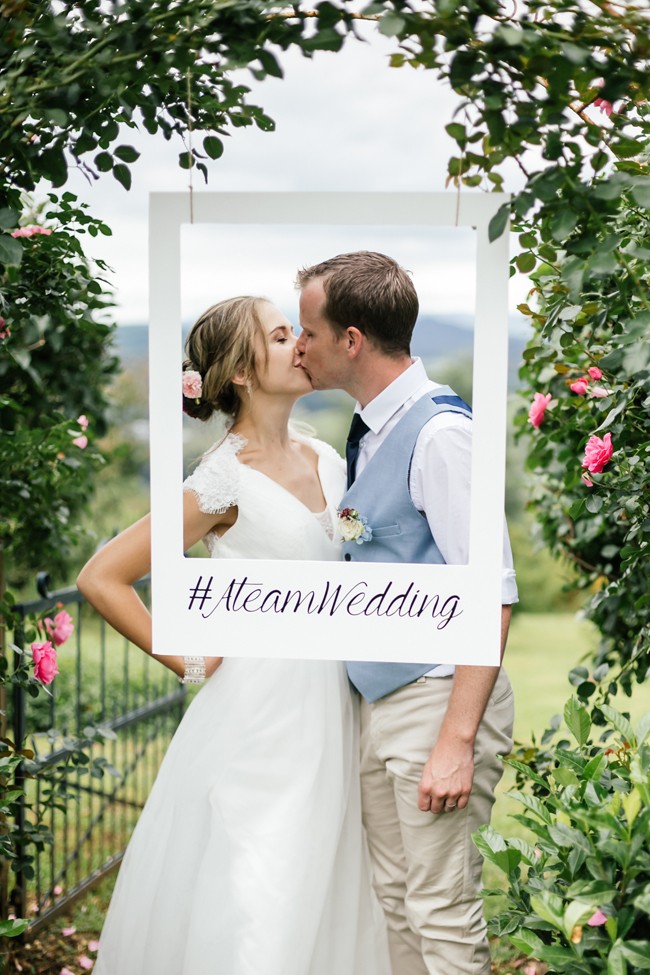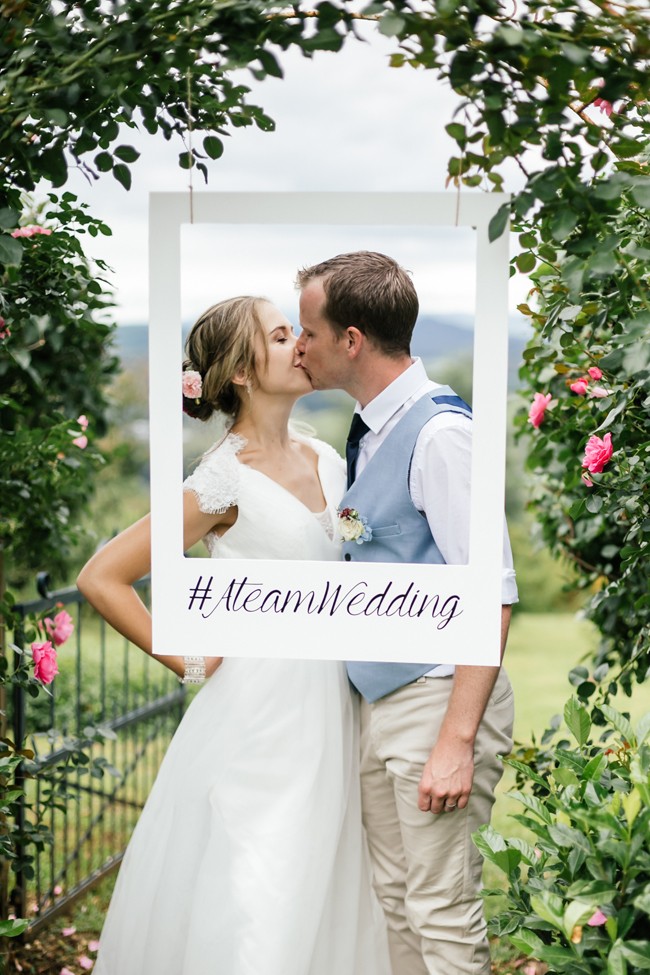 from HEIDI & SHAUN'S INTIMATE COUNTRY GARDEN WEDDING
Photography: Long Exposure | Flowers & décor: The Flower Shed
Doubling up as photobooth and instagram hashtag alert, this simple floating polaroid frame makes the most of a pretty natural spot in the garden where Heidi and Shaun were married. Perfect!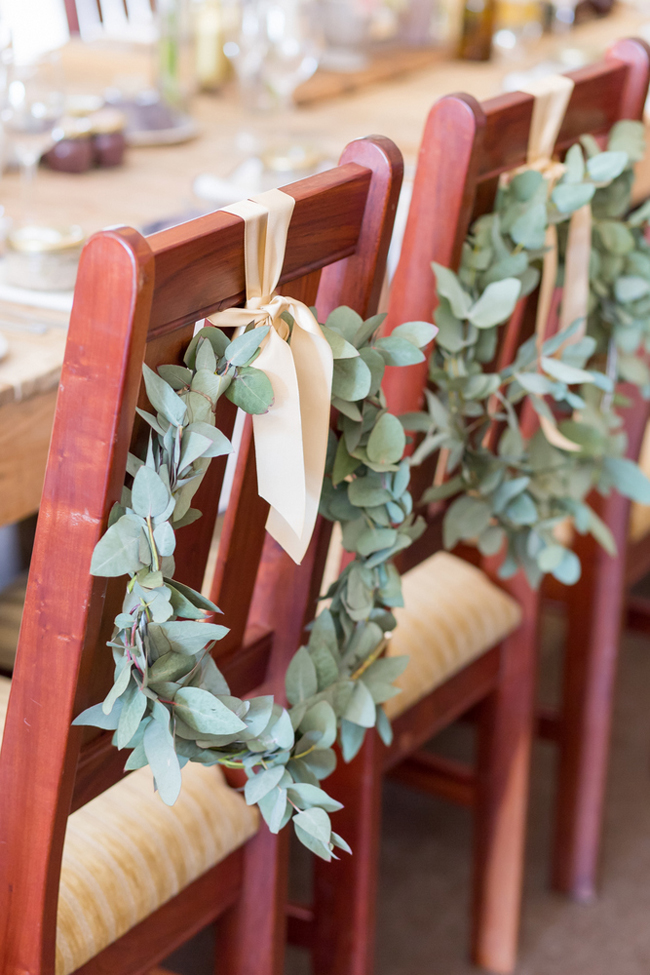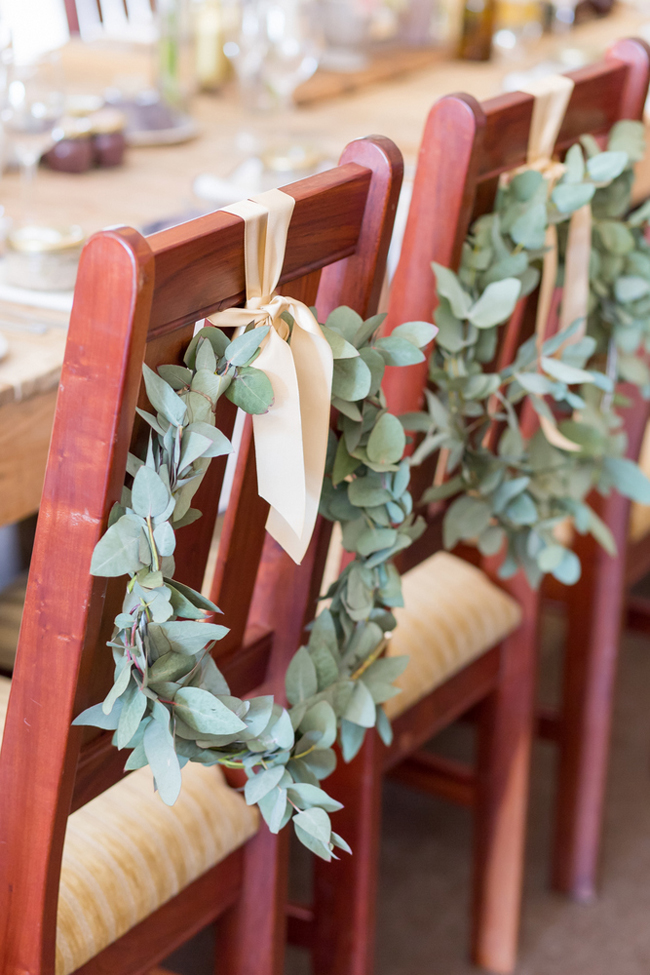 from ANEL & MARIUS' CHARMING BRAAI WEDDING
Flowers & décor: Paradiso Flowers| Photography: Adele Kloppers
We have a BIG weakness for chair decor, and this year swags and wreaths of greenery have definitely made us smile! We especially loved the sweet simplicity of Anel and Marius' beribboned eucalyptus wreaths!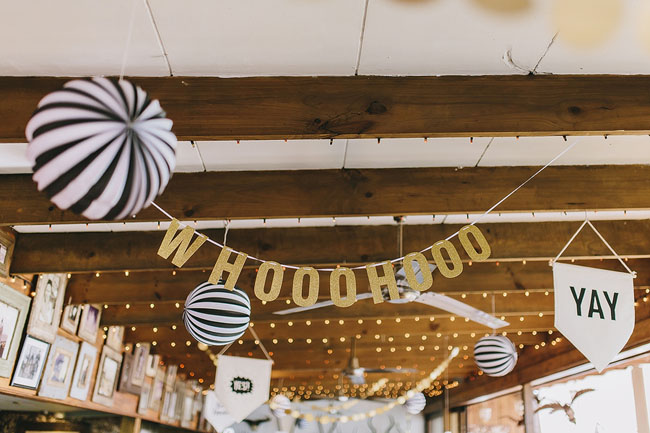 from JEMMA & STEFAN'S BLACK, WHITE & GOLD WEDDING
Banners: Zana Products| Photography: Ruan Redelinghuys
You can't NOT love the happy signage at Jemma and Stefan's wedding (especially since you'll recognise the stylings of local outfit Zana Products). Woohoo, yay and yes? We definitely agree!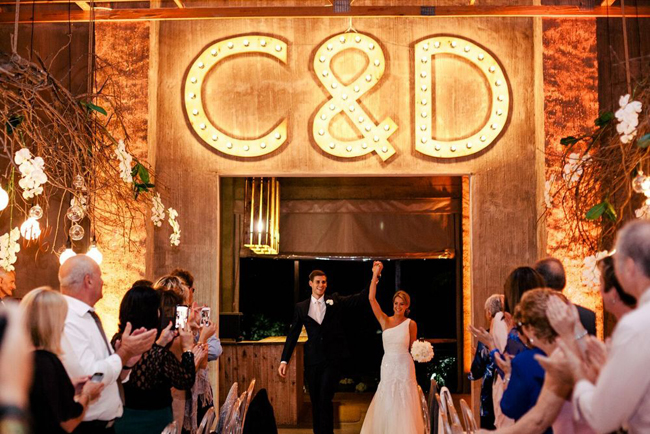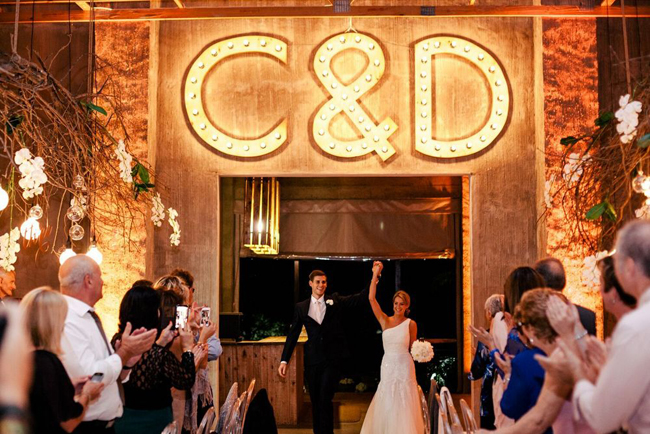 from DINA & CAMERON'S INDUSTRIAL RUSTIC ELEGANCE WEDDING
Reception venue: The Venue Fontana | Photography: Vanilla Photography | Co-ordination: The Wedding Company South Africa
As a finishing touch for a wedding that effortlessly combined modern industrial with glamorous romantic style, these huge marquee letters can't be beat. And the best part? Couples who book at SBB Collection venue The Venue Fontana can request their very own letters too.
CLICK HERE TO SEE ALL OUR 2016 FAVOURITES: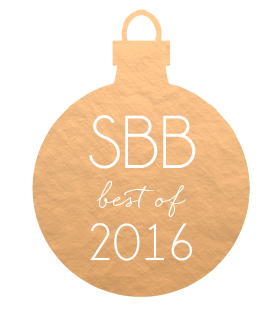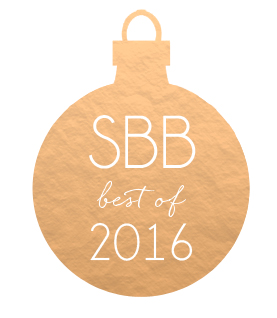 Save
Save
Save
Save
Save