Hello SouthBound Brides – Candice here! I am so excited that I get to chat to you guys about all of our favourite bridesmaid dress trends from 2014.
I have been a bridesmaid six times and counting (hint hint, sis!) and have loved each experience. I have worn a '50s style mint green tea dress, a floral and lace strapless number, a frilly country style sundress, the classic satin and organza creation with a waist sash, a gorgeous J.Crew-esque floor length gown and also been left to my own devices to choose a dress of my choice in a specific colour palette. Each dress was perfect for the relevant bride's big day, and wearing them signified that I was somehow specially involved and invested in each amazing celebration. Whether the dress itself is flattering or not, putting it on and getting ready with the bride before such a big and wonderful occasion is what it is all about. Having said that, here are our top 20 picks for 2014 (in no particular order). Hopefully they inspire you to choose gorgeous dresses for your bridesmaids as there is not a single unflattering gown to be seen! (Lucky girls!) How do we even begin to choose our favourites?!
1. Sleek Winter White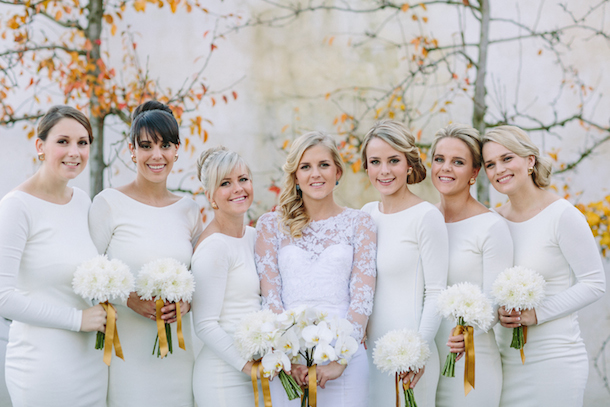 Dresses: Deeva van der Merwe | Photography: Kristi Agier | VIEW WEDDING
Who says only the bride can wear white? We love that brides are becoming less precious about their bridesmaids wearing white, and how gorgeous do Ashton's girls look in their sleek and simple dresses? Love that this shade of white is slightly on the cream side and shows off the bride's crisp white creation perfectly. Also, the bridal party pics are just perfect. No wonder it was GABY'S FAVOURITE.

2. The LBBD (Little Black Bridesmaid Dress)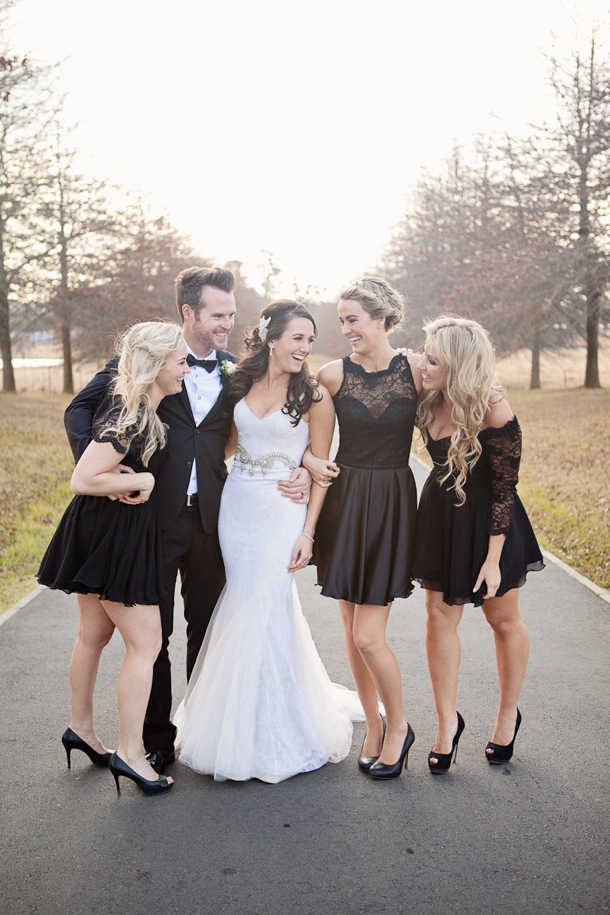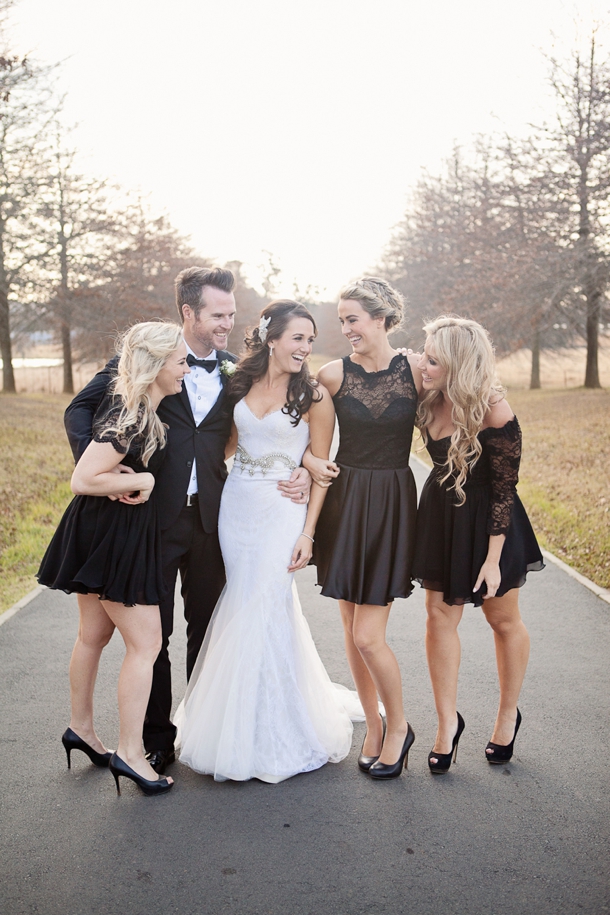 Photography: Fiona Clair Photography | VIEW WEDDING
What a winner! Black is a colour that suits basically everyone and the LBBD is an eternal classic. Love that each of Tamara's bridesmaids chose a style unique to them, all with a touch of lace. Audrey Hepburn would be proud, ladies! (Another advantage to picking this look is that most of your bridesmaids would probably have the perfect dress in their closet just waiting to be used for a special occasion…)

3. A Dash of Sparkle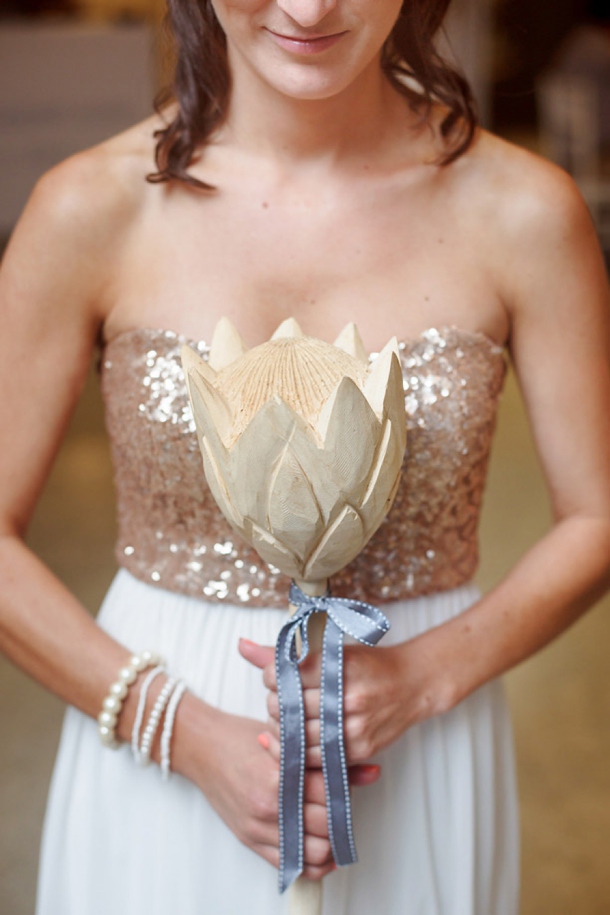 Photography: Jani B. | VIEW WEDDING
What a lucky bridesmaid, how gorgeous is this rose gold sequined dress from Carol & Marko's wedding?! (Quite sure this is a style that will be worn much more than once – and probably the most coveted BM style this season.) Metallics have been huge this year, and what better celebration to add a bit of extra sparkle into, than a wedding? We love a bit of glitter to glam up your white wedding, and I'm pretty sure your bridesmaids won't have any complaints about wearing a dress this pretty.

4. Gatsby Grey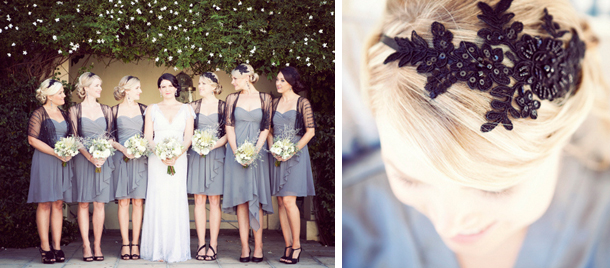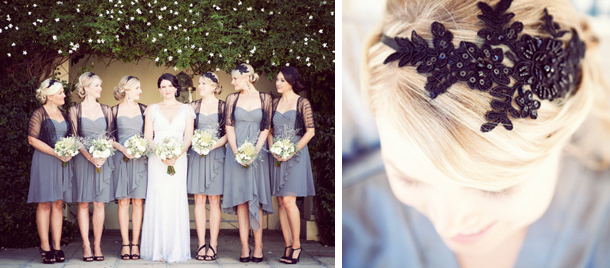 Dresses: Bride & Co. | Photography: Alfred Lor | VIEW WEDDING
Beaded headpieces and delicate capelets set the tone for this elegant Jazz-era themed celebration. We especially love how these Gatsby-style accessorise transformed the bridesmaids' look from Lindi & Morgan's first wedding!

5. Blush Ruffles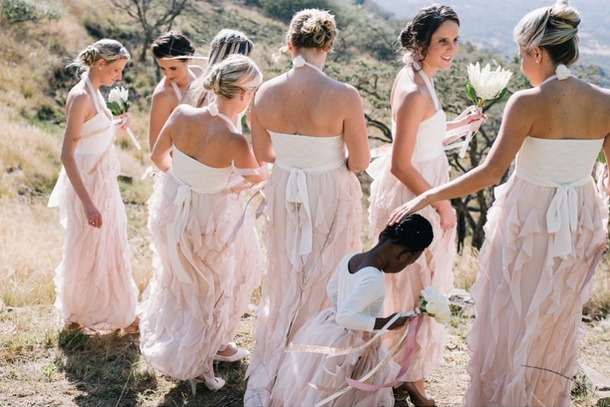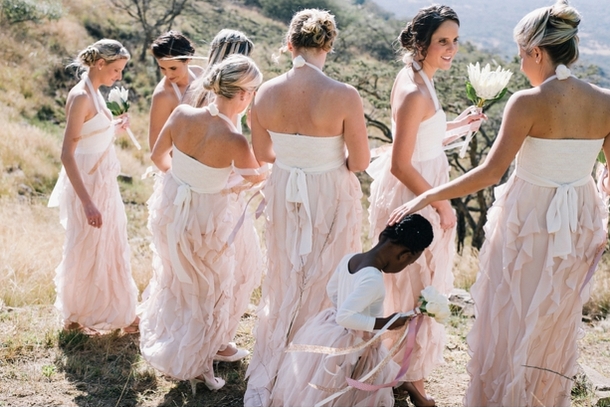 Dresses: YDE | Photography: Kate Martens | VIEW WEDDING
Floaty and feminine, these elegant blush toned bridesmaids dresses are just perfect for a fairy tale wedding, like Jess & Jon's. Blush, rose and protea pink shades are not just for little girls any more. We love these impossibly romantic ruffled dresses.
6. Rustic French Countryside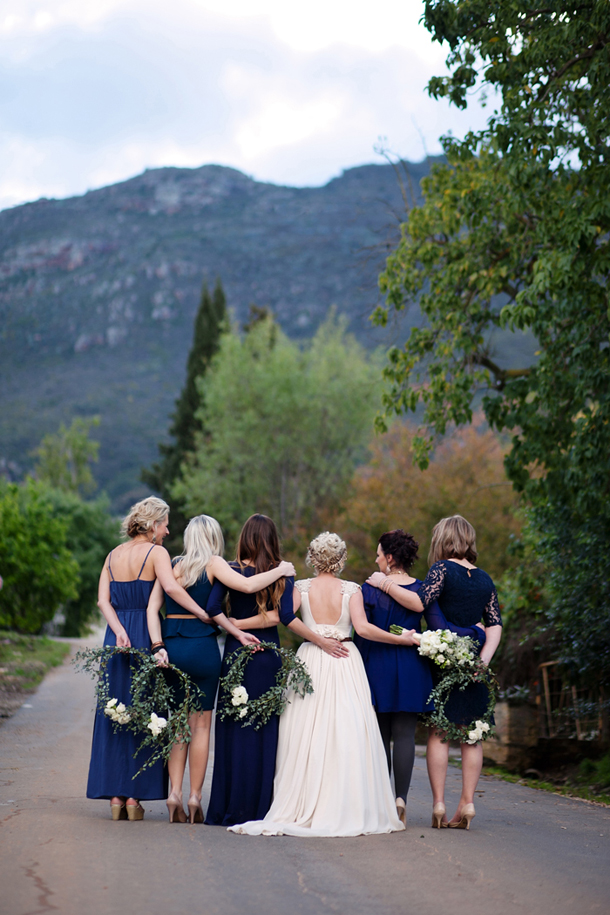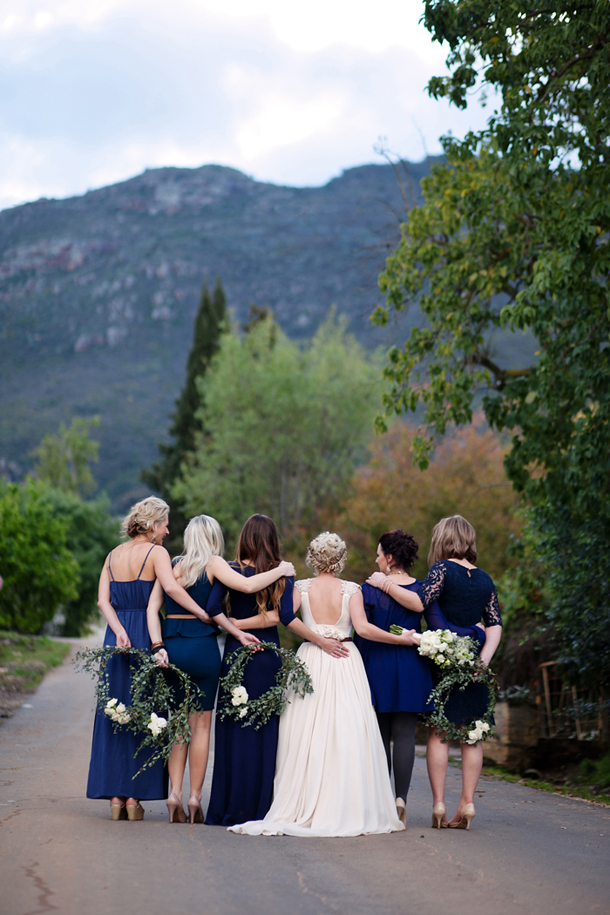 Photography: Moira West Photography | VIEW WEDDING
Classic navy dresses in assorted styles, wreath bouquets, and a subtle bohemian touch give Liezel & Christo's wedding an elegant, French countryside, Provençal flair. 

7. All That Glitters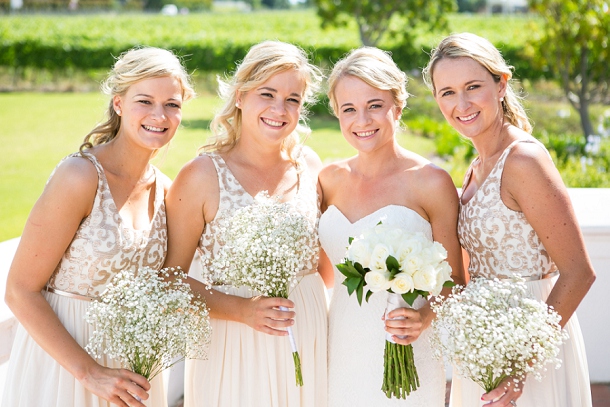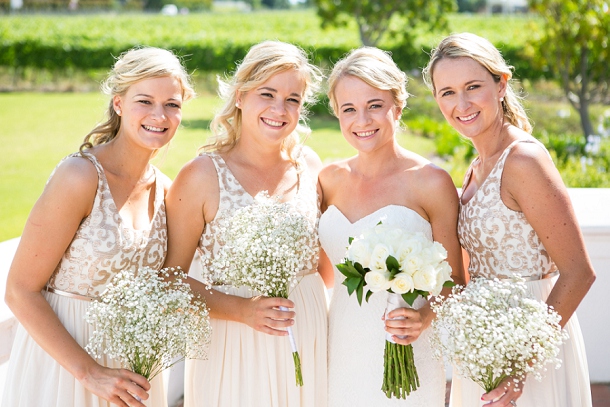 Dresses: Forever New | Photography: Anneli Marinovich | VIEW WEDDING
We love how the touch of sparkle in Marike's bridesmaid dresses added an extra bit of daytime glamour to her elegant vineyard wedding and we especially loved the swirly print and skinny belt detailing!

8. Fresh Spring Green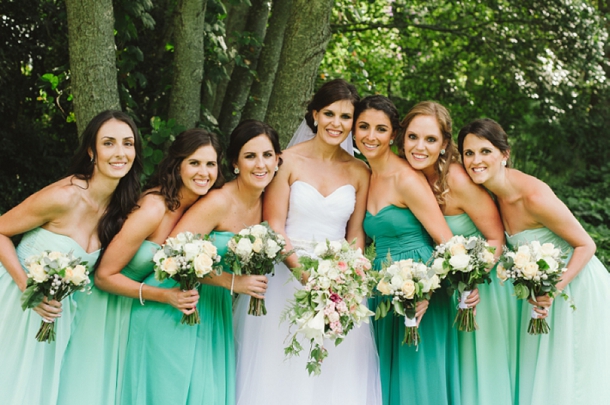 Dresses: Miss Friday Clothing | Photography: Love Made Visible | VIEW WEDDING
Perfect for a woodlands wedding, Samantha's elegant dresses in varying shades of mint and fresh summer green create the perfect ombre effect. They were also your PINTEREST FAVOURITE.

9. Two-tone Peach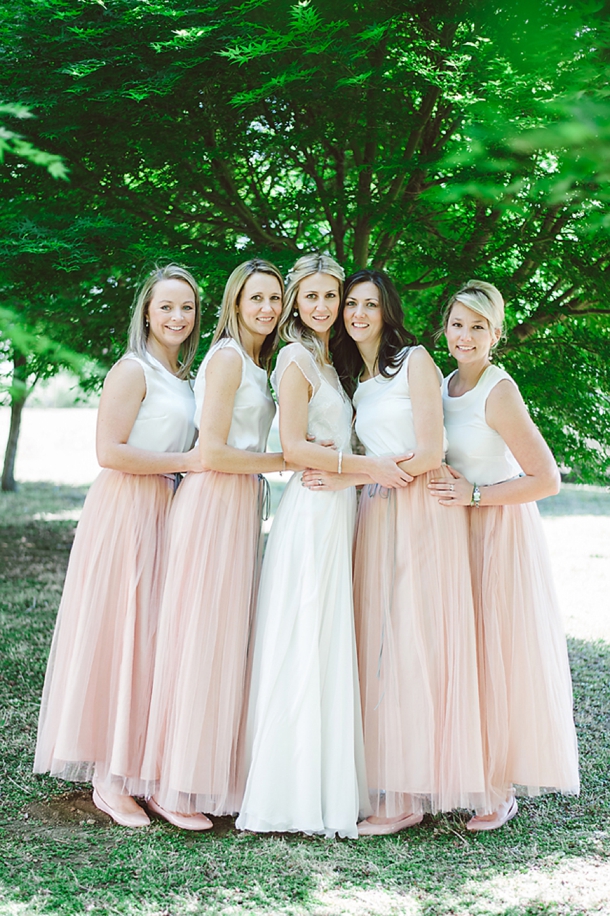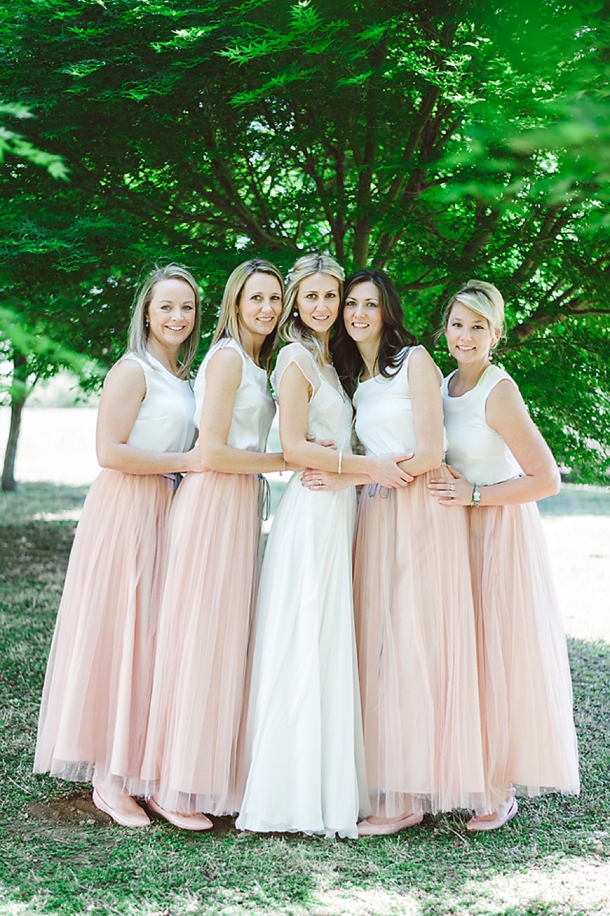 Dresses: Thabani Mavundla | Photography: Derryn Semple | VIEW WEDDING
Two-tone bridesmaid dresses were a huge trend this year, and they always manage to look pretty, classic but also fresh and modern. Bridget's peach two-tones with soft ballet skirts and slippers perfectly complemented her laid back country wedding.

10. Ice Cream Pastels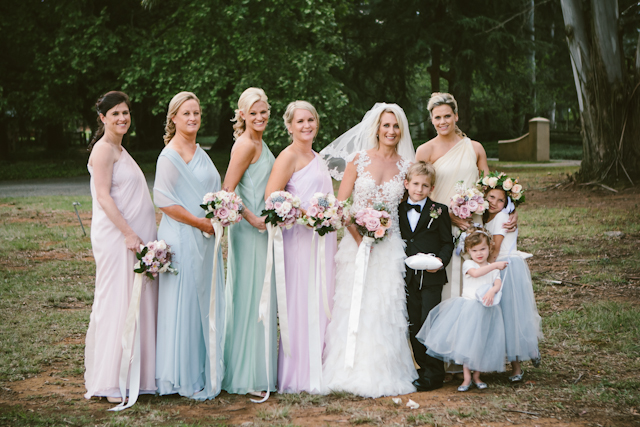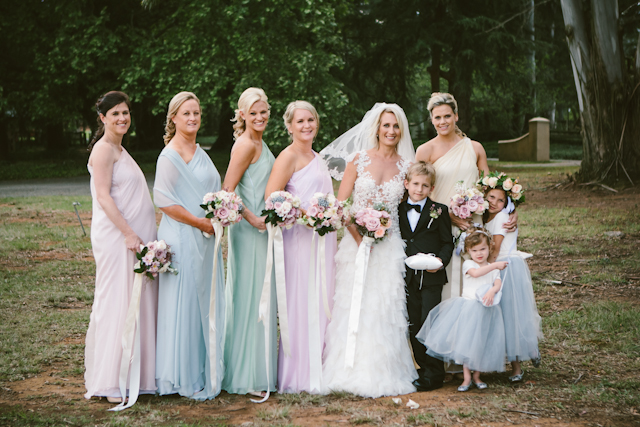 Dresses: Shona (see feature for contact info) | Photography: Knot Just Pics | VIEW WEDDING
One-shoulder gowns and mixed summery pastels were such an elegant look for Micky & Brandon's wedding – and we LOVE the flower girls' look too! Extra gorgeous points for the long ribbons attached to each bridesmaids' bouquet, for that extra touch of romance.

11. Winter Pastels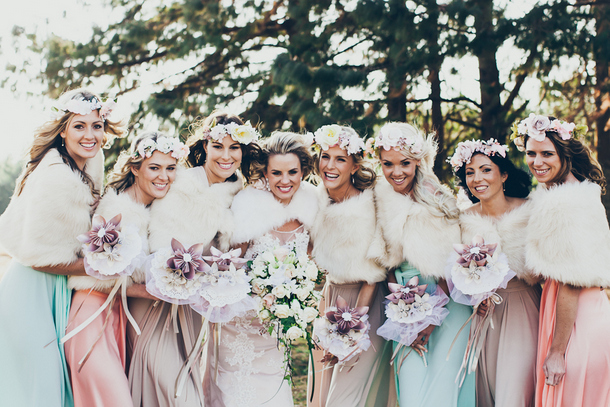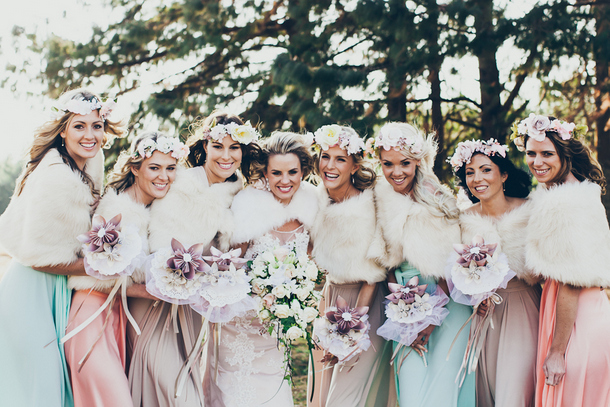 Dresses: Camilla Smith | Photography: Fiona Clair | VIEW WEDDING
CANDICE'S FAVOURITE: Without a doubt, Jo's pastel, candy-coloured, winter wedding, rocked my socks off. Her bridesmaids' long, floaty Grecian goddess dresses, flower crowns, faux fur stoles, loose wavy locks and bouquets that you can keep forever, were the perfect addition to a day filled with whimsy, romance and beauty. Clever Jo managed to combine all of 2014's top trends perfectly, which makes for some very beautiful and happy bridesmaids.
12. Mismatched Vintage Lace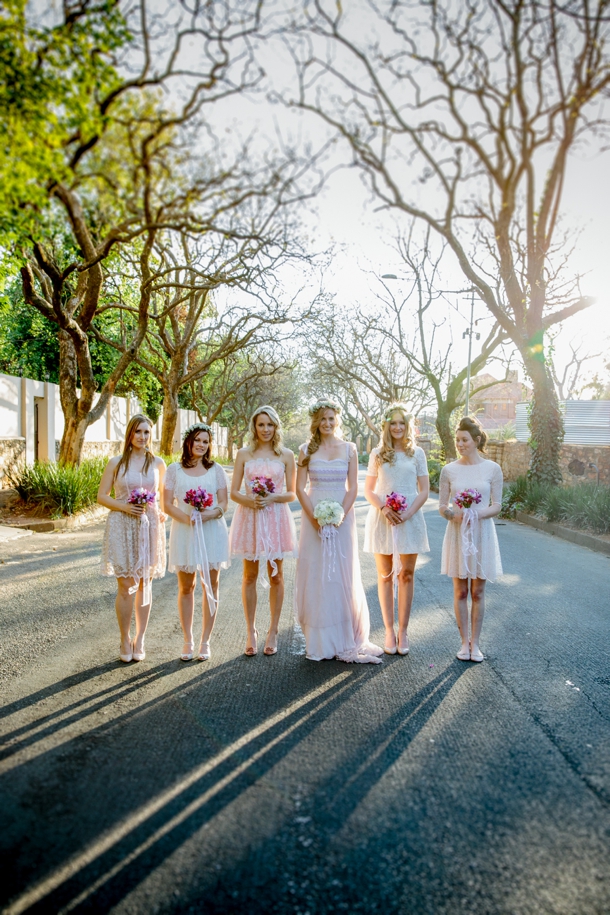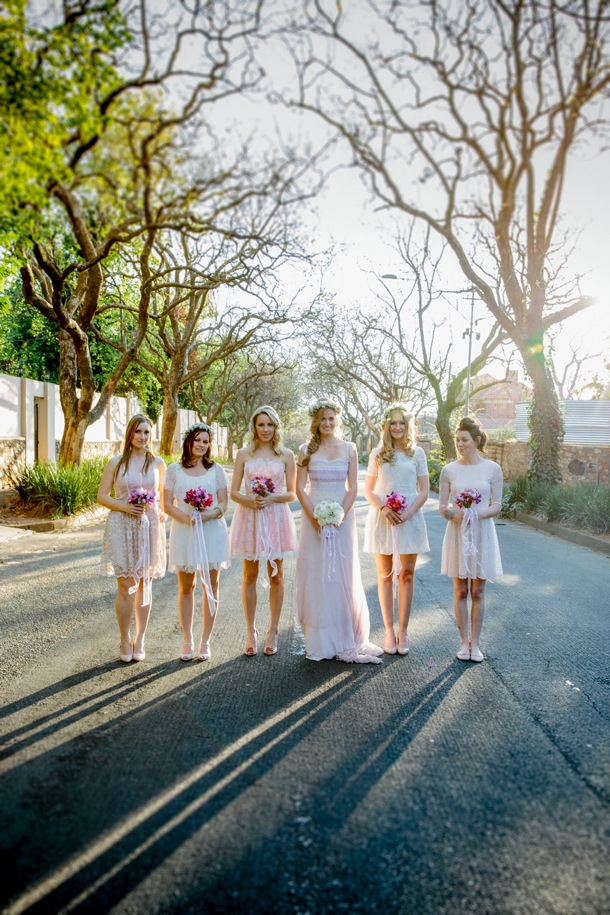 Photography: Lad and Lass Photography | VIEW WEDDING
Mismatched bridesmaid dresses have continued to be a popular choice this year, but we especially love how Nandi's girls each chose a blush or neutral dress with a touch of vintage lace. The texturing works perfectly with Nandi's own gorgeous wedding dress. 

13. Proudly South African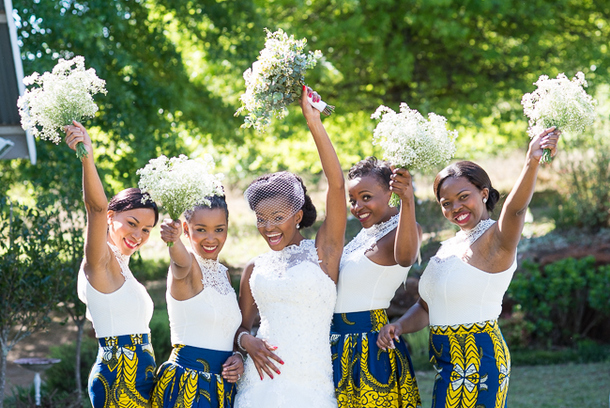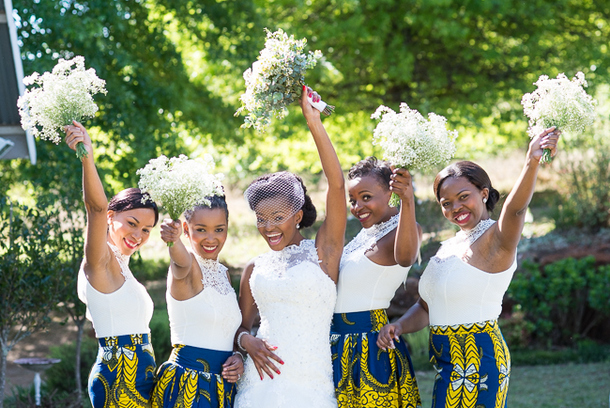 Photography: CC Rossler Photography | VIEW WEDDING
I absolutely LOVE how Tumi used an African print fabric for her bridesmaids' outfits. So original and "Proudly South African" of her. We also love the bright and sunny, navy and yellow colour combo choice too. Perfect for a fun-filled celebration in our beautiful country. What a great idea to pair a skirt and top together too – this outfit has endless future-wear options!
14. Ballet Buns & Statement Necklaces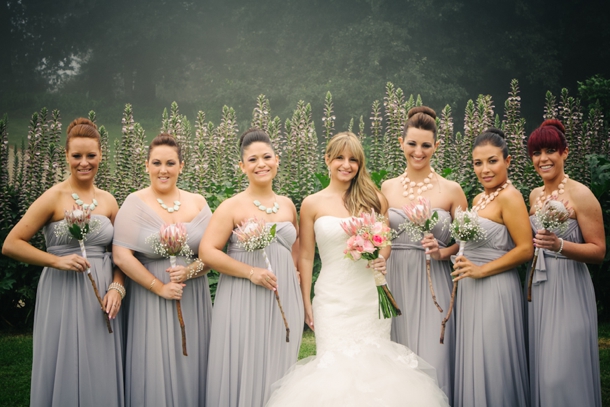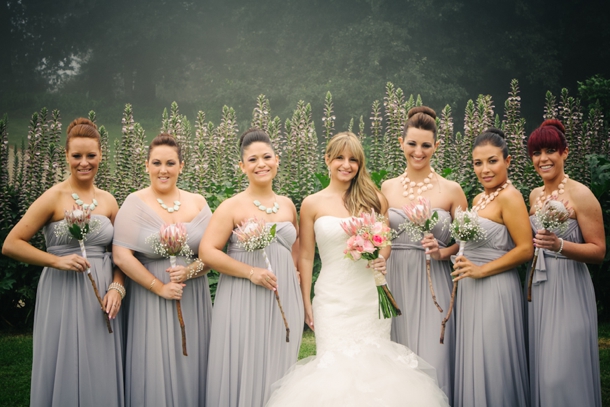 Dresses: Salvation | Photography: Knot Just Pics | VIEW WEDDING
Clea's girls rocked two of our favourite BM accessories: high ballerina buns and gorgeous chunky necklaces, along with their classic grey dresses. Accessorise, accessorise, accesorise! 

15. Folksy Perfection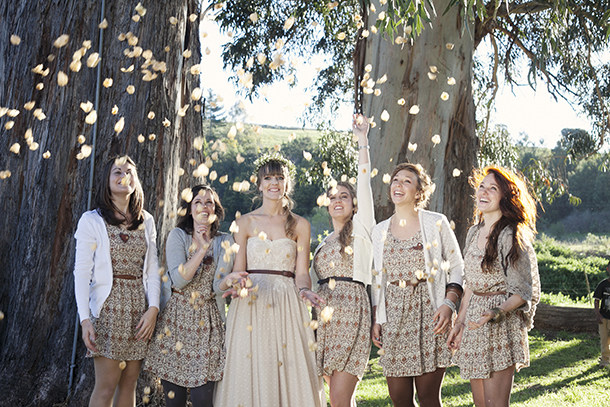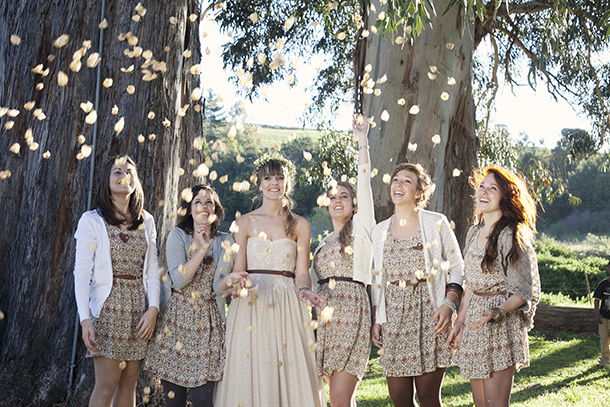 Photography: Alice Swan | VIEW WEDDING
Cardigans, leather belts, stockings and folksy prints, be still my beating heart. Love the relaxed look of Jana's folksy, bohemian bridesmaids.
16. Whimsical Woodland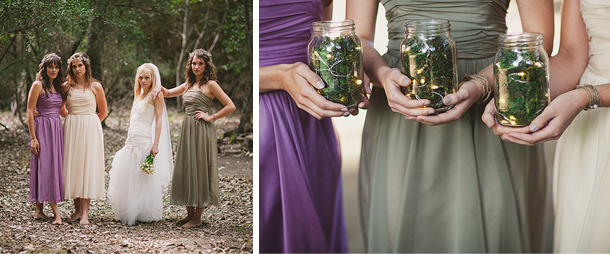 Photography: Sybrand Cillié | VIEW WEDDING
Muted colours, wreath head bands, fire fly jar bouquets, wild tousled hair. Rustic, laid back, romantic. Inge's bridesmaids were the perfect retinue for a fairy princess and her prince!
17. Sparkly Illusion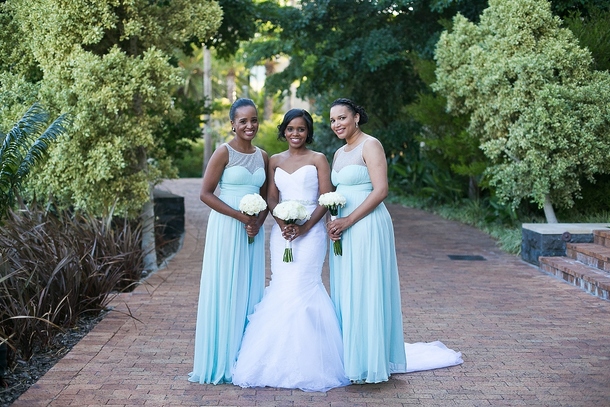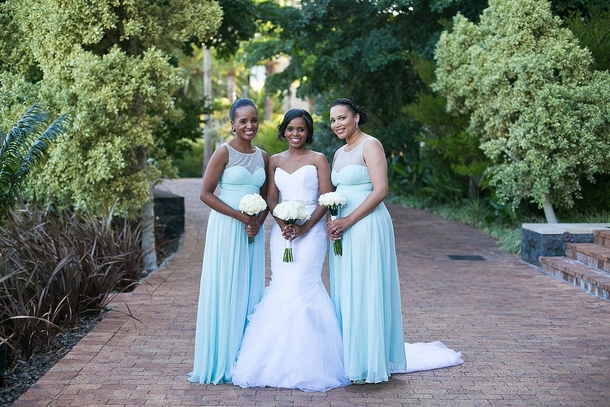 Dresses: Forever New | Photography: Lindy Photography | VIEW WEDDING
Illusion necklines were huge news for bridesmaids as well as brides this year, but add a bit of sparkle mesh and we're completely in love! Olivia's girls looked beautiful and elegant in their blue dresses (check out this wedding for pretty peach version of the same Forever New dress). 

18. Rich Jewel Tones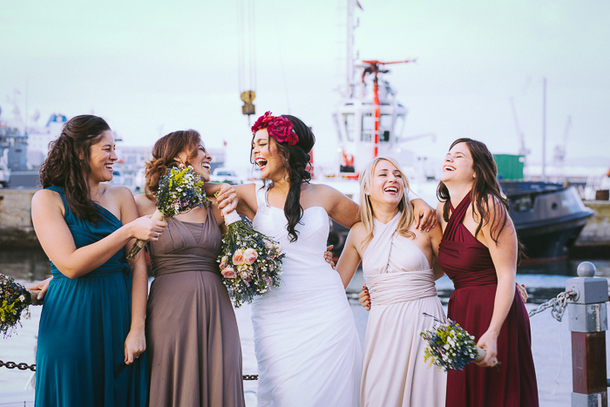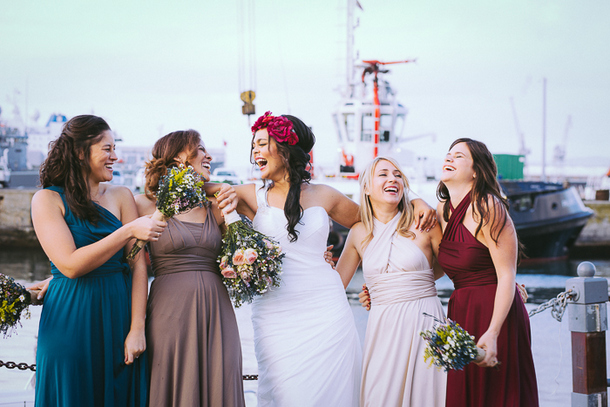 Photography: Dearheart Photos | VIEW WEDDING
As much as I love pastels, Amanda's girls worked their jewel-toned maxi dresses like nobody's business.
19. Hello Sailor!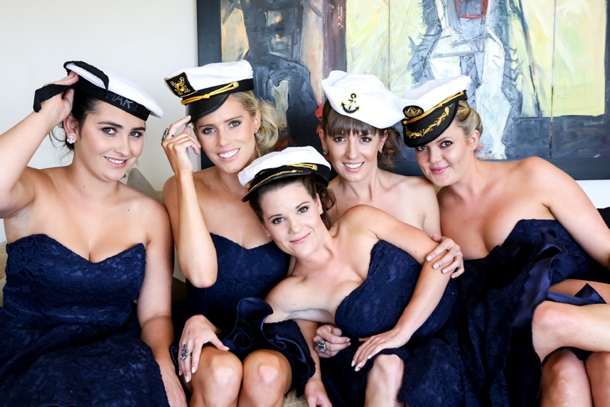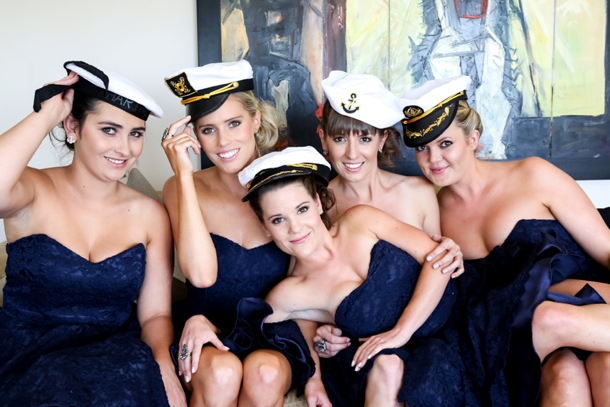 Photography: Lauren Kim | VIEW WEDDING
These bridesmaids look like they are having a ton of fun in their nautical frocks. Navy is such a versatile colour, I would almost consider it a neutral. We have seen navy paired with many other gorgeous shades this season, and it always works. However, navy and white takes the cake, and a captain's hat is the cherry on top! This kind of prop could be a bit themey, but Abigail & Dean played it perfectly, using them for pictures but not during the ceremony, for example.

20. Ravishing Red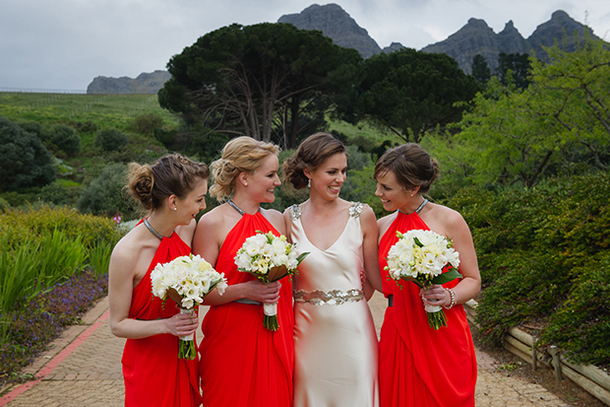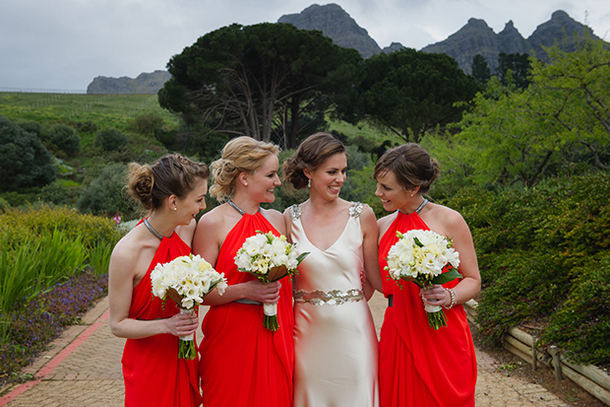 Dresses: Carla Zampatti | Photography: Lauren Kriedemann | VIEW WEDDING
Bright and bold, these statement dresses just add to the vineyard glamour of Georgie & Brad's wedding. Don't be afraid to make a statement with your bridesmaid dresses, even if you're going for a neutral look in general! It really pays off here.